Move over Daenerys Targaryen, Mother of Dragons, there is a new Queen in town. Swords clanging, sparks flying, horses galloping – it is all a family-fun filled evening of gallantry and surprisingly good chicken.
Medieval Times Dinner & Tournament has ushered in a new royal ruler as the lead role at the wildly popular Central Florida production. This past spring on April 19th, Medieval Times broke from tradition with a QUEEN taking over the King's 34-year reign over the Orlando Castle.
This matriarchal move comes as a positive result of guest feedback on the roles that women played within the fantasy story-telling production, and is accompanied by a new script and storyline, new costumes, new music and more. It has already been unveiled at Medieval Times castles in Dallas, Chicago, New Jersey and Buena Park, CA and will debut at four additional North American castles following Orlando's launch.
Tickets for the dinner and show start as low as $36.95, making it an attractive alternative for families looking for an evening of fun, or even groups of adults celebrating everything from birthdays to corporate events.
"Our new female queen is a sign of the times and we couldn't be more excited to bring her to Florida," said Doug Dorn, Medieval Times Orlando, FL General Manager. "The queen is fully in-charge. Her authority is sometimes challenged, but she quickly asserts herself as a strong leader.
Medieval Times' Orlando, FL venue is the first castle to open and has entertained more than 20 million guests since 1986. The iconic Central FL castle performs more than 600 shows per year, that's a lot of chicken!
In addition to epic battles of steel and swordplay, to royal falconry and horsemanship, there is an elaborate four-course meal fit for royalty (including vegetarian options), and the wide variety of libations and spirits, make for a festive evening of food and fun.
Medieval Times' noble guests feast on garlic bread, tomato bisque soup, succulent roasted chicken, sweet buttered corn, herb-basted potatoes, the pastry of the Castle, coffee and two rounds of select beverages. Of course, it is the middle ages, so you will be eating with your hands. Don't worry – wet naps are available upon request.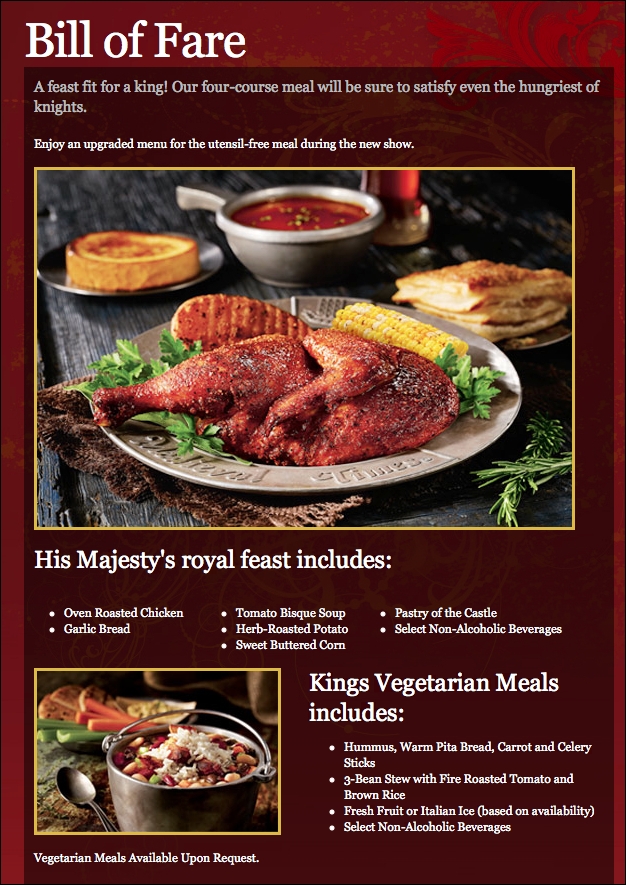 Royal Court's Vegetarian Meals includes hummus, warm pita bread, carrot and celery sticks, three-bean stew with fire roasted tomato and brown rice, fresh fruit or Italian ice, coffee and two rounds of select beverages. Vegetarian meals available upon request.
In addition to the debut of the queen character and storyline, the new production features:
More than 700 new costumes for all nine castles' performers including horses, all of which are custom-designed and hand-made at a dedicated costume shop near the Dallas Design District.
Two hundred new suits of armor, shields and helmets, all custom-designed and hand-made at a dedicated armory in Florida.
More than 350 team members and 225 horses who have rehearsed new lines and fight scenes for three months while still presenting the current show.
This include the queens undergoing an intense two months of training to become experts at riding the impressive Andalusian stallion for the new show.
New music composed by Dr. Daniel May, the composer and jazz pianist who scored "Everest" and other films, and has worked with notables such as Sting and The Moody Blues. He directed and recorded Medieval Times' new show composition in Kiev with the National Symphony Orchestra of Ukraine. This includes directing the choir in Ukraine with lyrics written by notable poet and choir member Solomia Gorokhivska.
A live-action film score precisely synchronized with every element of the show, from lights to fights; jousts to jabs; the Queen's entry to curtain closings; and more.
A sound and light production featuring 120 hours of programming with 300 new music cues and 500 new lighting cues. Orlando, FL is one of several castles installing and programming a new LED lighting system that offers 256 colors versus the old 14-color system. The system is powered by 10 miles of cable and an estimated $1 million upgrade.
For more, visit www.medievaltimes.com.
Twitter: https://twitter.com/medievaltimes
Instagram: https://www.instagram.com/medieval_times/
Facebook: https://www.facebook.com/MedievalTimes
Pinterest: https://www.pinterest.com/medievaltimes/