We were invited to the magical Ravello at Four Seasons Orlando for a sneak peek and taste of their Magical Dining Month menu this year.  Our dinner was held in their private demonstration kitchen located in the back of the restaurant and it came complete with our own private chefs and wait staff.  It was truly a wonderful experience to be able to witness and smell all of our meals being cooked right in front of us by their talented and passionate chefs.  The food was outstanding and the wait staff took care of us so well as always.
What is Magical Dining Month?
3 courses – Appetizer, Entrèe, and Dessert
Price: $35 per person plus tax & gratuity
Over 100 + participating restaurants
Beginning August 24 through September 30
Through Visit Orlando, one dollar from each meal will benefit Best Buddies and Down Syndrome Association of Central Florida.
Click here to view menu and make reservations
Fresh dough from Italy
The talented Executive Chef Fabrizio Schenardi welcoming us to Ravello.
Choice of Appetizer
Frisella | Pappa al Pomodoro | Mozzarella – warm pugliese bread, extra virgin olive oil, mozzarella, greens
Chef Riccardo Sala preparing a delicious course for us!
Calamari | Fregola – sauteed calamari, fregola, crunchy zucchini, grape
Choice of Entrèe
Brasato e Polenta – braised beef Piedmont style, Barbera wine sauce, soft polenta
Florida Red Fish | Rapini | Salsa Verde – red fish, bell pepper, broccoli rabe, garlic, salsa verde, potato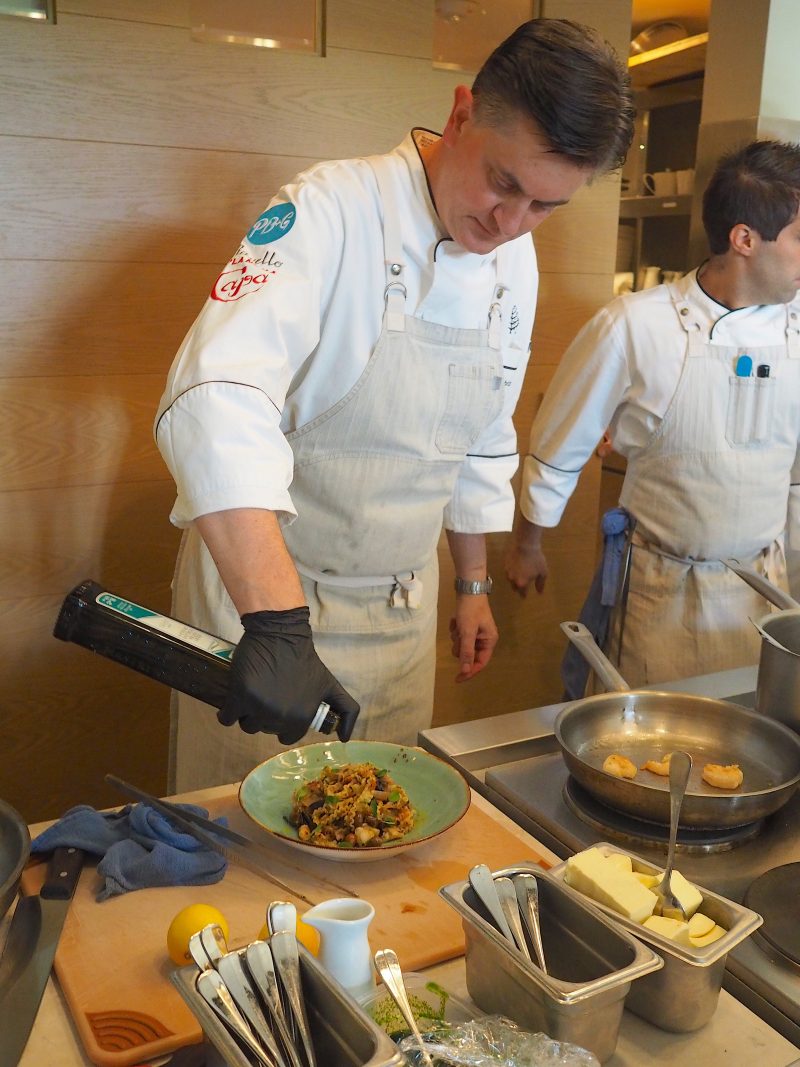 Reginette Pasta | Gamberi | Melanzane – shrimp, reginette pasta, eggplant, olives, marjoram, tomato sauce
Choice of Dessert

Torta Della Nonna – honey, pine nuts, raspberry
Salted Caramel Budino – chocolate, coffee, vanilla cream
Add a Course

Veal -Parmesan-Breadcrumb Crust, Tomato Fonduta
Spaghetti – homemade spaghetti, San Marzano tomato, crunchy basil ($9)
Margherita Pizza – tomato, basil, mozzarella ($16)

Umbria Coffee Tiramisu ($5)
Big thank you and princess kisses to Four Seasons Orlando publicist Dana Berry for the invite & the chefs and wait staff at Ravello for the exceptional meal and service as always!!
Please contact Private Dining Coordinator Robbie Wilcox at (407) 313-6914 if you'd like to reserve the private demonstration kitchen for your next event.
Ravello at Four Seasons Resort Orlando
10100 Dream Tree Blvd Orlando, FL 32836
(407) 313-6161