We got a sneak peak of the 2018 Epcot International Food and Wine Festival. This 75 day long festival has 95 new food or beverage experiences. There's a load of different kinds of family friendly fun that's being launched this year such as candy sushi,  the Disney Du Jour Dance Party, three different new market places, nine new artists for the Eat to the Beat concert series, brand new seminars and having brunch with one of the celebrity chefs. 
First thing's first, what's on the menu this year? Let's have a look.
Shown above is the Butternut Squash Ravioli with Brown Butter Vinaigrette, Parmesan Cheese and Pumpkin Seeds by The Wine & Dine Studio.
Another item is the new Brunswick Slider: Slow-braised Beef Brisket "Pot Roast Style" with Horseradish Cream and Crispy Fried Onions on a Potato Roll with Pickled Vegetables on the side by Hops & Barley 
For those with a sweet tooth this will surely satisfy.  On the left side of the plates is Maple Bourbon Boursin Cheesecake with Maple Bourbon Cream, Caramel and Pecan Crunch by The Cheese Studio and on the right is Chocolate Picante: Dark Chocolate Mouse with Cayenne Pepper, Chili Powder and Mango by Flavors from Fire.  
Below is another dish from Flavors from Fire. They showcased Charred Chimichurri Skirt Steak on a Smoked Corn Cake with Pickled Vegetable Slaw and Cilantro Aioli. 
 Brazil featured a Moqueca: Brazilian Seafood Stew featuring Scallops, Shrimp and White Fish with Coconut-Lime Sauce and Steamed Rice shown below.
A flight of beer was also given out for us to try. It was a red, green and blue, none of which had food coloring in it. Red was the most approachable, green was stronger and blue was the strongest.
Besides the food and alcohol, we got to look at this years merchandise for the festival. John Rivers, founder and owner of 4 Rivers Steak House was also there to talk about his new food truck that he will be opened at Disney Springs and his new creation he'll be serving. "Mexican places have taco salad but it's kind of boring. Well, not boring, it's very traditional. With people walking around, it would be very hard for them to eat. So, we came up with a different idea- we put it into a cone," says Rivers.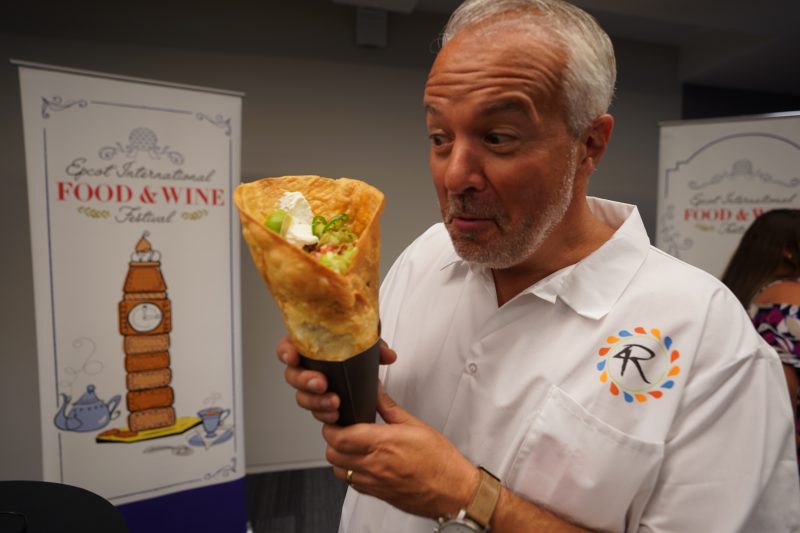 After I was done with the event, I enjoyed the five free fast passes given to us on our admission ticket. I was also given a goodie bag containing a 25 dollar gift card to use anywhere in Epcot (that was well spent) , chocolates, pancake mix, an exclusive Disney bottle opener and more!
Dave Kesting, general manager of Disney festivals says, "you wont be able to do it all in one day. Pace yourself, look a lot at the passport, find the items that you would like to see and use that as your guide to go around the festival."