Hanging out with Operation Manager Alex & Executive Chef Frank Galeano
We were invited to a media preview at Tapa Toro, located in front of ICON Orlando 360, to meet their newly appointed executive chef Francisco "Frank" Galeano & taste their new winter menu.  Tapa Toro's new winter menu offers unique dishes that will take you on a culinary journey of Spanish flavors and culture.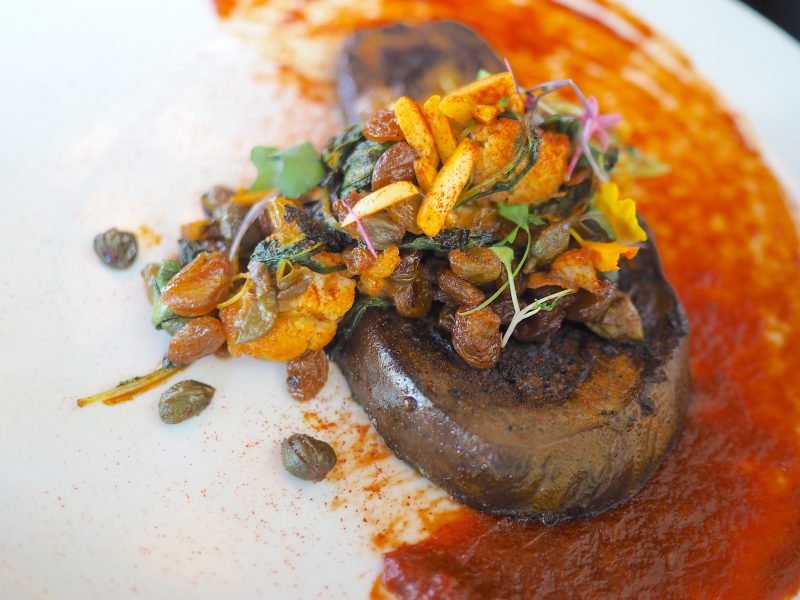 Roasted Eggplant "Steak" – roasted eggplant steak, cauliflower, capers, kale, gold raisins, almond, smoked tomato jam, honey
Xeres Chicken – confit leg of chicken, herb roasted potatoes, olives, gold raisins, oyster mushrooms, sherry pan sauce
Spiced Lamb – eggplant fondue, orange & cumin glazed baby carrots, green olive salsa
Chocolate Tarte
Tapa Toro's entire lineup of new dishes include:
Piquillos Rellenos, Moroccan-Spiced Lamb Stuffed Piquillo Peppers, Migas, Preserved Lemon, Tetilla Fondue
Berenjenas Sevillanas, Panko-Crusted Eggplant Romesco Sauce, Seasonal Chutney, Local Honey
Blistered Shishitos, Fire-Roasted Shishito Peppers, Sesame, Lemon, Lemon-Basil Aioli
Bronzino, Fennel, Radish, Tomatoes, Shallots, Crispy Garbanzo Salad, Caper Lemon Dressing
Quinoa Salad, Peruvian Red Quinoa, Dried Fruit, Spiced Pepitas, Crispy Kale, Roasted Root Vegetables, Greens, Sesame Carrot Vinaigrette
Valencia Salad, Valencia Orange, Shaved Fennel, Olives, Peruvian Potatoes, Shallots, Greens, Mint-Orange Dressing
Clams & White Bean, Cedar Key Littleneck Clams, Chorizo, Parsley, White Bean, Pimenton, Grilled Bread
Herbed Chicken Bocadillo, Herb Marinated Chicken Breast, Grilled Vegetables, Red Pepper Aioli, Ciabatta Bun
Chuleta de Cochinillo, 10 Ounce, All-Natural Pork Chop, Carrot Puree, Fabada, Valencia Orange Glaze, Chimichurri Sauce
Salmon a la Plancha, Sauteed Zucchini, Cherry Tomatoes, Fennel Broth, Piperade
Spiced Lamb, Eggplant Fondue, Orange and Cumin Glazed Baby Carrots, Green Olive Salsa
Tapa Toro's daily happy hour is from 3:00 p.m. to 6:00 p.m., featuring half-price sangria, and tasty bites.
Additionally, Tapa Toro wants to be your home for the holidays, showcasing a special Christmas Eve and Christmas Day three-course menu, which at $30 per person includes all-you-can-eat-winter paella, Candy Cane Beet Salad, dessert and live entertainment.
This year, the restaurant is featuring two New Year's Eve events:
Early Seating from 5 p.m. to 7 p.m. includes a 4-course meal, champagne toast at 6 p.m. (midnight in Spain), and priority seating for flamenco dinner show, priced at $35 per person.
Evening Seating from 9 p.m. to close includes a 5-course meal, champagne toast at midnight, and flamenco dinner show, priced at $75 per person and $60 per child under 12.
For more information, please visit: tapatoro.com
(Source: Tapa Toro)
Tapa Toro
8441 International Dr #260, Orlando, FL 32819
(407) 226-2929