STEAK FRITES – 8 oz oak grilled petite beef tender, French fries, garlic-herb butter, arugula salad & Tom Fruin's stained glass house in the background.
We were invited to have lunch at the popular Canvas Restaurant & Market located in Lureate Park in Lake Nona.  The Canvas Restaurant menu features new American cuisine influenced by Florida's Southern and Latin American roots.  Executive Chef Jason Bergeron focuses on seasonal and regional produce as well as an abundance of fresh, Florida seafood.  Our lunch was delicious and the service & ambiance was perfect.
The zen view from where I was sitting inside the restaurant.  My friend witnessed a bird swooping up a fish out of the lake while I was taking pictures around the restaurant.  Nature doesn't get any better than that!
CALAMARI FRIES – buttermilk marinade, roasted red pepper aioli.  So good.
HABANERO GLAZED CHICKEN WINGS – clover honey, lime zest, garlic-buttermilk dipping sauce.  Thick and crispy.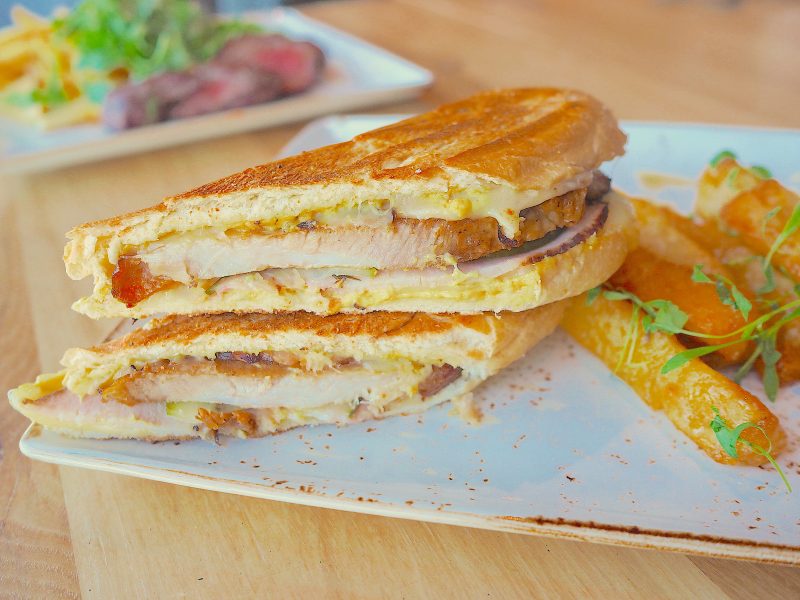 TOASTED CUBANO – slow-roasted mojo pork belly, house-cured Canadian bacon, Swiss, housemade garlic-dill pickles, Dijonmayo, yuca fries.  One of the better Cubans that I've had.  The yuca fries comes coated in sauce but you can order them without sauce if you like them more on the crispier side, which I personally prefer.

LOBSTER ROLL – mango dressing, buttered roll
Red velvet cheesecake with chocolate peppermint bark, a delicious seasonal dessert.
Canvas Restaurant & Market
13615 Sachs Avenue, Orlando, FL 32827
(407) 313-7800
canvaslakenona.com