Dragonfly Robata hosted an encore seating of their Tokyo Soul dinner event on December 6-7, 2018. The event and dishes were inspired by street food classics born in Tokyo, and seasoned with the flavors of the deep South Southern Kitchen, making this dinner event unique to Dr. Phillips.
The event consists of a limited number of seats at a long table where you can sit with familiar friends as well as make new friends with others next to you.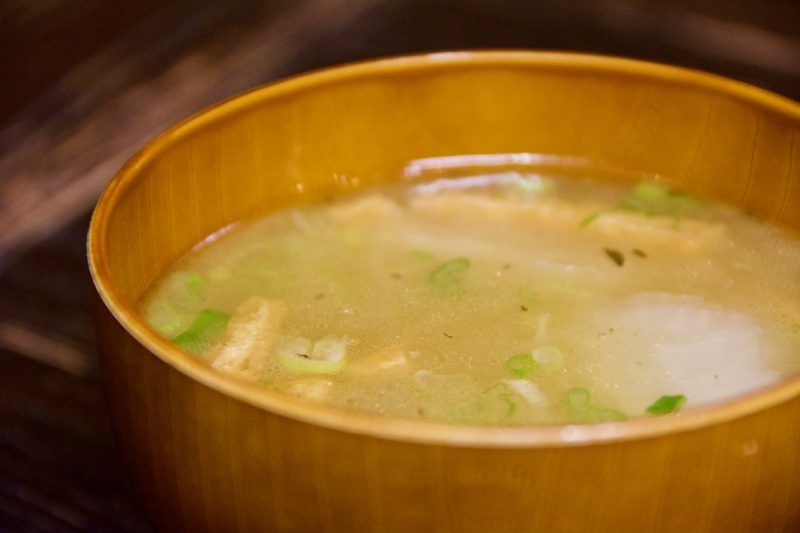 This event consisted of a 6-course meal beginning with a Japanese Inspired Souse with braised daikon, carrot, scallion, and inari. This dish starts the event by warming your soul with brilliant flavors, which is great on a chilly night.
Family-Style Tempura Corn Fritters served with Shirasu shies and Japanese horseradish. The corn fritters are crispy with each bite and sweet from the corn. There are slight distinct notes of the horseradish, which is not overwhelming to the palate.
The corn fritters is served with a Sake cucumber Masu Box, which traditionally signals the wealth and generosity of the restaurant to the person who drinks from it. The sake itself is light, refreshing and floral.
The Beer Batter Spanish mackeral is served with Tsukemono and a house-made house sauce. This dish consists of a crispy batter with fish that has a soft texture and disintegrates in the mouth.
Sapporo-hibiscus shandy is paired with the mackeral and flavors resemble grapefruit seltzer.
The next dish is a 36 hour Sous-vide brisket served with potato salad, Jus and micro wasabi. The brisket is very soft, moist and falls apart easily. Flavors are fresh and delightful. However, not each dish is consistent in texture.
The Japanese whisky-tea cocktail is paired with the brisket. It tastes like sweet tea with intense honey flavors.
Dish number 5 is the Chef Choice Seasonal Omakase, which is Cajun crusted salmon sashimi and crawfish maki-roll photographed above. The Salmon is fresh with simple seasoning to bring out natural salmon notes. The Crawfish maki-roll has a sweet honey taste along with a crispy texture of the crawfish and softness of the rice coating.
This fresh seafood dish is paired with the Shochu-pomegranate cocktail, which is sweet and tart at the same time.
The final dish is the Honey Carrot Castella, which is a Japanese sponge cake, carrot ginger mousse, persimmon, and candied bacon. The sponge cake is dense and solid, but moist at the same time; there are notes of a unique taste thanks to the ginger and cinnamon. The persimmons seemed to be soaked or infuse with sweet ginger flavor. Paired with the dessert is the Umeshu (Plum) cocktail, which is sweet in flavor.
While waiting for the event to begin or for the next dish to roll out, feel free to ask for a drink menu. Photographed here is the Green Tea's Knees cocktail, which consists of fig infused Jim Beam, matcha honey and yuzu. It is a delicious and strong drink that is sweetened just right.
For more information on Dragonfly Robata and their future events, pease visit their website.