We were invited to Marlow's Tavern – Lee Vista (located one mile from the Orlando International Airport) to enjoy a chef's selection of the new fall/winter menu and creative handcrafted cocktails.  The new menu will stay until March, as Marlow's Tavern changes their menu three times a year.
Marlow Tavern's Executive Chef/CEO/Co-founder John C. Metz, who created the menu along with Rick Blumberg, manager of adult beverages, said in a recent press release, "Our revamped menu has an abundance of great starters, salads, sandwiches, tavern favorites and creative cocktails.  These inspired takes on traditional tavern dishes and drinks give our guests yet another reason to gather around the table at Marlow's throughout the fall and winter."
Some of the new menu offerings and crafted cocktails include:
Our G&T – Empress 1908 gin, smacked sage, orange, angostura bitters and tonic
Pineapple Rum Express – Plantation pineapple rum, St. George spiced pear liqueur, fresh lime
Beached Margarita – Herradura hibiscus tincture, Beach coconut whiskey and house sour
The Jet Plane – Bacardi añejo rum, Brovo Amaro #1, aperol and fresh lemon
Roasted Heirloom Carrots – whole baby carrots, orange honey glaze, crumbled feta
Arugula, Trout & Apple Toast – smoked trout, baby arugula, Granny Smith apple and pickled red onion
Feta & Artichoke Fondue – grilled artichokes, Swiss chard, creamy Mornay, feta cheese and toasty ciabatta
Pastrami Melt – Montreal Smoked Meats pastrami, Swiss cheese, caramelized onions and dijonnaise on deli rye.  Served with house pickles and Marlow's Tavern fries, yum!
Grilled Atlantic Salmon – with jumbo couscous, baby spinach, toasted almonds and dried cranberry in a red wine reduction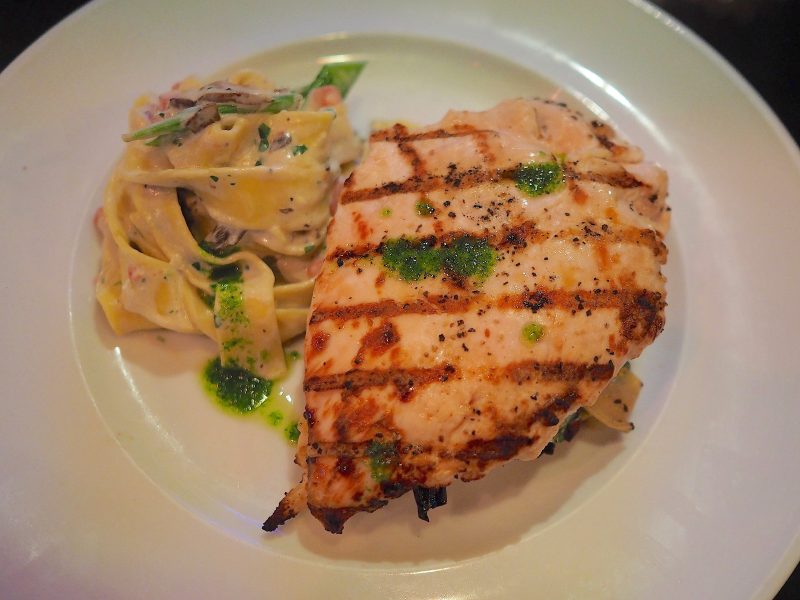 Chicken Pappardelle Stack – grilled Prestige Farms chicken, creamy artichoke and Swiss chard, fresh pappardelle noodles, snap peas and roasted mushroom cream.  The chicken is organic and never frozen.
Roasted Vegetable Lasagna – sage Mornay sauce, pomodoro, butternut squash, Swiss chard and mushrooms
Big thank you to Joel, the manager of Marlow's Tavern – Lee Vista, and Chef Benjamin for hosting us!  It was a delicious dinner!
Marlow's Tavern – Lee Vista
6889 Eagle Watch Dr, Orlando, FL 32822
(407) 985-2381
marlowstavern.com