The second annual Feast of the Seven Fishes dinner at Reel Fish Coastal Kitchen & Bar in Winter Park returns on Monday, Dec. 24.  The Christmas Eve extravaganza will begin at 6:30 p.m. and is limited to the first 50 guests.  This special 7-course prix fixe menu will feature all-inclusive new world and old world wine pairings.   Reel Fish will also be open from 5:00 p.m. to 9:00 p.m. on Dec. 24 offering its regular dinner service.
Tickets to are $69 per person (plus tax + gratuity) and can be reserved by calling (407) 543-FISH (3474).
In the spirit of holiday giving, Reel Fish Coastal Kitchen & Bar will donate 10% of the dinner's proceeds to the Coastal Conservation Association.
*Menu and wines subject to change based on availability*
Feast of the Seven Fishes is a tradition that originated in Southern Italy and is celebrated on Christmas Eve with a 7-course seafood dinner to commemorate the wait of the midnight birth of baby Jesus.  Because Christmas Eve is a vigil or fasting day,  the abundance of seafood reflects the observance of abstinence from meat until the feast of Christmas Day itself.
Owner Fred Thimm (right) and James Gallagher from Southern Glazer's Wine & Spirits who personally went over each wine with us.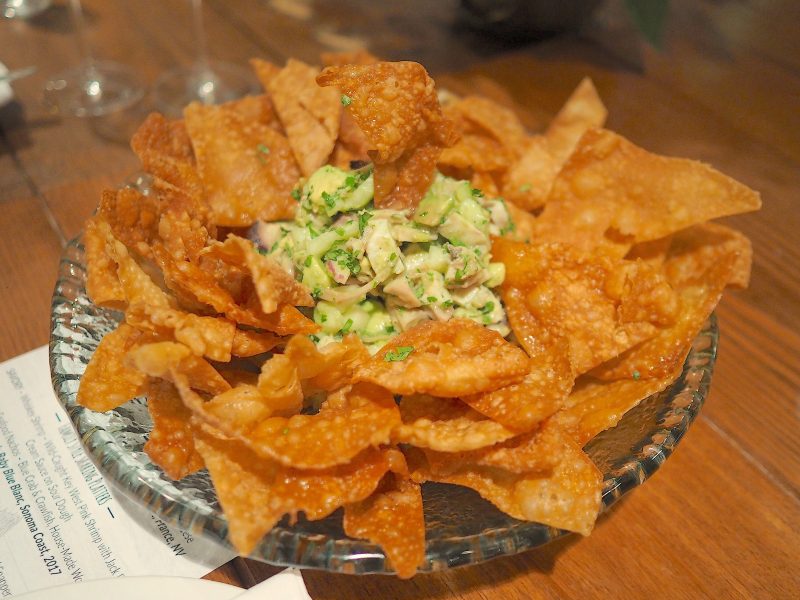 Octopus Ceviche
Shrimp Mac & Cheese
Baked Clams Casino

Whiskey Shrimp – Wild-Caught Key West Pink Shrimp with Jack Daniels Cream Sauce on Sour Dough
Seafood Nachos – Blue Crab & Crawfish, House-Made Wontons
Whole Fried Hog Fish (pictured – so good!) and Genuine American Red Snapper with Smothered Tomatoes & Okra
Gulf Oysters Shooters featuring Tito's Vodka
Cioppino – Clams, Shrimp, Scallops, Grouper, Tomato Broth over Linguine
Mike's Famous Carrot Cake.  This was the best carrot cake I've ever had in my life!
Seven-Layer Chocolate Cake
Chef Mike served up a wonderful Feast of the Seven Fishes dinner with his own personal flair.
Reel Fish is celebrating the holidays with a variety of other festive specials, including:
Get a FREE $10 bonus gift card for every $50 in gift cards purchased.
Book a group dinner with 15 or more guests and receive a 10% discount AND $10 gift card for each person in their party.  To book a holiday party contact Fred Thimm at (202) 957-7377 or fred@reelfishcoastal.com.
Reel Fish Coastal Kitchen + Bar will feature a live DJ, food & drink specials and a midnight Champagne toast to ring in the New Year on Dec. 31.
New Fall/Winter menu featuring fresh local fish, signature salads and additional non-seafood options like all-natural Creekstone Farms steaks and FreeBird chicken.
Reel Fish Coastal Kitchen & Bar
1234 N. Orange Ave, Winter Park, FL
reelfishcoastal.com