On February 7, 2019, we attended a Chef's Night hosted by Second Harvest Food Bank of Central Florida. Chef's Night is an evening at the food bank featuring some of Central Florida's best chefs and cuisine, all to benefit their Darden Foundation Community Kitchen's Culinary Training Program.
By supporting Chef's Night, you are providing qualified, at-risk and economically disadvantaged adults with the culinary and life skills training needed to pursue a sustainable career in the food industry of our community. This year, they are also selling items from their A Spoon Full of Hope product line, which also gives back to our community.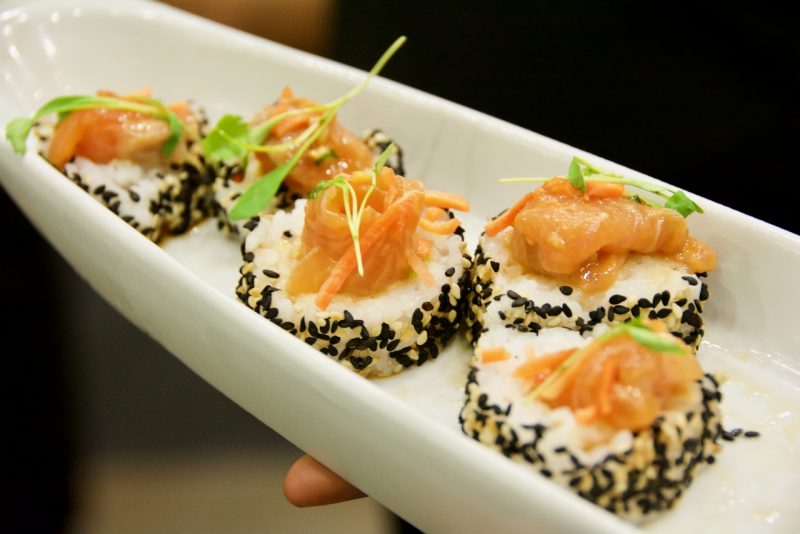 Passed Hors d'oeuvres Created by Chef Robert Pagan and Chef John Dizon
Honey Ginger Salmon Poke (photographed) showcasing Honey for Good; these rolls are delicious, fresh and flavorful. You'd think anything with honey would be overpowered by the sweetness, but this isn't the case at all.
Other Hors d'oeuvres include the Mediterranean Salad Shooter showcasing Lunches for Good, the Asian BBQ Pork Belly with Mango Slaw showcasing Asian BBQ Sauce for Good (in development), and the Tomato Basil Goat Cheese showcasing Soup for Good. Unfortunately, I was busy in the kitchen watching the Culinary Training Program work their magic.
Bread Course Created by Chef Eric Andre
Artesian Bread with Beurre Composé (Compound Butters) showcasing Honey for Good and Soup for Good was a nice icebreaker for those around the table who didn't know one another.
Salad Created by Chef Israel Santiago
Harvest Salad with Honey Pomegranate Sage Vinaigrette topped with short bread cookie crumbles showcasing Cookies for Good and Honey for Good. The salad was fresh in every bite with or without the vinaigrette. The short bread cookie crumbles add a greater crunch to each bite, aside from the greens.
Entrée Created by Chef Jill Holland
Duo of Bacon Roasted Monkfish with Tomato Basil Sauce and Beef Roulade with Pesto showcasing Soup for Good Vegetable Medley and Risotto. The monkfish was fresh and flavors added by the bacon. If you haven't had a chance to try it before, it is similar to cod with its texture. The vegetable medley and risotto has to be my absolute favorite here with all the flavors and textures; the little bites of sweet potato were amazing. On the other hand, the beef roulade was a tad overcooked and chewy for my taste.
Dessert Created by Chef Terah Barrios
Bienenstich Torte (Bee Sting Cake) with Honey Crisp showcasing Honey for Good. This dish had to be the most challenging of the night for the team. Every item was placed with delicacy and precision throughout the night where some ingredients had to wait to the last moment before being plated to maintain its structure. The creme added brilliant moisture to each bite.
Keep an eye out for the next Chef's Night or other events. Too busy for an event? Host a fundraiser, volunteer with the team, or shop A Spoon Full of Hope. There are many ways to give back so what's stopping you?