Pizza Pies, Apple Pies, Pies – those round baked dishes made of sweet or savory ingredients, perfect for eating on March 14th also known as 3-14, the International "Pi Day", named after the mathematical constant, defined as the ratio of a circle's circumference to its diameter, equal to 3.14159…you get the idea.
Like the mathematical constant named for the same-sounding Greek letter, pie is a constant around the globe, a sweet or savory dish that complements any meal, whether it's apple, pumpkin, pecan, mince, blueberry, cherry, sweet potato, peach or countless more.
On March 14, widely recognized as Pi Day, the American Pie Council® (APC) urges everyone to celebrate with a slice of their favorite pie, either as the delicious conclusion to a perfect meal or a decadent, "just because" indulgence. With millions of pies baked, sold and consumed every year, Pi Day offers the perfect day to pause and enjoy what has come to be considered "the most traditional American dessert."
Why Pi Day?
Ancient civilizations determined the ratio of a circle's circumference to its diameter is approximately 3.14159, a mathematical constant represented by the Greek letter (pi) since the mid-18th century.
The first large-scale celebration of Pi Day took place March 14, 1988, in San Francisco, noting the similarity of the date (3/14) to the first three digits of Pi.
In 2009, the U.S. House of Representatives passed a non-binding resolution recognizing March 14 as National Pi Day.
On March 14, fans can share their love of pie on social media with the hashtag #PiDay.
Meanwhile, the countdown continues for the country's next major pie milestone – the 25th APC National Pie Championships in Orlando, a three-day competition set to identify the best pies created by amateur, professional and commercial bakers. The silver anniversary event is set for April 11-13, 2019, at Renaissance Orlando at SeaWorld®.
For all those Pie Lovers and Pythagorean diehards out there, here are 5 places in Orlando to get Pie – both savory and sweet – for Pi Day – just make sure to call ahead to order your pies.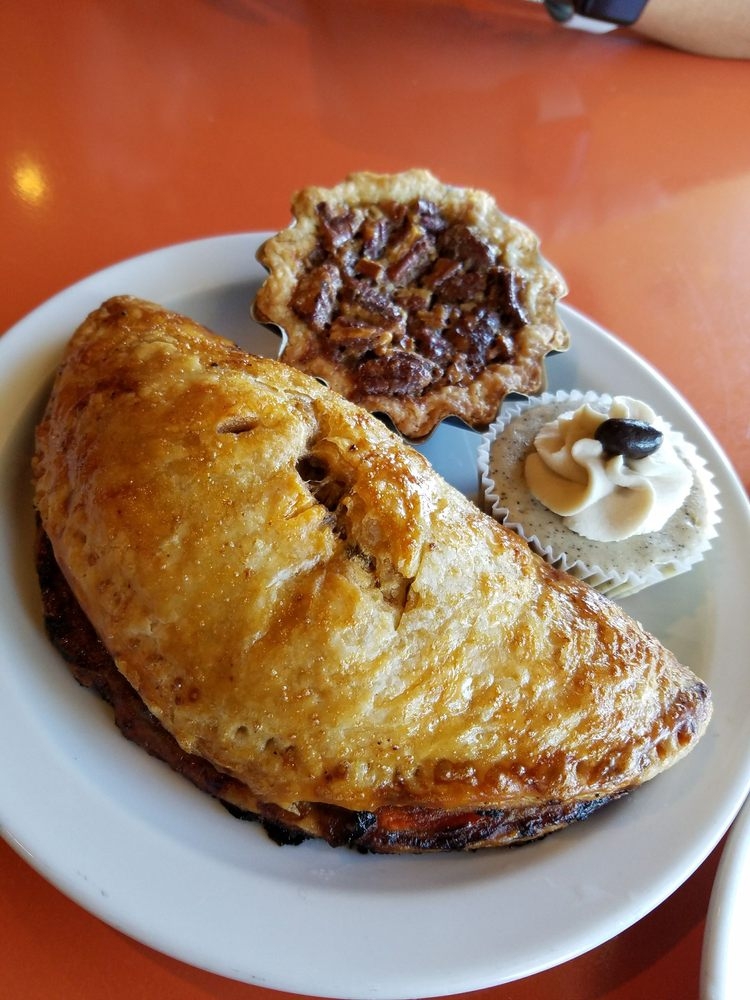 image by Hosing Y on Yelp
P is for Pie Bakeshop
2806 Corrine Dr
Orlando, FL 32803
http://crazyforpies.com/
P is for Pie Bake Shop is a small batch artisan bakery specializing in sweet and savory pies and variations of pies, cakes, cookies, etc. Everything is made from scratch, by hand, incorporating natural, seasonal and local ingredients to every extent possible. Whole pies, small pies, and cinnamon rolls are available on a first come first serve basis on Fridays and Saturdays.
Sister Honey's
247 E Michigan St
Orlando, FL 32806
www.sisterhoneys.com
The founder of Sister Honey's has won National Pie Championships – with the Blue Ribbon for her Orchard Fresh Apple Pie and has been featured on the Food Network, in Hometown Cooking Cookbook by Family Circle, was a panelist on the Crisco® Pie Tips Hotline and has received accolades in numerous publications. She also shares some of her award-winning recipes in a cookbook, America's Best Pies, by the American Pie Council.
Proper Pie Company
145 Ridge Center Drive, Roseberry Square
Davenport, Florida
http://www.theproperpiecompany.com
The Proper Pie Company – Individually hand-made Double Crust Pies and other traditional British Fayre. Popular flavors include Chicken and mushroom, steak and mushroom and beef and onion.
Ocean Prime
For an enticing Pie delight on Pi Day this March 14th, guests at Ocean Prime can indulge on the restaurant's signature pie, the CHOCOLATE PEANUT BUTTER PIE, featuring Peanut Butter Mousse and Bittersweet Chocolate Ganache. For more information or for reservations visit, www.ocean-prime.com/locations-menus/orlando or call (407) 781-4880. Ocean Prime is located at 7339 West Sand Lake Road, Orlando, FL 32819.
Blaze Pizza – $3.14 Pizzas
On Thursday, March 14, Blaze Pizza will celebrate Pi Day by hosting the world's largest pizza party, serving up custom built, artisanal pizzas for just $3.14 each at more than 300 locations. This year marks the sixth straight edition of Blaze Pizza's Pi Day celebration, with guests across the US, Canada, and abroad expected to join in the celebration, forming lines out the doors, as has been the case in years past.
In addition to the $3.14 pizza Pi Day offer, guests are encouraged to download the Blaze Pizza app to receive another discount – $3.14 OFF a pizza – good for their next visit to Blaze. The Blaze Pizza app regularly extends offers and promotions special to app users and includes a loyalty program where guests collect "flames" redeemable for free pizzas.
"Math gives us a blueprint to solve a problem, whether simple or complex. It's with that same spirit that Blaze Pizza was founded — to solve the important problem of how to get an insanely great, scratch-made pizza that's both fast and affordable," said Dennis Sherer, Operating Partner for Blaze Pizza in Orlando. "This year, we calculated that we will serve more than a quarter million pizzas at $3.14. We look forward to having Blaze fans celebrate with us."
The following Orlando-area locations are participating:
UCF: 4100 N. Alafaya Trail
Winter Park: 501 N. Orlando Ave.
Viera: 2348 Citadel Way
Daytona Beach: 1405 Cornerstone Blvd
(sorry, offer is not valid at the Disney Springs location)