This is a sponsored post presented by Uber Eats.
Restaurant delivery meets the 21st century with Uber Eats.
According to Forbes Magazine, Uber's CEO, Dara Khosrowshahi, projects that Uber Eats is on track to deliver some $10 billion worth of food worldwide this year, up from an estimated $6 billion-plus last year.
In January of 2019, Uber Eats announced that it was expanding a highly-touted partnership with coffee chain Starbucks, adding to an already expansive list of both local eateries and national partners including McDonald's.
Here is How Uber Eats works:
Browse
Uber Eats has hundreds of restaurants to choose from – and lots of local restaurants from Sus Hi Eatstation to Peter's Kitchen to Lechonera Latina to more. When you open the app, you can scroll through the feed for inspiration or search for a particular restaurant or cuisine. When you find something you like, tap to add it to your cart.
On this day, I felt like some comforting Thai food so I chose Siam Garden Thai, a nearby restaurant I have yet to try. Definitely a lifesaver when there is no time to cook at home and you just want to stay home.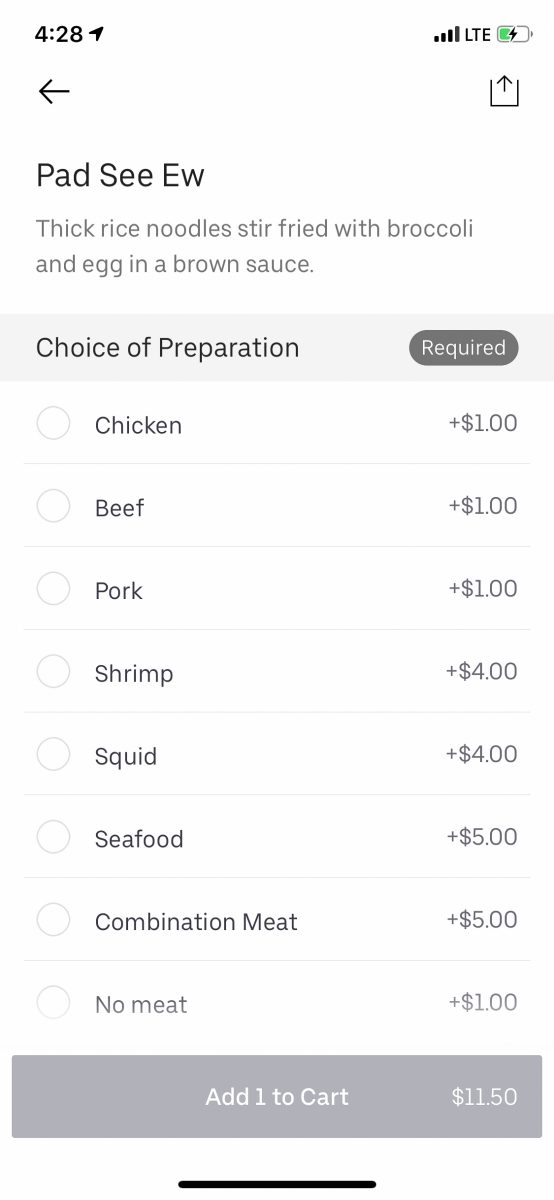 Each dish was easily customizable – I could choose between various proteins (tofu, beef, chicken, shrimp, etc) that I am used to when ordering my pad thai and red curry, but I am also able to give instructions on spiciness level and other notes in the app. It is easy to review everything on your order list in the app, too.
Order
When you're ready to check out, you'll see your address, an estimated delivery time, and the price of the order including tax and delivery fee. You can choose another address besides your home address if you are elsewhere.
Delivery fees vary depending on your distance from the restaurant location.
When everything looks right, just tap Place order–and that's it. Uber Eats automatically uses the card on file so you never need cash. Everything is digital.
Track
Follow your order in the app. First you'll see the restaurant accept and start prepping. Then, when the order's almost ready, a nearby Uber partner–in a car, on a bike, or scooter–will go to the restaurant to pick it up.
Next, they'll drive or ride to you, whether that is your house or some other location. You'll be able to see their name and photo and track progress on the map.
Once the food arrives, your driver drops the food off – no awkward credit card exchanges or even need to sign any receipts. It's all taken care of in the app.
I was able to keep track of our delivery and even time myself to get the table ready just in time for the delivery. It is fun to watch the little car on the app make its way through to your house.
The whole order/delivery process was easy, simple, seamless, and relatively fast.
There's a ton of restaurants available on Uber Eats – so to get you started, here is our Tasty Chomps' list of 10 of our favorite local Orlando restaurants to try on our Uber Eats.
Tasty Chomps' 10 Local Orlando Restaurants To Try On Uber Eats
For a limited time (until August 1, 2019) Uber Eats is offering free delivery on your first order for all readers of Tasty Chomps: A Local's Culinary Guide – enter the coupon code heyeats6j3d4 at checkout.