Chuck Woodard has a mission to revolutionize the way we eat dessert with our friends and family. Chuck graduated Summa Cum Laude from the University of Miami in 2014 with a Bachelor's Degree in Finance.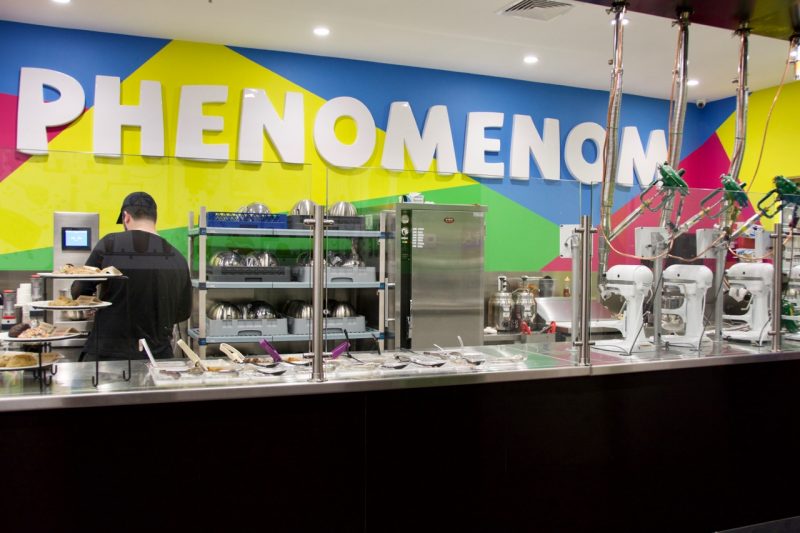 During his sophomore year of college, Chuck began developing his first nitrogen ice cream concept in his garage with a few college buddies. He opened two stores before graduating college and ultimately sold his ownership interest to pursue his vision for Phenomenom.
Chuck decided to bring Phenomenom to Orlando, FL as well as some other college towns outside of South Florida for all to enjoy.
The menu has so many options from drinks to bites. There are a number of recommended orders by the staff based off their favorite combinations or you can create your own with the panel on the very right showing you the step by step process.
The ice cream cookie sandwiches are massive! You can pick both cookies, whether the same or different, as well as picking the type of ice cream you'd like. It was so big we couldn't bite into it through and through. We ended up taking it apart to eat.
You can buy cookies on their own in quantities of 1, 4 or 12. They come warm for each order. The sprinkles sugar cookie is super sweet, but the dough inside is soft and chewy, which was my favorite part.
Eating the ice cream sandwich and cookies will be messy. If you didn't get messy, did you really enjoy your time here?
There are waffle bowls where you can enjoy your ice cream in and you can make a sundae too. The sundae includes a cookie and some toppings. I chose to have only the ice cream in the waffle bowl and asked for some coffee grounds to decorate my ice cream. I loved the added coffee grounds because it added bitter notes to balance out the sweetness AND it gave the ice cream a little crunch.
The coffee grounds I added to the ice cream are the same as what they use in making and serving coffee at this shop – Cuban Style Espresso.
Not only can you enjoy your time with friends and family at Phenomenom, but you can also enjoy amazing deals as well.
For more information, visit the Phenomenom website.