The new TODAY Cafe allows guests to experience the Studio 1A Themed Cafe, designed to feel like stepping onto the iconic TODAY show set along with specialty food and beverage options.
The TODAY Cafe replaces the Beverly Hills Boulangerie at Universal Studios Florida which focused on baked goods, coffee and sandwiches. It's set in an ideal location for those guests who enter the park in the morning and are looking for breakfast, lunch, or a snack to nourish and power them through the day as they start their adventure through Universal Studios.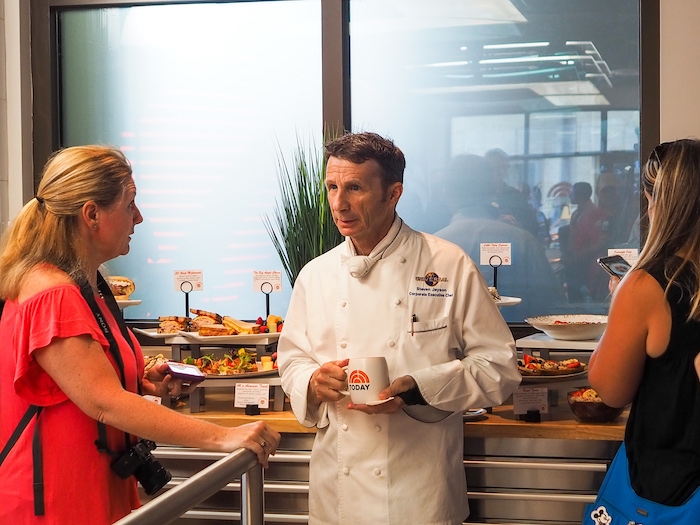 Every day menu options include fresh, in-house baked pastries, salads, sandwiches and specialty, locally-roasted coffees including a unique blend made exclusively for the TODAY Cafe. Guests can grab items on-the-go, or enjoy their meal any time of the day at seating both inside and outside in an area designed to look like the TODAY Plaza.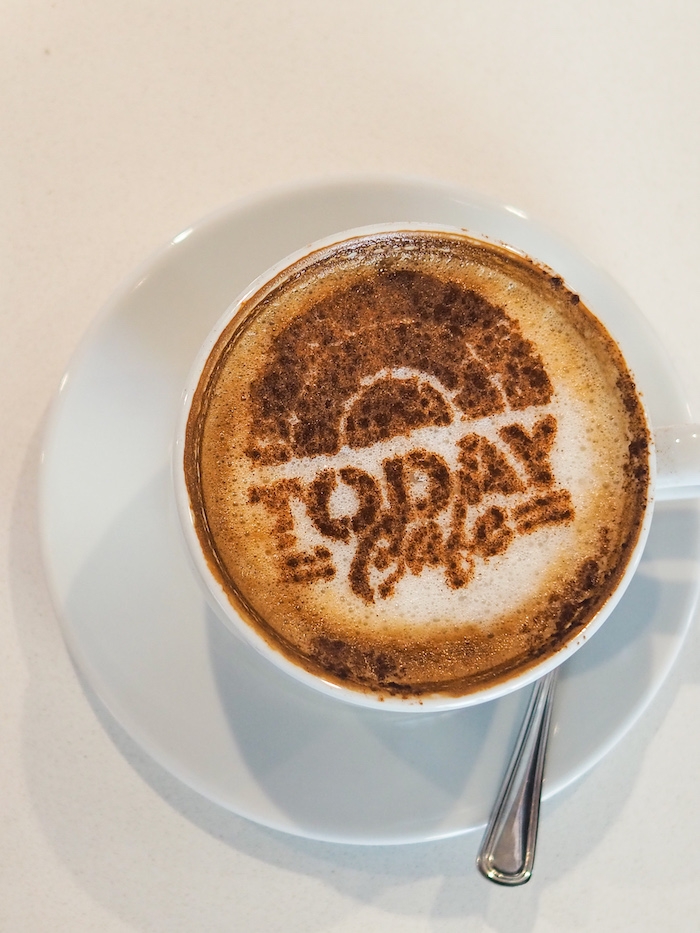 The TODAY Cafe also offers specialty breakfast options like avocado toast and an organic acai bowl to New York-inspired sandwiches and salads.
The TODAY Show is America's number-one morning show and the restaurant venue is totally inspired by the show – complete with stage lighting and vibrant orange theming – as well as top headlines from TODAY's live broadcast.
The anchors of the show, Savannah Guthrie, Hoda Kotb, Al Roker, Carson Daly, Craig Melvin, Jenna Bush Hager, Sheinelle Jones, Dylan Dreyer, Willie Geist and others, helped to inspire the one-of-a-kind experience that can only be found at Universal Studios Florida.
One of the standout features of the TODAY Cafe menu are the seasonal dishes inspired by co-anchor Al Roker's favorite recipes.
Al's Avocado Toast – The first seasonal dish is Al's Avocado Toast, inspired by the one and only Al Roker! This dish features smashed avocados, cherry tomatoes, artichokes, roasted red onions, tomato aioli, toasted farmhouse white, served with bread & butter pickles.
Top menu highlights include a new twist on a classic Italian sandwich piled high with porchetta, spicy capicola, provolone, roasted tomato, arugula, basil aioli on a crunchy baguette, and an Asian-inspired chicken salad that will combine baby arugula, cabbage, radicchio, shitake mushrooms, daikon sprouts, wasabi cashews and soy peanut vinaigrette. Additionally, in tribute to a long running tradition in the fourth hour of TODAY, guests can enjoy wine and beer on tap with a delicious cheese platter for two.
Mulberry Street Italian Sandwich – Porchetta, spicy capicola, coppa, provolone, arugula, roasted tomato, basil aioli, on a crusty baguette
My favorite salad – the SOHO Salad – roasted cauliflower, Brussels sprouts, arugula, farro, avocado, prosciutto, lemon vinaigrette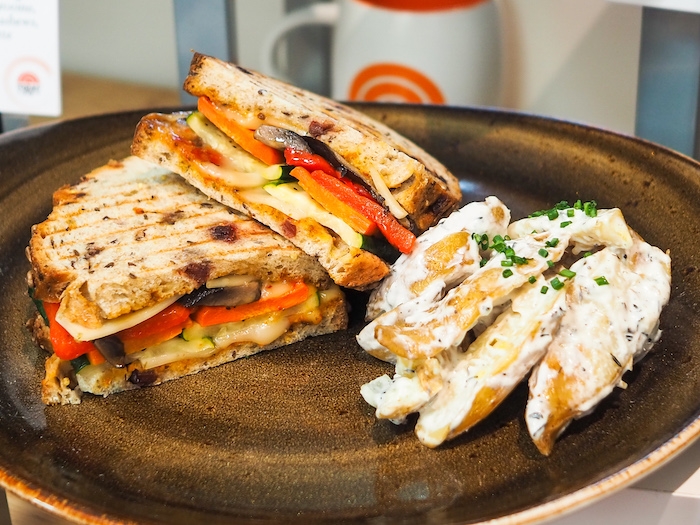 I <3 Vegan-  Roasted Portobello mushrooms, peppers, zucchini, carrots, vegan jalapeno cheese, sun-dried tomato pesto, pressed cranberry artisan bread
Here is the current menu for the TODAY Cafe as of May 2019:
Breakfast Sandwiches
Egg White Florentine (UD) – $8.99
cheddar cheese, oven roasted tomato, spinach on ciabatta with fresh fruit
Bagel Toast (UD) – $8.99
almond butter, Nutella cream cheese, bananas, strawberries, chia seeds, toasted almonds, semi-sweet chocolate chips with fresh fruit
Ham, Egg & Cheese (UD) – $8.99
shaved ham, cheddar cheese on ciabatta with fresh fruit
Bowls
Overnight Oats (UD) – $6.99
old fashioned oats, almond milk, agave, chia seeds with seasonal berries, toasted coconut and toasted almonds
Acai Bowl (UD) – $9.99
topped with strawberries, organic granola, bananas, toasted coconut and chia seeds
Pastries
Cookies (UD) – $2.99
Chocolate Chip, Oatmeal Raisin
Croissants & Kruffins (UD) – $3.49
Assorted croissants, kruffins and palmiers
Muffins, Brioche & Cupcakes (UD) – $4.99
Assorted muffins, brioche and cupcakes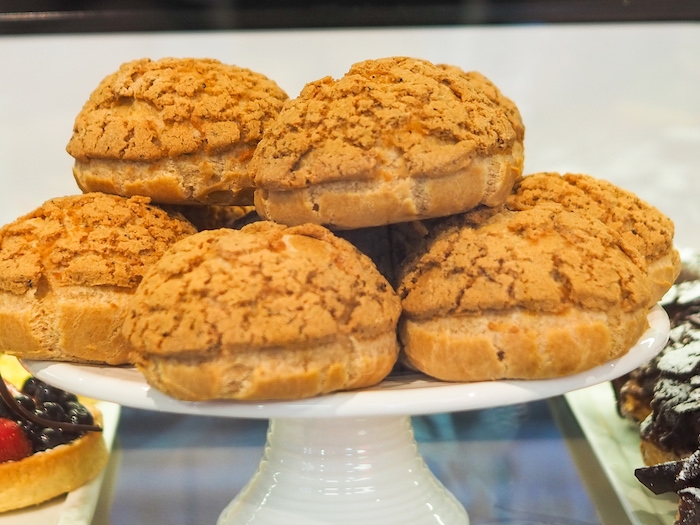 Cheesecake & Cream Puffs (UD) – $5.49
Assorted cheesecakes on a stick and cream puffs
Cakes (UD) – $4.69
Assorted tortes, cakes, Napoleons and Tiramisu
Eclairs (UD) – $4.49
Chocolate or Vanilla
Tarts (UD) – $5.39
Assorted fruit tarts
Sandwiches
The Carnegie Platter (UD) – $13.99
hot piled high pastrami, Swiss cheese, deli mustard, toasted rye served with potato salad
The Big Apple Cheese Platter (UD) – $11.99
cheddar, Swiss, pepper jack, red delicious apples, roasted tomatoes on grilled farmhouse white bread served with potato salad
30 Rock Midtowner Platter (UD) – $12.99
shaved roasted turkey, smoked gouda, tomato aioli, pressed cranberry artisan bread served with potato salad
I Heart Vegan (UD) – $12.99
roasted portobello, peppers, zucchini, carrots, vegan jalapeno cheese, sun-dried tomato pesto, cranberry artisan bread, served with fresh fruit
Little Italy Caprese Platter (UD) – $12.99
fresh mozzarella, vine-ripened and oven roasted tomatoes, basil, basil aioli, warm ciabatta served with fresh fruit
The Bulls & The Bears Platter (UD) – $13.99
smokey beef brisket, cheddar cheese, arugula, pickled red onion, horseradish cream, warm crusty baguette served with potato salad
Mulberry Street Italian Platter (UD) – $12.99
porchetta, spicy capicola, coppa, provolone, roasted tomato, arugula, basil aioli, crusty baguette served with potato salad
Al's Avocado Toast (UD) – $11.99
smashed avocados, cherry tomatoes, marinated artichokes, roasted red onions, tomato aioli, bread & butter pickles
Salads
The Traditional (UD) – $9.49
Caesar style, housemade croutons, Parmigiano-Reggiano
Kale with Oven Roasted Chicken (UD) – $12.49
shaved fennel, red delicious apples, sun-dried cranberries, toasted pumpkin seeds, goat cheese, maple dijon vinaigrette
SOHO (UD) – $12.49
roasted cauliflower, Brussels sprouts, arugula, farro, avocado, prosciutto, lemon vinaigrette
Roasted Root Beets & Carrots (UD) – $10.99
baby spinach, quinoa, edamame, avocado, gorgonzola, toasted walnuts, honey dijon vinaigrette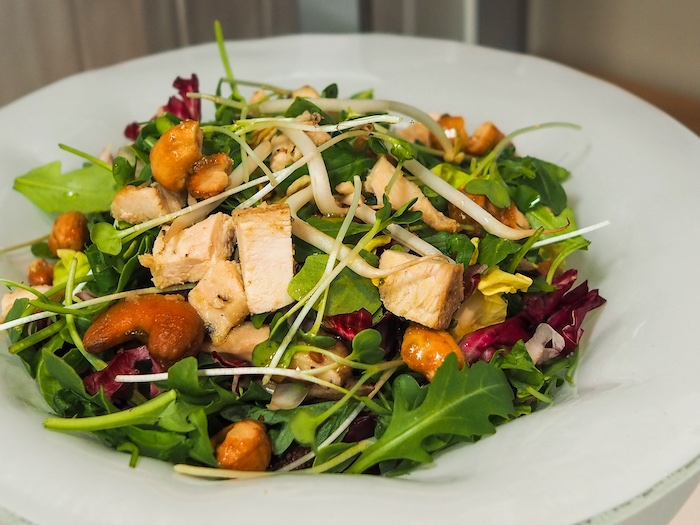 Chinatown Chicken Salad (UD) – $12.49
baby arugula, napa cabbage, radicchio, shiitake mushrooms, daikon sprouts, wasabi cashews, soy peanut vinaigrette
Afternoon Treats
Cheese Platter for 2 (UD) – $18.99
selection of cheeses accompanied by grapes and crackers