It is easy to see why Park Pizza & Brewing Company, located in Lake Nona Town Center across from Boxi Park, won this year's Orlando Sentinel Foodie Awards categories for "Reader's Choice Best Newcomer" & "Reader's Choice Best Pizza".
Park Pizza & Brewing Co. is Lake Nona's home away from home; a welcoming retreat for the entire community.  They serve up fresh, delicious wood-fired pizzas and house-brewed beers with a sense of neighborhood pride.
Visible through glass walls inside and out on the street, Park Brewing's showcase brewery is a state of the art system tended to by their in-house Head Brewer, Marco Reyna.
This summer Park Pizza & Brewing Company is hosting a summer beer series called "Let's Get Weird".  From June 20 through July 25, Park Pizza will release six new unique summer-inspired house-brewed beers every Thursday.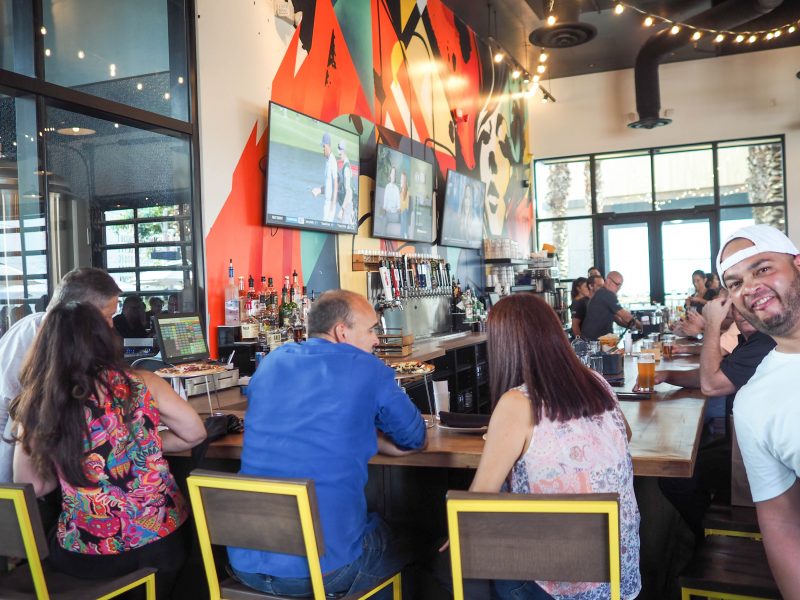 While Park Pizza & Brewing Company generally focuses on conventional beer styles and brewing techniques, these six upcoming summer-inspired beers will feature a "weirder" approach to brewing for a truly unique tasting experience.
1. Boo Radler (3.5% ABV) – to be released first on June 20, is a Meyer lemon and rosemary radler. Radlers are typically German wheat beers blended with lemon or grapefruit sodas for a refreshing seasonal Bavarian summer beverage. This brew blends the sweetness of Meyer lemons with savory rosemary aromas. Two cocktails will be derived from this beer as well, the Tequila Mocking Bird and the Atticus Gin.
2. Nashi Pear Gose (4.2% ABV) – Tart and refreshing, a sour wheat ale that combines the sweetness of Asian pear with fresh ginger and a touch of sea salt.
3. Citrus Citrus (7.2% ABV) – the quaffable IPA is brewed full of Citra hops and pomelo citrus fruits. The beer will feature notes of orange peel, lemon, grapefruit and blood orange.
4. Old '98 (5.5% ABV) – Cucumber and honeydew melon are the fruit-forward notes inspired by the must-have scent of the late 1990s Bath & Body Works' Cucumber Melon. This golden ale is also brewed with a hint of thyme.
5. Watermelon Wit (4.6% ABV) – each barrel of this Belgian-style wheat beer is brewed with 30 pounds of watermelon, plus fresh mint, lime and chili.
6. Marvin Berry Berliner Weisse (3.8% ABV) – a low-ABV, sour, German-style wheat ale packed with strawberries, blackberries, blueberries and raspberries with a hint of summer basil.
Additionally, during this time period, Park Pizza & Brewing Company will introduce new Monday through Friday Happy Hour specials.  From 3:30 p.m. to 6:30 p.m., the restaurant will offer:
$4 pints of house-brewed draft beers
$5 beer flights
50% off sangria
We were recently invited to come check them out and we were blown away with their wood-fired pizza and in-house brewery concept.
During our visit we got to customize our own pizza and also try one of their most popular pizzas, the Chicken and Goat pizza, pictured above.  It is typically made with goat cheese but we substituted ours with grande mozzarella and it was so delicious.  The pizza was then topped with garlic cream, fire-roasted chicken, and avocado.
Be sure to check them out next time you are in the Lake Nona area!
Park Pizza & Brewing Co.
6941 Lake Nona Blvd, Orlando, FL 32827
(407) 955-4472
parkpizzalakenona.com