If you have lived in Central Florida long enough, chances are you have celebrated at least one birthday at Kobe Steakhouse, peering over the iron teppanyaki griddles as a chef slices and dices vegetables, igniting little volcanoes made of onion and cooking oil, all while cracking both eggs and jokes. There's lots of laughter, lots of fried rice, lots of butter, stir fried noodles, steak, shrimp, chicken – and of course, the special white sauce.
With over 11 Central Florida locations (with a new St. Pete location opening this year), Kobe Ichiban Japanese Steakhouse is celebrating their 35th Anniversary in the Central Florida community on Thursday, July 4th. To join in on the celebration, visit any Kobe location for dinner on Thursday, July 4th and receive flashback prices from the 80's starting at only $9.95.
It may surprise many of you to know that Kobe is locally family owned and operated right here in Central Florida. Today, we are lucky to be blessed with some very good Asian restaurants from Vietnamese pho restaurants to dim sum and Malaysian street food to Sichuan Chinese to Japanese ramen. The restaurant landscape was very different 35 years ago here in Central Florida.
We got a chance to speak with Mr. Chau Nguyen, current owner of Kobe Steakhouse and the son of founder Doi Tan Nguyen, about those first days of Kobe Steakhouse right here with the first location in Altamonte Springs and their plans for the future.
Their story began in 1984 when Doi Tan Nguyen, along with his son Chau left Montreal, Canada. They came to Altamonte Springs and launched Kobe. Mr. Nguyen, a refugee of the Vietnam War, had big ideas for his restaurant concept in the Orlando market and wanted to deliver a unique dining experience that would offer an exciting and vibrant environment for guests to gather and celebrate over delicious food and drinks.
In 1996, son Chau Nguyen took over the company and remains the owner of the Florida native brand today. Over the years, Kobe has grown to become a big family business that includes his sister, uncle, children, nieces and numerous dedicated employees that have been with the company through the decades. Indeed, I personally have had many friends who were able to pay their way through college because of weekend and after school jobs at Kobe Steakhouse.
Interview with Mr. Chau Nguyen, Kobe Steakhouse
Tasty Chomps: Tell us about your background and life before Kobe started – how did your family end up in Montreal and then in Altamonte Springs?
Mr. Chau Nguyen: My family lived in Saigon during the time of the Vietnam War.  When the city fell in 1975, we felt that we had to leave and relocated to Montreal, Canada. There, I attended McGill University where I received degrees in computer science and accounting, completed my MBA, and received my CPA certification. I went on to work for a large telecommunications firm for many years. Meanwhile, my father opened his first Kobe restaurant in Montreal in 1978.
Shortly after opening the Kobe in Montreal, we vacationed in Orlando and were very much taken by its warm weather, attractions, and community, and we decided to take another leap. My father, with my help, relocated the restaurant to Altamonte Springs.
There were not many Japanese restaurants in the area at the time. Teppan Edo was new and popular at Epcot, but it was limited to those visiting Disney. We saw an opportunity to offer Teppanyaki style cooking outside of the attractions.
What was your father's background and experience before opening Kobe?
My father started several successful business endeavors in Vietnam from tile manufacturing, and hotels, to banking. My father was an entrepreneur at heart. He did not have any previous experience in the restaurant business, but he always favored the hospitality industry, and enjoyed sharing good food and surrounding himself with lively people.
In 1984, what was the food scene like in Orlando? What are some restaurants you remember?
There were a few independent restaurants in the area, but the most popular restaurant was Olive Garden which was new to the Darden brand at the time.
What was the initial reception like from the community when Kobe first opened?
There was a lot of anticipation for our restaurant to open. It took us two years to build the restaurant in Altamonte Springs and to get it fully prepared to serve our new community. Gratefully, we were busy right away – right from the day we opened.
What do you notice in the trend of dining habits from the time you first opened to today?
Guests today want a shareable experience, customization and convenience.
What were some struggles and challenges you overcame in the beginning?
We quickly learned that we needed to adjust our recipes to provide a better value. Our greatest struggle was finding good help, especially skilled Teppanyaki chefs. When we opened our Altamonte Springs location, we had to fly some chefs down from Montreal to help open and train new chefs. One of these chefs still works for us today as a District Head Chef. We are fortunate to have had so many employees stay with us for years (even decades) to help build Kobe to what it is today. Although staffing remains a current day challenge, we now have over 600 incredible, hard-working, and dedicated employees and continue to look to grow our Kobe family.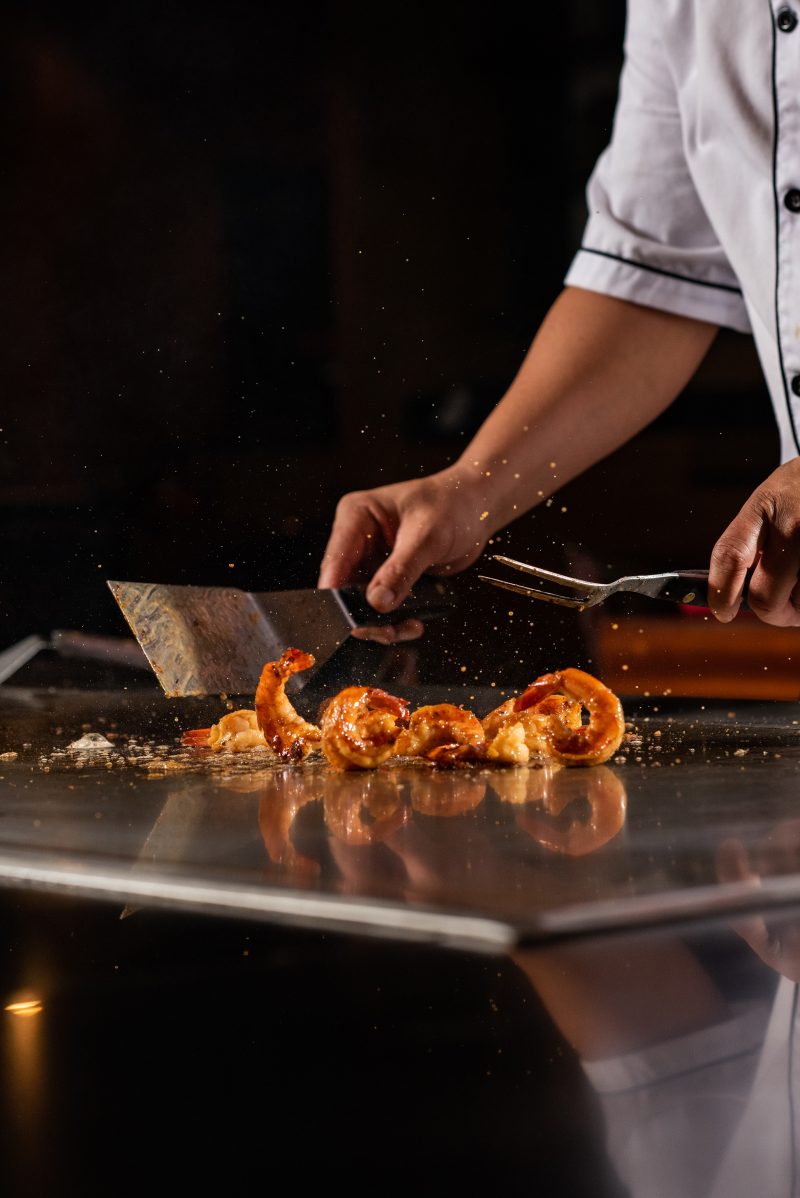 What are some future plans for Kobe?
We look forward to opening our new St. Pete location this summer, and then South I-Drive soon after. We want to continue to create memories at Kobe and to provide quality food and entertainment in Central Florida.
With 11 locations spanning from Orlando to Tampa, the Kobe team strives to continue to deliver the best Japanese Steakhouse dining experience to all local guests and those from all around the world.
Photos Courtesy of Kobe Steakhouse
Kobe Steakhouse
for more information, visit
https://kobesteakhouse.com/