From July 1, 2019 through August 22, 2019, Umi Japanese Restaurant is hosting a $10,000 Christmas in July giveaway with some red envelopes.
We were able to stop in to taste some of the local favorite dishes as well as hear more about the red envelope giveaway!
With all of the red envelopes, the giveaway totals up to $10,000 worth of quality food.
When dining at Umi July 1 – August 22, 2019, you'll receive a red envelope at random once get your bill.
Come back within this time period with the UNOPENED red envelope to claim one of their great secret prizes.
The prize you may win could be gyoza, a five course dinner for 2, robata charcoal grill, a give course dinner for 4, edamame, or the chef selection for Sea of Japan!
Before showing you what the Sea of Japan dish is, I'm going to ease you into Umi with other beautiful and delicious dishes including this one – Scallop Carpaccio (raw).
The scallops are served with an Asian salsa verde, micro greens, berry ponzu gel, ikura, red tabiko, sakuri, and orange zest.
This dish, like all of the other dishes we've had at Umi, was very fresh with well balanced tastes in each bite.
Another cold plate we choose to try was the Spicy Kimchi, which is made in-house.
I'm not a big fan of Kimchi myself, but this was pretty good! I'd order this again at Umi for sure.
As you may have noticed, many Asian restaurants have edamame. However, not many have the flavors like Umi does. From the common sea salt to 3 other unique flavors, Umi also has spicy kimchi, garlic lime, and truffle salt edamame for you to try and share. Here shows truffle salt edamame and it was definitely tasty. The truffle salt adds an earthy note to each bite.
Next on the menu, you may notice Hot Stone Wagyu Ishiyaki and you may not know what it is. Well, here it is.
You'd receive 3oz of Wagyu steak, shiitaki mushrooms, shishito peppers, yellow onion, and a dish of yuzu vinaigrette sauce to dip each item into before placing it onto a table top hot stone.
This is a fun dish to order when on a date for you two to cook together.
The wagyu is best if you only leave it for a few seconds and the inside is still pink when you take it off the stone.
Be careful with the shishito peppers, some can be spicy so you'd be playing a little Russian roulette.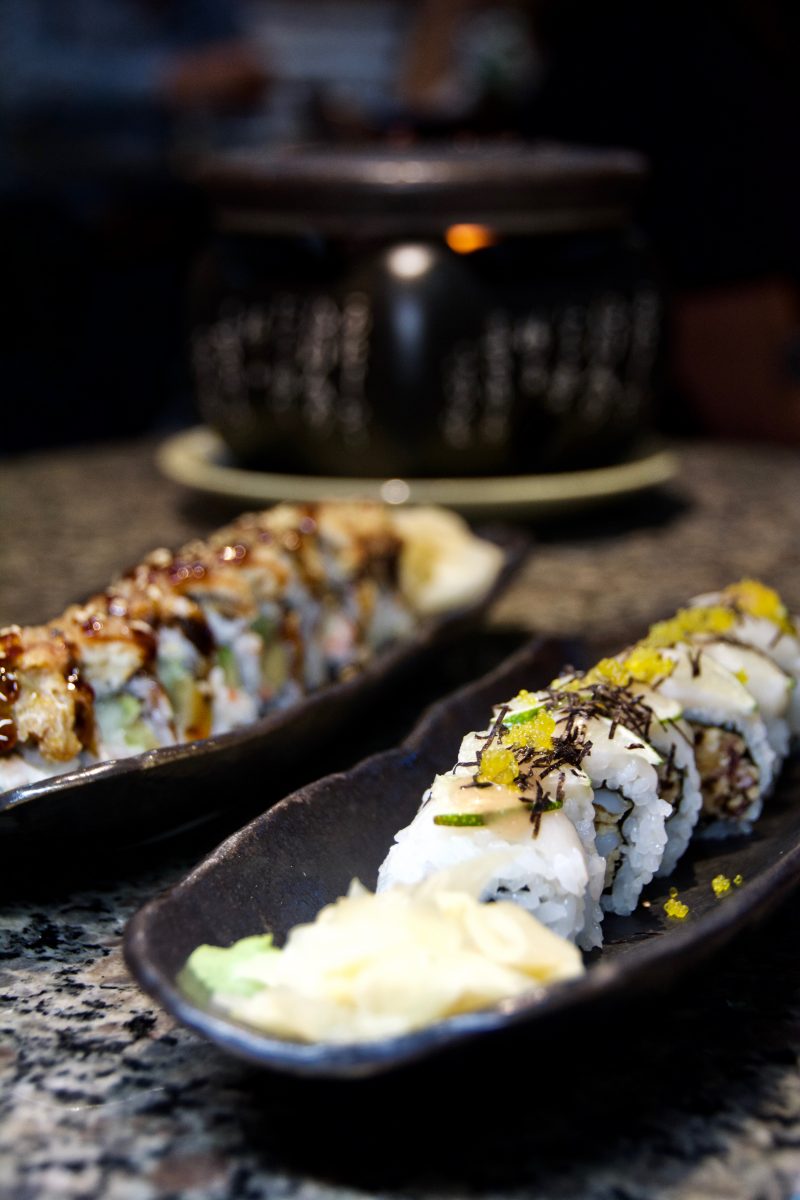 As you may have noticed, Umi provides many different and unique options.
Therefore, they do not shy away from that concept of being unique with their sushi.
Hearing that we weren't sure of which to order but still want to try eel, they decided to give us a common roll with a twist to it created on the spot by the Chef.
Here, you see the California roll with tempura eel on top.
It was fresh and crispy with the tempura eel on top of the California roll that Umi makes with snow crab, cucumber and avocado.
The other roll we tried was the Hokkaido (raw). This roll is pretty and creative.
The Hokkaido consists of fried shichimi-breaded calamari, Hokkaido scallop, thinly sliced lime, yuzu tobiko, truffle ume vinaigrette, and shredded nori.
I mainly tasted the freshness of the scallops and calamari, crispy texture of the shichimi-breaded calamari, and citrus zest of the lime. All of these pinpoints made this sushi one of my all-time favorites.
This may be what you've been waiting to hear about… the "Sea of Japan"! Umi's Itamae masterfully prepares a selection of 20 pieces of Sashimi, 20 pieces of Nigiri and 3 signature rolls.
Creating this masterpiece requires at least 30 minutes to prepare for you. It will comfortably feed up to 4 people.
Each item is made with fresh seafood and lined up beautifully, which requires the lengthy preparation time.
Yet, you may not want to order anything else if you're going to get the Sea of Japan unless you're with a group because it will definitely fill you up.
My favorite Sashimi will have to be Tako (Octopus) with the thinly sliced lemon that comes with it.
The lemon adds that citrus note that I love so much with the tasty texture of the tako.
Whether or not you get the Sea of Japan, be sure to make room for desserts like this delicious creme brûlée. I'm not a fan of sweets, but I do fancy this dish because it isn't very sweet at all. The sugar crust is crispy and adds a crunchy texture to each bite of the smooth custard.
Stop in for any of the dishes I tried (and more) as well as to check out their new happy hour menu.
For more information, please visit their website.