The Whiskey, located on Sand Lake's "Restaurant Row", offers gourmet burgers that are always ground fresh and cooked to order as well as craft cocktails.
Their culinary team led by Executive Chef Chastity Harvey continually strives to put out the most visually stunning plates, while offering an elevated twist to your palate.
To accomplish this, they use local ingredients from their eggs, produce, grass fed game meats, hormone & range free chicken and organic produce.
As you may expect from an establishment named The Whiskey, the restaurant proudly serves over 200 kinds of its namesake whiskey, including Bourbon, Scotch, & Rye so guests can explore the whiskeys of the world.
Executive Chef Chastity Harvey tells us one of the most popular dishes at The Whiskey is The Salty Pear; which is her "absolute favorite on the menu." It's a juicy freshly ground burger with poached bourbon pear, maplewood smoked bacon, creamy brie, whiskey onions, and a drizzle of garlic aioli. The BBQ Smoke House (with sliced smoked brisket) and the Southerner (with fried green tomato) are also popular burgers.
"Our namesake Whiskey Burger" sells very well because it is as awesome as the business its name's after.  Our pimento cheese is hands down one of the best in town, so I suggest if you are a fan get it on your burger, mmmmm.  Truffle parmesan fries are the biggest side accompaniment.  Truffle is just great with everything." – Chef Chastity.
Here Are 6 of Our Favorite Dishes at The Whiskey:
1. Tuna Poke

Ahi tuna, diced mango, sesame seeds, avocado cilantro aioli, wonton chips.  Fresh ahi tuna with crispy wonton chips – what's not to love?
2. Bangin' Shrimp
Lightly tempura battered, fried, sriracha aioli, scallions, sesame seeds.  The shrimp was crispy and the sauce had a nice kick to it.
3. Whiskey Chips
House cooked chips, Gorgonzola Cream sauce, Gorgonzola crumbles, bacon crumbles, balsamic glaze, diced tomatoes, and scallions.  These house cooked chips held their crispiness pretty well.
4. Pork Belly Sliders
Crispy pork belly, fried green tomatoes, house pimento cheese, balsamic glaze on sweet Hawaiian rolls.  The sliders were fun to eat and pretty good.
5. The Salty Pear Burger
House patty, arugula, tomato, whiskey onions, bourbon poached pear, maplewood smoked bacon, creamy brie dollop, garlic aioli and parmesan truffle fries.  Juicy and meaty burger with the perfect compliment of sweet and savory.

6. The Royale Burger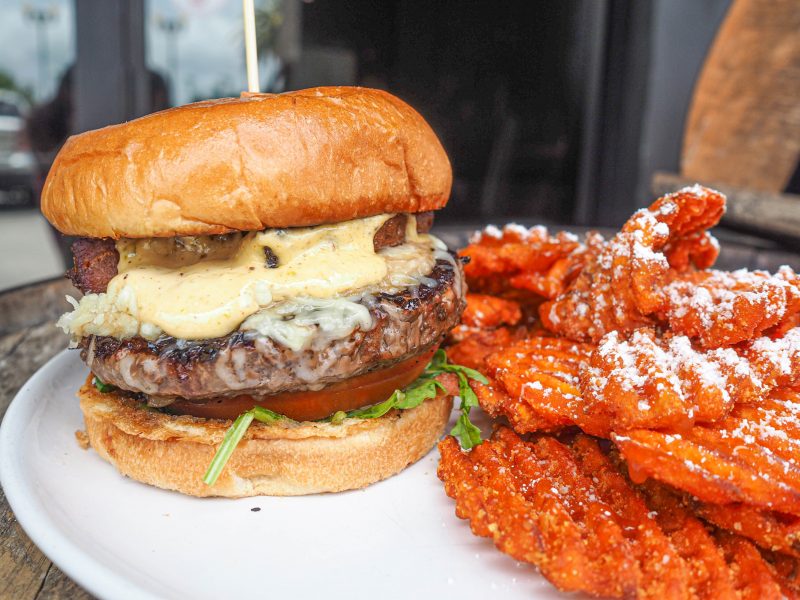 Wagyu, arugula, tomato, whiskey onions, pork belly, shredded gruyere, garlic aioli and sweet potato waffle fries.  This was my favorite dish out of everything we tried.  The wagyu and pork belly combination really took this burger to the next level.
Interview with Chef Chastity Harvey of  The Whiskey
What inspired you to become a chef?
In the early/mid-nineties my favorite pass time was the godfather of television cooking, Emeril Lagasse.  I was blown away, and completely smitten with how he was interacting with the crowd.  I would practice his BAM! at very inappropriate times and hours.  I would keep his Mrs. Dash seasonings in my room until my family had to convince me it was not the best idea.
When Crest brought him in for his own toothpaste line… I bought every flavor tube you could find.  I loved how Emeril could command everyone's attention, make everyone laugh, and practically melt with his culinary creations.
I wanted to provoke that in others – A genuine positive culinary religious experience.

Chef Chastity Harvey of The Whiskey

What are some of your earliest childhood food memories?
I unfortunately did not grow up in a household where cooking or preparing food was something my family grasped.  My grandmother, Nunni, use to mix flour and water and throw it in a pan… boom… fried bread.  Her name sake though was cutting cauliflower and drowning it in Italian dressing.
A majority of my childhood and growing up I was vegetarian/vegan.  My food world did not officially open up until around 2009 (right before culinary school).  A highlight of my childhood was every Friday night my dad and I would go to the movies and then would go to Denny's and get a Boca Burger.  That was honestly one of my favorite restaurants, maybe because of the Boca Burger, but it definitely put greasy diners on my food map and in my heart.
Tell us about your culinary background and education/experience.
I have been in Central Florida most of my culinary career.  I attended college at Rollins, and weeks after graduation signed up for classes at Johnson and Wales University (JWU) for Baking and Pastry and Food Service Development.  I returned to Orlando and went to Le Cordon Bleu for Culinary Arts Certification where I was on the competition team and learned urgency and mingled with other students whose drive matched mine.
I then worked for numerous well known establishments and chefs; Le Coq Au Vin, The Alfond Inn at Rollins, Dexter's, and have worked with some great chefs in our community, but the biggest influence I've had has been from Jason Klingensmith, Executive Chef of The Doctor Phillips Performing Arts Center.
My time working with him at The Alfond Inn awarded me opportunities to learn from someone with such an elegant sexy style, but also push my own boundaries and try things.  He was a great influence in busting me out of my shell, helping me instill confidence in not only myself, but my food.
If it was not for him I would not be where I am today, and I am quite pleased with how it's all turned out as of now.
What are some challenges you had to face and overcome over the years?
I am sure we all watched Hell's Kitchen and thought, "Hey chefs scream at people, they are jerks.  Period."  Well sometimes people conform to terrible stereotypes.  I had to learn something very crucial; this business has nothing to do with food, but how you treat people.  I could be the best chef ever but it could all be for nothing if I could not inspire great things from others because they feel mentally held hostage.  I had to learn "it is not what you say, but how you say it."
I had a 'tude, and was pretty rude.  Black and white with how things are and refusing to live in the many shades of grey and color.
It took patience, understanding my shortcomings, becoming a stronger teacher, and taking more pride in my staff and not only putting it into my food.  If people are happy and they enjoy being around you; they will have your back completely.  Attitude is everything.
What is your "food philosophy"?
Live well.  Do good.  Be great.  Eat like a queen and create like a boss.
What makes The Whiskey special?
The Whiskey, we are like a family.  You have your siblings, your aunts, that uncle who talks too much, the know it all, the smart a**, the joker, the bouncer, and it makes us unique and extremely fun.  Some of the people we have on staff have worked together for over a decade.  There is a sense of family that comes out when working here and I see it bringing the essence everyone has grown to love.  We are a genuine Motley Crew.
What are some of your favorite ingredients to work with right now?
Truffle, mushrooms, fruit has been a huge influence in my menu creation recently.  I am a sucker for sweet and savory.
What are some upcoming plans for The Whiskey this year?
We have some new exciting "Southern Contemporary" entrees coming out in the fall.  We are also working on some chef's tables and whiskey tasting events.  Stay tuned!
What is your favorite meal to eat when you want some "comfort food"?
I am a huge fan of handhelds.  Most comforting food to me: subs, hot dogs, ice cream, tacos, nachos, fries, etc.  Hot dogs… one of my go-to comfort foods.
The Whiskey
7563 W Sand Lake Rd. Orlando, FL 32819
(407) 930-6517
downatthewhiskey.com