First off, What is Chinese Hot Pot?
It's been said that the origin of hot pot started in East Asia when the Mongolians, those famed nomadic steppe warriors, each had their own personal pot and prepared a simple broth served with horse meat and sheep meat. Yes, the Chinese tried to keep the Mongolians and their so-called barbaric kin out of their "Middle Kingdom" with their Great Wall, but alas not even Matt Damon could help fight off these invaders forever, their tastes for hot boiling broth included.
Eventually, this cooking method became widespread throughout China and became a part of their own "melting pot", growing in popularity because of its fun, interactive experience of communal dining among friends and family.   Hot pot has the power to enhance friendships and unite family members and the warm air will make you feel comfortable. Think of it as Chinese fondue, but with delicious soup broth instead of cheese, oil, or chocolate.
Nowadays in China, a popular style is the Sichuan Chongqing mala "numb spicy" hot pot. There are even popular hot pot chains in Asia, most notably the Haidilao chain (which made over $6 billion this year) and Little Sheep hot pot franchises. In Japan, the dish is known as shabu-shabu or sukiyaki, while in Vietnam it is known as lau.
Several local Orlando restaurants feature hot pot as a single dish cooked to order, but full hot pot restaurants have the option to have individual ingredients and broths for you to cook at your table. Yes – cooking is half the fun with hot pots – it is part of the experience!
So, How Do You Eat Chinese Hot Pot?
Once the soup gets to a good boil, start by gradually dropping in ingredients such as thinly sliced meats, leaf vegetables, noodles, mushrooms, dumplings, tofu, and seafood in a simmering pot of soup broth heated by an induction burner.
When the ingredients are done cooking, use the ladle to pick up them and transfer it into your bowl.
Dip the cooked food in your choice of sauce and eat it.
Repeat this process with the remaining ingredients.
Some hot pot restaurants will have a buffet table and/or conveyor belt of fresh ingredients for you to choose from.
Your server will occasionally come by with a pitcher of broth to replenish your hot pot.
Finally, Where Are the Best Places to get Chinese Hot Pot in Orlando?
1. Hotto Potto
Hotto Potto is nestled in a plaza off of Semoran Blvd, near Baldwin Park.  They offer a wide variety of ingredients including but not limited to: Wagyu beef, lamb slice, marble pork, razor clams, lobster tail, jumbo prawns and dumplings made in house with fresh ingredients.  They also have milk tea boba made in ten different flavors and topped with an in house tea mix brewed for two hours.  They are open till 2am from Monday through Saturday and till midnight on Sunday.  Be sure to follow them on their social media channels to stay up-to-date on their current specials! They are also probably most famous for their 4/20 (April 20) free "pot" of soup deal.
Hotto Potto
1700 N Semoran Blvd #118, Orlando, FL 32807
hottopotto.com
(407) 930-5366
2. Volcano Hot Pot & Bbq
This awesome new hot pot restaurant is actually located in Kissimmee, across the street from Old Town.  They just opened in the beginning of June 2019.  The restaurant is very spacious and clean and there is a variety of fresh ingredients to choose from at the buffet table and conveyor belt.  At the dining table, you each have your own soup pot and a grill to share for Korean style barbecue if you so choose.
Prices for adults & kids:
$24.99 hot pot, $10.99 hot pot
$27.98 hot pot & bbq, $12.49 hot pot & bbq
Volcano Hot Pot & Bbq
5877 W Irlo Bronson Memorial Kwy, Kissimmee, FL 34746
(407) 986-5559
3. Nine Spices Hotpot
This hot pot restaurant is located a little over a mile from Universal Studios.  With a convenient conveyor belt bringing the freshest ingredients straight to your table, you don't even have to leave your seat.  They offer seafood hot pot, chicken hot pot, pork hot pot, lamb hot pot, beef hot pot, vegetable hot pot, or all you can eat hot pot within a 2 hour limit.  They also have boba teas.  Hours are 11:30 AM – 1:00 AM every day.
Nine Spices Hotpot
5320 S. Kirkman Road, Orlando, FL 32819
ninespiceshotpot.com
(407) 704-1033
4. Juicy Pot



This is the newest hot pot restaurant in town which has been open for a little over two weeks.  Located in front of 1st Oriental Supermarket on West Colonial Drive, they offer a variety of fresh premium ingredients to choose from off the menu and conveyor belt.  The broth flavors here are Vietnamese influenced – such as the goat broth and the sweet and sour soup style aka canh chua broth.  What makes Juicy Pot stand out from the rest is that it is affordable.  Instead of being all you can eat, it's pay for what you eat.  Plates are color-coded to represent price points ranging from $1- $10.  My friend & I ate there on their grand opening day and our bill was under $12!  Our broth was free since it was their grand opening special which saved us $8.  They are currently running a special for 10% off your bill in July.
Juicy Pot
5206 West Colonial Dr., Orlando, FL 32808
(407) 704-4934
5. Noodles & Rice Cafe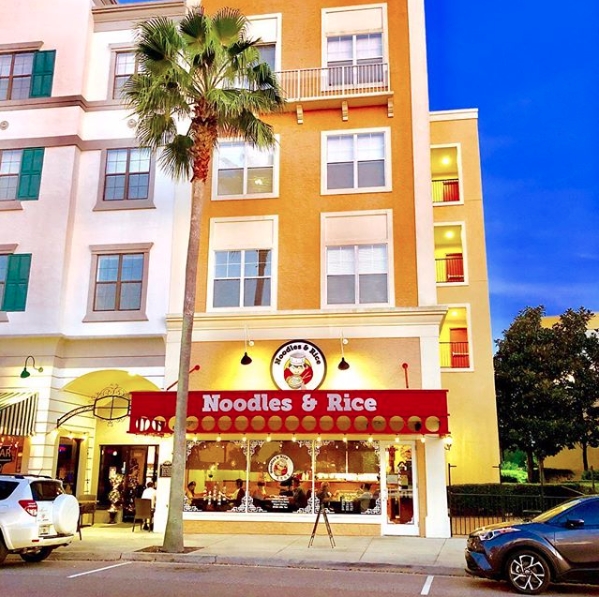 Noodles & Rice offers a full menu of great Asian food including hot pot. Hot pot flavors include: Beef, Chicken, Szechuan (spicy), Fish, Herbal, Miso, and Thai. They also now have two locations in Orlando, Mills 50 and Avalon Park.
Noodles & Rice Cafe
3891 Avalon Park East Blvd. Orlando, FL 32828
321-270-8888
Mills location has closed.
noodlesandricecafe.com
6. Top Top Hot Pot
Top Top Hot Pot is located in East Orlando near Waterford Lakes and features all you can eat as well as a la carte hot pot.  There is a wide variety of ingredients to choose from their conveyor belt, including noodles, shrimp, and beef, as well as spicy and non-spicy broth options, and a "make your own sauce" bar.  Our favorite dish here is the special chef's shrimp balls that are made fresh in house.
Top Top Hot Pot
504 N Alafaya Trail Suite 119, Orlando, FL 32828
(407) 901-8888
http://www.toptophotpot.com/