Starting last week, Teak Neighborhood Grill has debuted a new menu filled with original appetizers, entrees, flatbreads, and burgers.
We had the chance to try some of the new dishes as well as some classic favorites. Since I had never been before, I knew I had to have Teak's most popular appetizer, the Fresh-Fried Mozzarella Rounds. These fresh mozzarella slices are panko-crusted and quick-fried served with a side of marinara sauce. The cheese pull for these mozzarella rounds was unreal, and the fresh marinara only elevated this delicious appetizer.
Next, we tried one of the new flatbreads, the Firecracker Flat. This flatbread comes topped with chopped shrimp tossed in their own firecracker sauce, tomatoes, mozzarella cheese, smoked bacon, and scallions. Honestly, I think this was my favorite dish of the night. It had a slight spice to it thanks to the firecracker sauce, and the smoked bacon paired nicely with the shrimp.
On to the main course of burgers! The Hawaii 5.0 (cheese, julienned spam, teriyaki sauce, pineapple slice, mango salsa and bibb lettuce), Californication 2.0 (Turkey patty, avocado, alfalfa sprouts, cilantro aioli, tomato, and spring mix), and Tap Takeover (Smoked gouda, teak chips, Guinness Imperial stout glaze, jalapeño pear chutney, chipotle aioli, pretzel bun) are three of their new burgers. We went with the Tap Takeover, and it was a stacked burger! I loved the addition of the teak chips giving the burger a nice crunch with each bite.
To balance out the savory, we also ordered the Wicked Waffle. Fried chicken, cinnamon sugar jalapeño spread, ghost pepper cheese, and bacon are sandwiched between two pearl infused sugar waffles. These infused sugar waffles are unlike any waffles I had before. They were just slightly sweet and not overpowering, so it paired great with the cheese and bacon.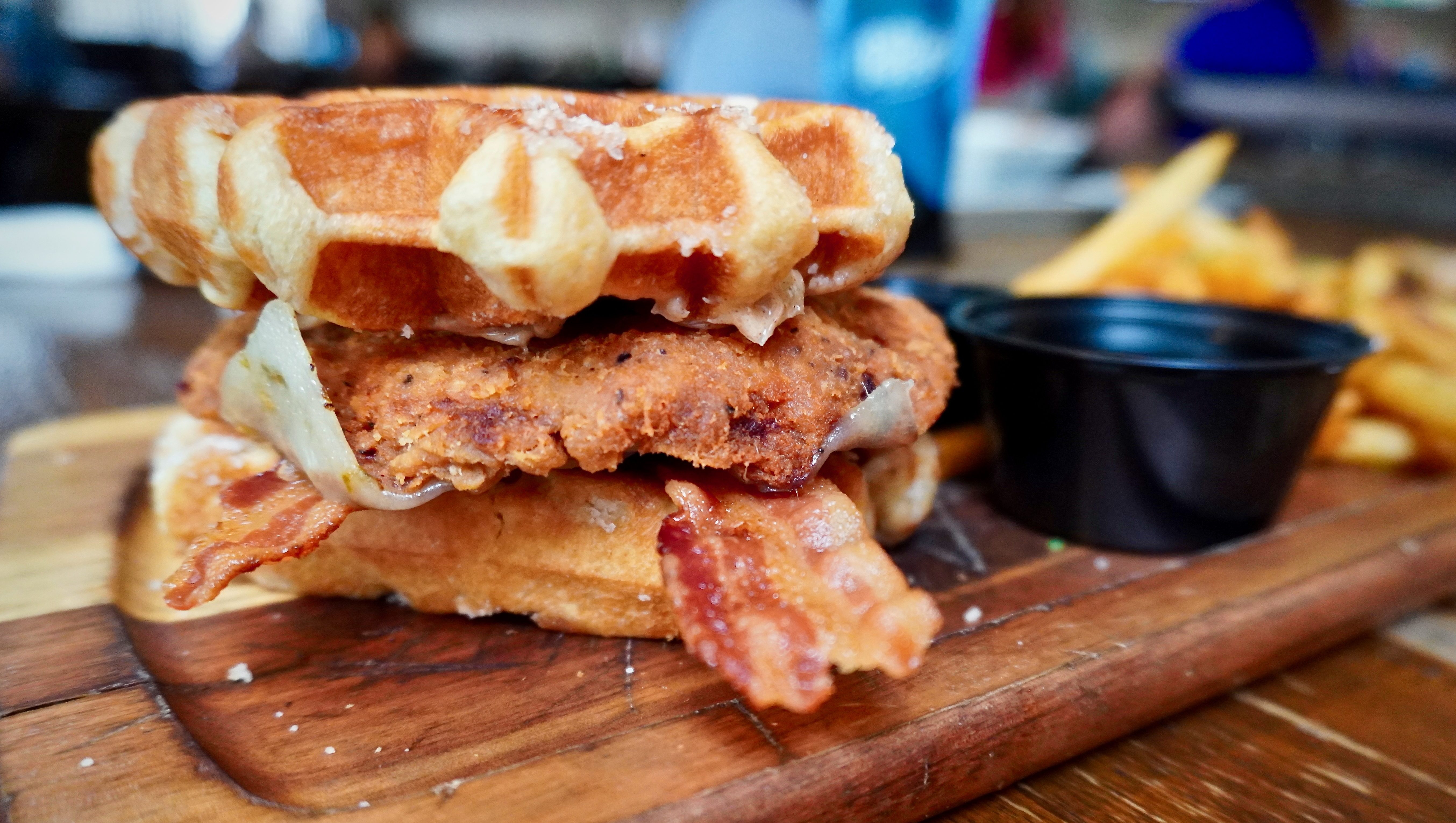 We can't forget about the sides! Two of Teak's most popular sides are the Garlic Bistro Fries and Scallop Potatoes, and I can see why! I have a weak spot for Garlic Fries and these were absolutely delicious. However, the scallop potatoes really stood out for me. I've never seen them served like they are at Teak, and the potatoes were cooked perfectly.
Some of their other new menu options include the Irish Quesadilla (a St. Patty's fave that's sticking around), Porky's Last Revenge (Pork chop with truffle mashed potatoes and broccolini), Mac n Skillet (pasta with American cheese, smoked gouda, bacon, ghost pepper sauce), and Peary Mason Flatbread (Pear, spinach, feta & mozzarella, balsamic glaze). I, for one, can't wait to return to try the Mac n Skillet and Truffle Mashed Potatoes!
Pro Tip:  Check out Teak's Facebook Page for the Underground Menu Password for more burger choices!
Teak Neighborhood Grill has two locations, Orlando (Metrowest) and Maitland, both serving daily specials. It's a perfect spot for the upcoming football season!