Join us for a very special "Amerikase" Chef's Tasting Dinner with Chef Venoy Rogers III at the B Resort & Spa's American Kitchens Inc on Friday, November 1, 2019 – 6:30 PM – 9:30 PM
As a chef who's traveled the world and experimented with an array of unique cooking styles and exotic ingredients, and thanks to some helpful prodding by local foodies such as Aldo Ferrari, member of The Orlando Foodie Forum hosted by Tasty Chomps, Chef Rogers has begun offering Omakase style tastings dubbed "Amerikase" (both for American Kitchen and American cuisine).
Now, come and enjoy an intimate dinner event brought to you by Chef Rogers in partnership with Tasty Chomps, featuring special dishes created by chef to deliver something "incredible that you will never forget" – AMERIKASE.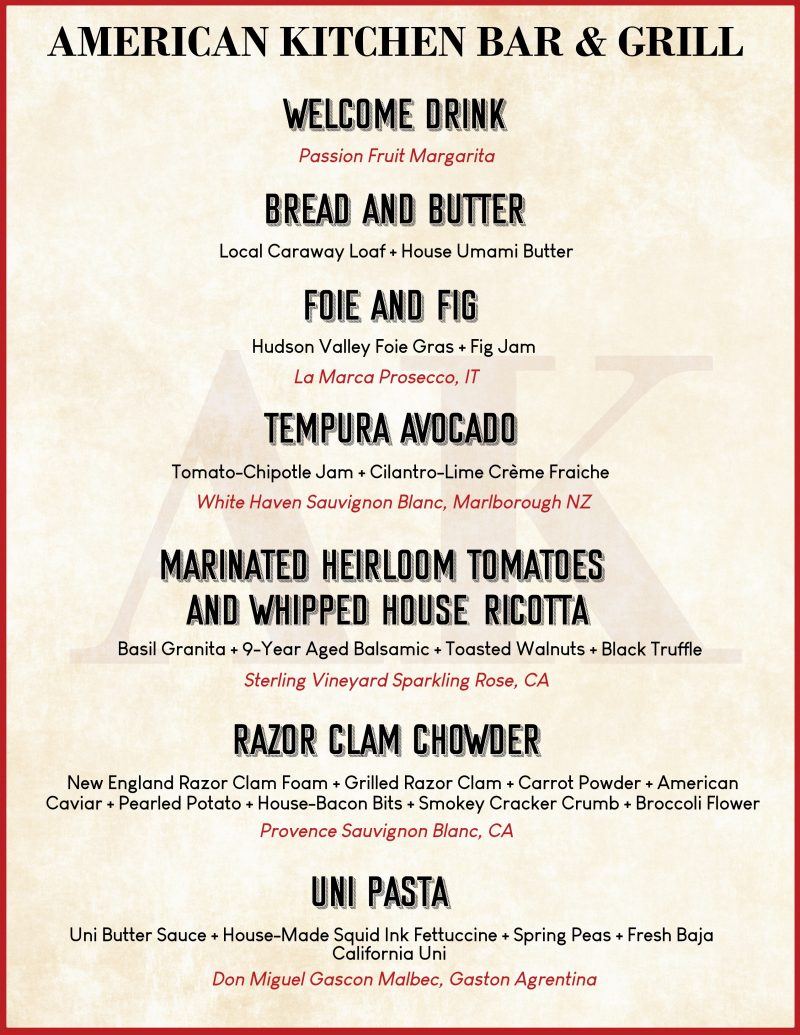 Menu:
Welcome Cocktails
Passion Fruit Margarita

Bread & Butter
Local Caraway Loaf, House Umami Butter
Foie and Fig
Hudson Valley Foie Gras, Fig Jam
Paired With La Marca Prosecco, IT
Tempura Avocado
Tomato-chipotle jam, Cilantro-lime Crème Fraiche
Paired With White Haven Sauvignon Blanc, Marlborough NZ
Marinated Heirloom Tomatoes and Whipped House-Ricotta
Basil Granita, 9 Year Aged Balsamic, Toasted Walnuts, Black Truffle
Paired With Sterling Vineyard Sparkling Rose, CA
Razor Clam Chowder
New England Razor Clam foam, Grilled Razor Clam, Carrot Powder, American Caviar, Pearled Potato, House-Bacon Bits, Smokey Cracker Crumb, Broccoli Flower
Paired With Provence Sauvignon Blanc, CA
Uni Pasta
Uni Butter Sauce, House-made Squid Ink Fettuccine, Spring Peas, Fresh Baja California Uni
Paired With Maso Canali, Pinot Grigio IT
PLUS
3 other SECRET COURSES to be unveiled by Chef Venoy Rogers III during dinner!
For tickets, visit: https://www.eventbrite.com/e/american-kitchen-bar-grill-amerikase-experience-tickets-76171277341