VINIA is a new wine bar and kitchen located on West New England Ave in Winter Park's Hannibal Square District. It is owned and led by Fabio Perricelli and Paula Gamba, a brilliant couple who came to Orlando from Brazil to share their passions of fabulous food with our community. With a chef by their side, it feels like nothing can stop them from making their wine bar and kitchen a new community hangout.
The wine bar and kitchen offers a variety of European and Mediterranean wines, as well as a selection of cheeses, meats and other appetizers all designed to go well with wine.
Every time I'm there, I see so many community members sending time with their friends and family. Fabio and Paula make every person feel welcomed from the moment they walk through the door. To me, they're a true definition of community, especially when their guests surprise Fabio for his birthday with a cake and dressing up similar to him.
They have so many dishes and separated based on type: vegetarian, land, sea, and sweets. Each dish has a unique trait that makes them enjoyable.
For their wines, they also have a wide variety and Fabio is more than happy to help you find your new favorite like he did with me. When speaking about food and wine with Fabio and Paula, you can see their passions glisten in their eyes as well as hear it in their voices.
One of my top wines to enjoy at VINIA include this Greek wine I discovered with the help of Fabio. If not, I'd have their Douro from Portugal or Bordeaux from France. The wines I do like are definitely on the side of bold, full-bodied and tastes of tannins.
Every time I'm here, I usually order the Romeu & Julieta. These are Authentic Brazilian cheese bread (pão de queijo) with guava sauce. They are made with tapioca, which gives them their chew. You will have trouble keeping your hands off of these and might fight others at the table for the last bite.
Empanada de Carne con Queso are beef and mixed cheeses empanadas that have a delicious crispy and dense exterior that balances out the smooth texture of the interior. The flavors are very mellow and a touch of the chimichurri and pepper oil both add a nice touch to each bite. It's definitely a lighter option than many other places with empanadas.
The Bacalhau ao Forno is pan roasted cod, honey roasted butternut squash flan lemon sage sage, and sauté spinach. This is one of my favorite dishes here because of how unique it is with the flan. There's such savory sweetness to it that makes it unique and impossible to find anywhere else in town, especially when it is as good as this one.
The Ravioli Fatti a Mano is the Chef's composition with artisan ravioli. Each day may have a different selection and flavor so make sure you ask Fabio and Paula what the Chef's composition is that day. When I went, it was cheese and mushroom stuffing, which was very nice and comforting. I'm all about the comfort feeling when I take a bite of pasta.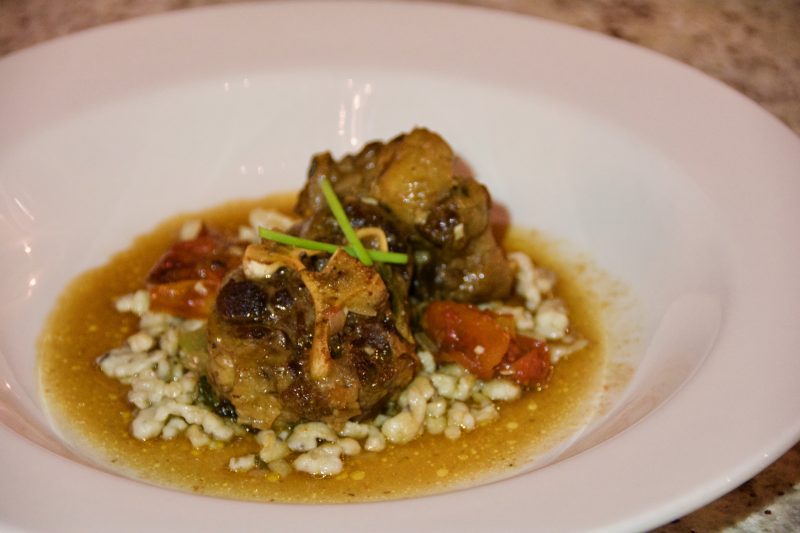 Rabo de Toro is composed of 15 hour braised ox tail, black eyed pea spaetzle, preserved tomato, mustard greens, and au jus. The flavorful ox tail melts in your mouth supported by the spaetzle and vegetables.
Porc en Croûte de Cacao Épicé is a dish revolving cocoa rubbed smoked pork tenderloin on a bed of polenta and tomato coffee sauce. The coffee flavors are very mellow in the tomato sauce and on the pork tenderloin. The pork tenderloin is cooked well and moist, especially when taking a bite with the smooth and delicious polenta. I've had polenta before, but I've never enjoyed it this much.
After all those dishes, I still made room for some desserts. As you can see, I couldn't tell which one I really wanted. Luckily, they have a dessert flight with all three options in smaller portions. Also, you can pair it with some dessert wines for an additional cost.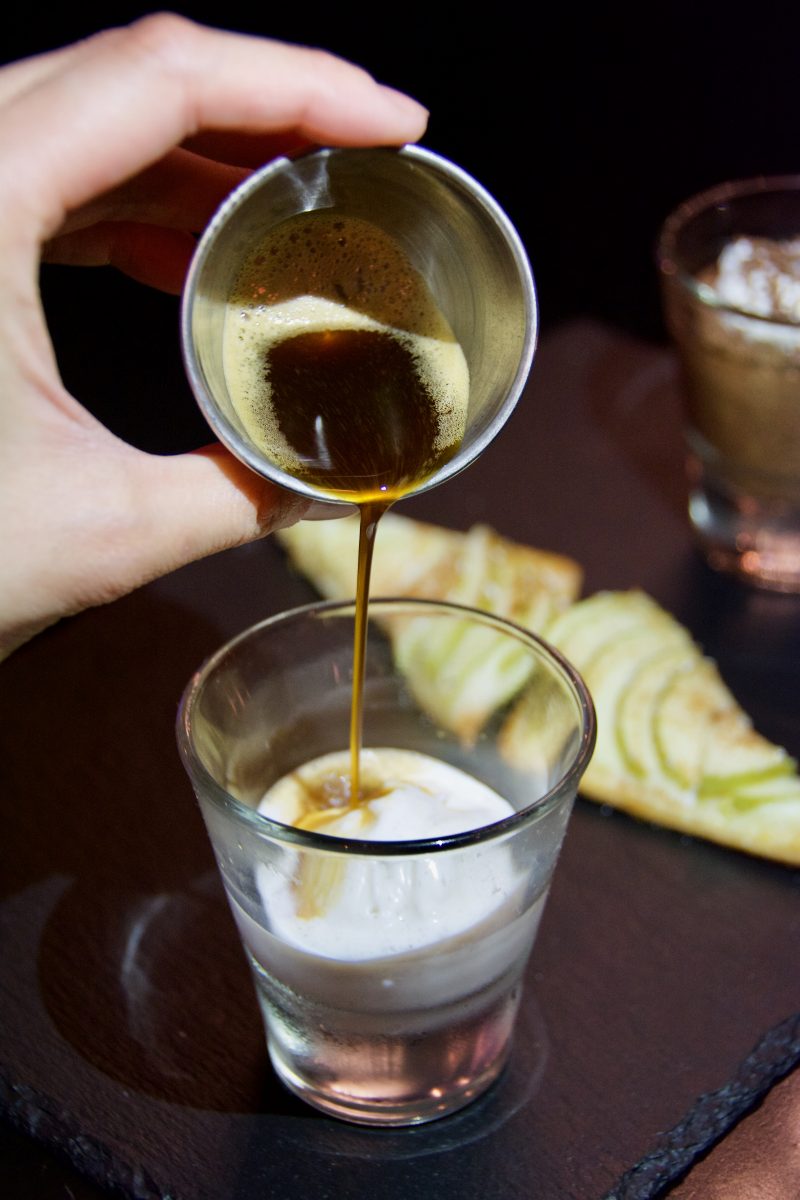 The Affogato is vanilla gelato dosed with caramel espresso. For me, I'd like this to be the large size… in a cup with ice and a straw.
Torta de Maçã is a thin Granny Smith apple pie topped with pastry cream and cinnamon sugar. I love how it's a thin bite, which gives it a crispy touch that I quite enjoy. You could dip this in the Affogato or next dessert like I did for a variety of flavors.
Last, but not least, I tried the Pot de Crème au Chocolat. It is a rich chocolate custard with crated dark chocolate and sea salt. I would absolutely order this in its full size all the time! I can't wait to come back for more food and more of this dessert.
For more information, visit their website as well as like them on Facebook and Instagram.