Who doesn't wish they could leave Thanksgiving cooking up to others and forget all about the prep and clean up? Well here's a list of restaurants serving up Thanksgiving Specials in Orlando this 2019:
CATERING FOR GOOD – SUPPORTING SECOND HARVEST FOOD BANK
As part of its mission to fight hunger in Central Florida, Second Harvest Food Bank finds creative solutions for how to get food into hands that need it most.
One program is its very own catering company, called Catering for Good. You can hire them for pretty much any function – including Thanksgiving dinner and holiday parties in the home or office.
The team has developed its holiday menu, which includes Sage Butter Turkey Breast, Harvest Stuffing and Cranberry Chutney. By letting Second Harvest cater your Thanksgiving, you'll be doing good. Revenue generated through sales with Catering for Good is put right back into Second Harvest's mission and specifically its Culinary Training Program, a 16-week education course that prepares adults for a career in the food service industry. Log onto www.feedhopenow.org to see the menu. Call 407-514-1048 to order.
THANKSGIVING FEAST AT HIGHBALL & HARVEST:
Enjoy a festive southern style Thanksgiving spread with traditional items and a variety of farm-fresh southern sides.
Thursday, November 28, 12 – 8 p.m., $120 Adults, $50 Children 12 & under.
Reservations required; 407-393-4648.
American Kitchen Bar & Grill
American Kitchen Bar & Grill in the Disney Springs Resort area will be showcasing their annual Fall Feast on Thanksgiving Day, November 28th from Noon to 10PM.
$29 All-Inclusive
smaller portions available for kids 12 and under at $14
 Location:       1905 Hotel Plaza Blvd, Lake Buena Vista, located inside B Resort & Spa
Parking:         Free when dining at American Kitchen. See hostess for validation.
Reservations: Opentable: https://www.opentable.com/r/american-kitchen-bar-and-grill-at-b-resort-and-spa-lake-buena-vista
STK AT DISNEY SPRINGS

Eat, drink, and give thanks on Thanksgiving at STK Steakhouse; featuring a Roasted Turkey Special, Traditional Pie & Full STK Steakhouse Menu.
STK Steakhouse, the "not your daddy's steakhouse," invites you to eat, drink and give thanks on Thanksgiving with a Roasted Turkey Special with Chestnut Cornbread Stuffing, Green Beans, Sweet Potato, Yukon Gold Potatoes, Old School Gravy, and Cranberry Orange Chutney for only $42 per adult and $16 per child (12 and under). In addition, the full STK Menu will also be available, as well as a special children's menu. On Thanksgiving Day, STK Orlando will be open 11am – 12am, STK Las Vegas will be open 12pm – 11pm, and all other STK locations will be open 12pm – 10pm. They will also be offering bonus dinning dollars with every gift card purchase made between November 1 and December 31. Guests will receive a $10 bonus dinning card for every $50 they spend and $25 bonus dinning card for every $100 they spend.  Bonus cards can be redeemed January 1, 2020 – March 31, 2020.
ROASTED TURKEY SPECIAL ~ $42
($16 Children 12 & Under)
Chestnut Cornbread Stuffing, Green Beans, Sweet Potato, Yukon Gold Potatoes, Old School Gravy, Cranberry Orange Chutney
TRADITIONAL PIE ~ $12
Spiced Pumpkin or Cinnamon Apple, Boozy Cream, Vanilla Ice Cream
RAGLAN ROAD AT DISNEY SPRINGS
1921 MOUNT DORA
1921 will be open on Thanksgiving from 12:00pm to 6:00 pm with traditional Thanksgiving offerings done the 1921 Mount Dora way. Reserve now by calling 352.385.1921
AMERICAN SOCIAL BAR AND KITCHEN
Address: 7335 W Sand Lake Rd Suite 101, Orlando, FL 32819
Details: On Wednesday, November 27, American Social will host an epic pre-
Thanksgiving
bash to ring in the holiday and celebrate the long weekend. The restaurant and elevated sports bar will feature a complimentary Tito's happy hour from 9:00 – 11:00 p.m. along with a live DJ to set the mood for the night, and late night happy hour including signature AmSo bites including East Coast Oysters, personal pizzas, and pork belly empanadas, ranging from $3-8 starting at 10:00 p.m.
Cafe Tu Tu Tango
Leave it to Café Tu Tu Tango to put their own innovative twist on Thanksgiving!
The I-Drive restaurant will be open from 12 to 9 p.m. on Thanksgiving Day, and will offer their regular menu along with the following five inventive specials:
TURKEY PAPAS RELLENA $10
yukon gold potatoes, mushroom gravy, smoked dark meat turkey, pickled shallots, herbs
AUTUMN SALAD (GF) (V) $9
lolla rossa, goat cheese, pickled honey crisp apples, candied pecans, apple cider gastrique, lemon-thyme vinaigrette
DUCK FLATBREAD $12
duck leg confit, feta cheese, green tomato salsa, cranberry gastrique, red mustard green frills
TURKEY CHORIZO TACOS $12
smoked sweet potatoes, pickled red onion, roasted poblano peppers, charred corn salsa
PUMPKIN FLAN $7
oat streusel, whipped cream
FOGO DE CHAO ON I-DRIVE
Fogo de Chão locations nationwide are open on Thanksgiving (11:00 a.m. – 9:00 p.m.) and will offer a unique menu on that day, which, in addition to fire-roasted meats and Market Table offerings, include Roasted Turkey Breast, Turkey Au Jus, Cranberry Relish, Brazilian Sausage and Apple Dressing and Sweet Potato Casserole. Reservations can be made at fogo.com; children 6 and under dine free, children 7 to 12 are half price
They will offer the bonus cards deals – both in-restaurant and online at Fogo.com – on purchases made between October 28 and December 31. Bonus cards can be redeemed January 1, 2020 – March 29, 2020. Bonus offers as follow:
o   Receive $25 Holiday Bonus Card for every $125 gift cards purchased
o   Receive $75 Holiday Bonus Card for every $300 gift cards purchased
o   Receive $100 Holiday Bonus Card for every $400 gift cards purchased
SPENCER'S FOR STEAKS AND CHOPS AT HILTON ORLANDO
Thanksgiving at Hilton Orlando
Serving up elevated takes on Thanksgiving staples, the Thanksgiving buffet at Hilton Orlando's Spencer's for Steaks & Chops has something for everyone. Featuring a traditional carving station with a selection of roasted tomahawks, rack of lamb, roasted turkey and maple bourbon roasted ham, guests and locals alike can choose from an array of upscale sides such as traditional cornbread stuffing with duck confit and truffle, roasted sunchoke ragout and spiced sweet potato with oatmeal cinnamon crumble. For dessert, guests can indulge in fall-infused treats like mini pumpkin, apple and pecan pies, individual cheesecakes, poached pears and apples and more.
Prices start at $59 for adults and $25 for children (14 & under)
Buffet is available from 2:00 – 6:00 p.m. on Thanksgiving Day (reservations recommended) 
For reservations please call 407-313-8625 or book a table online.
MIA'S ITALIAN KITCHEN on I-DRIVE
Mia's Italian Kitchen on International Drive in Orlando will offer a three-course menu for $29 on Thanksgiving Day, in addition to their regular menu. Hours of operation on Thanksgiving Day are noon-8 p.m.
FIRST COURSE
BUTTERCUP SQUASH GNOCCHI
brussels sprouts, pancetta, saba, lemon, mascarpone
or
FALL SALAD
kale, peppercress, arugula, compressed persimmons, pickled shallots, grana padano, hazelnut-sorghum vinaigrette
SECOND COURSE
BRICK OVEN ROASTED TURKEY BREAST
semolina-fennel stuffing with apples, garlic green beans,
balsamic roasted sweet potatoes, lemon gravy
or
CITRUS-GLAZED ROASTED PORK LOIN
creamy polenta, broccoli rabe, fennel jam
or
MUSHROOM BOLOGNESE
san marzano tomatoes, roasted vegetables, herbs, red wine, house-made fettuccine
DESSERT
PUMPKIN-RICOTTA CHEESECAKE
pumpkin seed tuile, salted caramel
or
APPLE-RICOTTA DONUTS
cinnamon sugar, crème anglaise
THE RAVENOUS PIG
Thanksgiving Roast, Thanksgiving Dinner and Gift Card Deals
The Ravenous Pig will offer a Thanksgiving To-Go catering basket for order and pick-up before the holiday. The restaurant will be closed for normal operation on Thanksgiving Day.
Deadline for orders is Monday, Nov. 25 at 5:00 p.m. Pick-up is on Wednesday, Nov. 27.
Also, a reminder about the restaurant's Black Friday gift card offer: Customers who purchase $100 in gift cards can choose either a $20 bonus gift card, or a copy of Field to Feast: The Ravenous Pig Cookbook.
TURKEY BREAST $20
brined & seasoned, uncooked includes cranberry mostarda & turkey gravy
2-3 lb // serves 4 – 6 people
WHOLE TURKEY $45
brined & seasoned, uncooked
includes cranberry mostarda & turkey gravy
10-14 lb // serves 8 – 10 people
SIDES $15 each
each side serves 4 people
STUFFING
herb brioche
MASHED POTATOES
brown butter
SWEET POTATO CASSEROLE
marshmallow fluff
GREEN BEANS
mushroom gravy
PUMPKIN PIE $24
chai chantilly // serves 8 – 10 people
WOLFGANG PUCK BAR AND GRILL AT DISNEY SPRINGS
On Thursday, November 28th, Wolfgang Puck Bar & Grill at Disney Springs will be having Thanksgiving Dinner Specials:
$49/pp – for a full 4 course meal (including Turkey of course!)
o   Guests will be able to enjoy a Roasted Pear and Parsnip Soup, Honey Crisp Apple Salad, Yukon Mashed Potatoes, Brussels Sprouts, Cranberry Ranch, Mushroom and Leek Stuffing with House Made Gravy and Pumpkin Pie
$37/pp – for just the Turkey Dinner
$15 for kids
For reservations
Link: https://www.sevenrooms.com/reservations/wolfgangorlando
Or call: 407-815-2100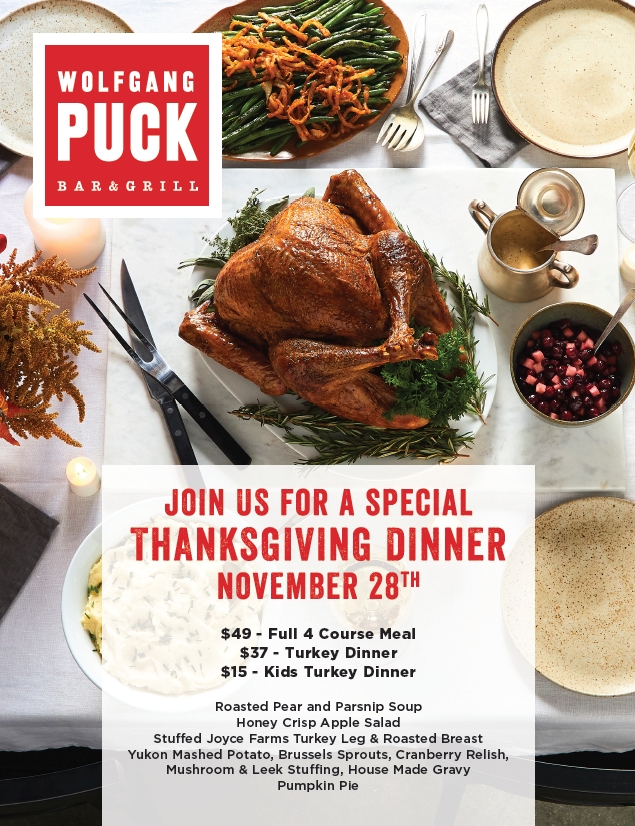 4 RIVERS – THE PILGRIM – THANKSGIVING SANDWICH
smoked turkey, savory cornbread stuffing, warm turkey gravy, and 4R Cranberry Chutney. On special now through Nov. 30. Gobble one down at your local Smokehouse today!
TONY ROMA'S ON I-DRIVE
 Tony Roma's on International Drive is open from 4:00 p.m. to 11:00 p.m. on Thanksgiving Day.
 Share the gift of Tony Roma's with the ones you love and get a $15 bonus card when you purchase $50 in gift cards in-store or online at  https://www.buyatab.com/custom/tonyromas/  *US only, including Guam | #TonyRomas
Make someone's Monday (or any day!) with a Tony Roma's gift card. Providing smiles since 1972! Purchase in-store or online at 
https://www.buyatab.com/custom/tonyromas/
! *US only, including Guam | #TonyRomas
TEAK NEIGHBORHOOD GRILL – DRINKSGIVING
H CUISINE
The H Cuisine in Dr. Phillips is offering a two-course Thanksgiving dinner ($39.95 adults, $15 kids 12 and under) on Nov. 28 during normal business hours, in addition to their regular menu:
First course: The H Salad — frisée lettuce, julienne tomato, cucumber, bell pepper, olives, white cheese, lemon-oil dressing
Main course: Roasted dark meat turkey with herbed rice pilaf and charred seasonal vegetables
ROY'S RESTAURANT
Gather The Family
Celebrate 

Thanksgiving

 At Roy's
Open 10 a.m. – 9 p.m.
Gather friends and family and join us for our traditional three-course 

Thanksgiving

 dinner, or add a little Aloha to your celebration with Roy's Classic prix fixe menu. Our children's menu, including turkey dinner with all the trimmings, is offered for just $12.95.

THANKSGIVING MENU
STARTER
Caesar Salad or Lobster Bisque

ENTRÉE
Pan Roasted Teriyaki Glazed Turkey

SIDES
Portuguese Sausage Stuffing, Haricot Vert and Hazelnuts
Sesame Carrots, Truffle Mashed Potatoes
Bacon Pan Gravy

DESSERT
Maple Brown Sugar Pumpkin Tart or Chocolate Torte

$39.95 per guest
$59.95 including 2 glasses of paired wines
Lyric by Etude Pinot Noir Santa Barbara County
Franciscan Chardonnay Napa Valley
DEL FRISCO'S ON I-DRIVE
 Del Frisco's Double Eagle Steakhouse is offering a great meal for an even better deal – I've included more information below:
Meal:
Appetizer (select one)
Butternut Squash Soup
Harvest Salad
Mixed greens, goat cheese, walnuts, sun-dried cranberries, warm bacon vinaigrette dressing
Entrée:
Slow Roasted Turkey Breast
Trimmings include: Apple-sausage stuffing, Mashed sweet potatoes and chateau potatoes, Thin green beans, Pan gravy, Cranberry relish
Dessert (select one)
Pumpkin Cheesecake
Pecan Pie a la mode
Price: $49/person
Address: 9150 international Drive, Orlando, FL 32819
HAMILTON'S KITCHEN AT THE ALFOND INN – WINTER PARK
Reservations are now open for The Alfond Inn's annual Thanksgiving Feast which will be held this year on Thanksgiving Day, Thursday, Nov. 28 with seatings at 1 and 4 p.m.  Cost is $69 per person, $29 per child ages 5-12, complimentary for children ages 4 and under, with complimentary valent parking.  The Alfond Inn is located at 300 E. New England Ave., Winter Park.  For more information, go to www.thealfondinn.com or call     (407) 456-7598.  See link below to make reservations via EventBrite.com.  Also see featured menu below. Your patronage helps fund The Alfond Inn at Rollins College Scholars Program which awards Scholarships to deserving Rollins College Students.
https://www.eventbrite.com/e/thanksgiving-feast-at-the-alfond-inn-tickets-74820260413
The Alfond Inn Thanksgiving Feast Featured Menu
Menu
Banana Bread, Pumpkin Bread
Assorted Rolls and Flatbreads
Butternut Squash Bisque, Crispy Bacon
Shrimp Cocktail
Salads
Field Greens, Baby Kale, Spinach
Assorted Salad Toppings
House Balsamic, Citrus Vinaigrette, Vanilla Bean Vinaigrette
Traditional Caesar Salad
Broccoli Salad
Waldorf Salad
Fruit Display
Main Entrees
Roasted Whole Turkey, Traditional Cranberry Sauce
Herb and Garlic Stuffed Prime Rib, Horseradish Sauce
Parmesan Crusted Salmon, Rustic Tomato Sauce
Grilled Chicken, Mushroom Ragout
Side Dishes
Classic Stuffing
Whipped Potatoes and Gravy
Candied Yams
Wild Rice Pilaf
Green Bean Almondine
Bacon Brussels
Roasted Vegetable Melange
Dessert
Carrot Cake
Chocolate Truffle Cake
Pumpkin Pie
Pecan Pie
Cookies and Brownies
TERRALINA CRAFTED ITALIAN AT DISNEY SPRINGS
Terralina Crafted Italian, the Disney Springs restaurant from James Beard Foundation Award-winner Tony Mantuano and executive chef Justin Plank, will be serving a Thanksgiving feast during regular business hours on Nov. 28. Please find details below.
Thanksgiving Traditional Turkey Dinner
Herb roasted turkey breast, pancetta and apple stuffing, whipped Yukon gold potatoes, green beans, cranberry relish, rosemary pan gravy.
(Adults, $33; children, $16)
In addition to the Traditional Turkey Dinner special, Terralina will also offer their regular menu of housemade Italian favorites.
Canvas Restaurant & Market
Canvas will be open only for dinner service on Thanksgiving Day, Nov. 28. The restaurant will offer its full dinner menu, in addition to the following three-course Thanksgiving special, plus a children's special. Price for the three-course menu is dependent on entrée selection, and prices are located next to the entrée listings below:
APPETIZER
Fairytale Pumpkin Bisque
cinnamon sour cream, spiced pepitas
Suggested wine pairing: Torbreck Woodcutters Shiraz  13
OR
Farmhouse Salad
rustic greens, soft-boiled egg, goat cheese, candied bacon,
radishes, housemade granola, warm maple-honey vinaigrette
Suggested wine pairing: Whispering Angel Rose  15
MAIN COURSE
Cider-Brined Slow Roasted Turkey
housemade sausage stuffing, Yukon Gold mashed potatoes, green beans,
citrus cranberry sauce, turkey gravy  32
OR
Australian Wagyu Strip Steak
chili rubbed, butternut squash hash, corn, black beans,
avocado crema  70
Suggested wine pairing: Jean Paul & Benoit Droin Chablis  14
DESSERT
Pumpkin Pie
flaky crust, maple whipped cream
CANVAS KIDS
Slow Roasted Turkey
Yukon Gold mashed potatoes, green beans and citrus cranberry sauce
$12 per child
Chroma Modern Bar + Kitchen
Chroma Modern Bar + Kitchen will be open for normal business hours, and will serve their regular menu in addition to two entrée specials, three shareable side-dish specials, and two dessert specials. The entrée and side-side specials will be available Thursday, Nov. 28 only. The dessert specials will be available from Thursday, Nov. 28 to Sunday, Dec. 1.
Turkey Roulade
Brioche Stuffing, Turkey Gravy
15
Suggested wine pairing:  The Four Graces Pinot Noir  14
Lamb Tenderloin
Prosciutto, Butternut Squash Mousse, Red Wine
23
Suggested wine pairing: 8 Years in the Desert By Orin Swift, Zinfandel Blend  13
Butternut Squash Mousse
Candied Pecans, Thyme
11
Triple Butter Mashed Potatoes
Roasted Garlic, Green Onion, Sea Salt
9
Brioche Stuffing
House Bacon, Fresh Herbs
7
DESSERT SPECIALS (AVAILABLE ALL WEEKEND)
Served in the Dessert Caddy
Mini Apple Pie
Vanilla Bean Ice Cream
4.5
Pumpkin Cheesecake
Pecan Brittle, Whipped Cream, Graham Cracker Crumbs
4.5
TAVERNA OPA AND TAPA TORO
This Thanksgiving, hang up your apron and treat yourself to a delicious, 3-course prix fixe menu at Taverna Opa, priced at $27 per person, and featuring:
Choice of One Appetizer: Horiatiki, Spanakopita, or Keftedes,
Choice of One Entree: Chicken Kebob, Beef Kebob or Kleftiko,
Dessert: Loukoumades.
If you're craving a hearty, fall-inspired menu, we recommend visiting Tapa Toro for their savory Thanksgiving menu, also priced at $27 per person, featuring:
Appetizer: Cous-Cous Salad with roasted butternut squash, cranberries, pepitas, jamon serrano, mixed greens, and sherry vinaigrette.
Entree: Herb Roasted Chicken with roasted airline chicken breast, Spanish 'ratatouille,' roasted garlic potato puree, and romesco sauce.
Dessert: Pumpkin Pecan Pie with pumpkin, pecans, graham cracker crust, salted caramel, and vanilla ice cream.
And after spending time with your family and catching up on holiday sales, make sure to stop by Tapa Toro on Black Friday for buy-one-get-one sangria by the glass or pitcher!
As always, Taverna Opa and Tapa Toro's thrilling nightly entertainment of belly dancing and flamenco, respectively, will begin at 7 p.m. through closing.
THANKSGIVING

FEASTS
AT UNIVERSAL ORLANDO HOTELS
 A festive lineup of

Thanksgiving

 celebrations is coming to Loews Portofino Bay Hotel, Hard Rock Hotel, Loews Royal Pacific Resort and Loews Sapphire Falls Resort. From sumptuous holiday buffets with live entertainment to the magnificent tree-lighting at Holiday Harbor Nights, the holiday festivities at the Universal Orlando Resort hotels will make the start of the season extra merry and bright.

The hotels will also host a community-wide volunteer event on Saturday, November 30 to package 500,000 meals for Feeding Children Everywhere, a local charity that empowers and mobilizes people to assemble healthy meals for hungry children. A portion of this year's meals will be sent to the Bahamas for hurricane relief.
Thanksgiving

 Day Buffets
Trattoria del Porto at Loews Portofino Bay Hotel
Savor the tastes of Italy at our Thanksgiving Day Buffet from 12 pm – 7 pm. Entertainment includes appearances by Universal Orlando characters, kids' crafts and activities table, face painter, balloonist and live music. Adults $67, Children (ages 3 – 9) $25, under 3 free. View menu here. For reservations, click here or call 407.503.DINE (3463).
The Kitchen at Hard Rock Hotel at Universal Orlando
Join us for an awesome Thanksgiving Buffet from 11 am – 4 pm and 5 pm – 10 pm. Entertainment includes appearances by Universal Orlando characters, balloon artists, face painting and Magic Man. Adults $67, Children $24, under 3 free. View menu here. For reservations, click here or call 407.503.DINE (3463).
Islands Dining Room at Loews Royal Pacific Resort
Enjoy our Thanksgiving Holiday Buffet among the sights and sounds of the South Pacific from 11 am – 9 pm. Entertainment includes a face painter, balloonist, musician and hula dancer, and appearances by Universal Orlando characters. Adults $59, Children (ages 3 – 9) $27, under 3 free. View menu here. For reservations, click here or call 407.503.DINE (3463).
Amatista Cookhouse at Loews Sapphire Falls Resort
Join us for a delicious Thanksgiving Day Buffet from 11:30 am – 9 pm. Entertainment includes a face painter, balloonist and appearances by Universal Orlando characters. Adults $59, Children (ages 3 – 9) $27, under 3 free. View menu here. For reservations, click here or call 407.503.DINE (3463).
After 

Thanksgiving

 Events
Holiday Harbor Nights at Loews Portofino Bay Hotel
Kick off the holiday season at our popular food and wine event on Friday, November 29 from 6:30 pm – 9 pm. Enjoy select wines and sparkling wines, expertly prepared gourmet foods and live music, plus the grand illumination of Portofino's Christmas tree and more on the picturesque Harbor Piazza. General admission $65, VIP $95 (plus tax and ticketing fee). Purchase tickets online at HarborNights.tix.com.
Loews Hotels at Universal Orlando & Feeding Children Everywhere
It's the season of giving back. Help us accomplish our goal of assembling 500,000 meals for Feeding Children Everywhere. Volunteer for a one-hour shift at any one of our seven hotels (Loews Portofino Bay Hotel, Hard Rock Hotel, Loews Royal Pacific Resort, Loews Sapphire Falls Resort, Universal's Cabana Bay Beach Resort, Universal's Aventura Hotel or Universal's Endless Summer Resort – Surfside Inn and Suites) on Saturday, November 30 between 9 am and 1 pm. Click here to sign up to volunteer.
Maria & Enzo's AT Disney Springs
Experience an authentic Italian twist on Thanksgiving offerings at Maria & Enzo's by feasting on their Ricotta Gnudi, made with Turkey Bolognese, parmesan cream and charred lemon gremolata for $27. Just the way Nonna used to make it!
For reservations visit: http://Mariaandenzos.com
Enzo's Hideaway AT Disney Springs
Gather around our family tables this Thanksgiving at Enzo's Hideaway for a gourmet holiday meal starring their Turkey Sausage "Carbonara," made with Pappardelle pasta, roasted winter squash, toasted garlic, and rapini for $27. Then gobble down the Pumpkin Pannacotta for a drool-worthy dessert, made with spiced chocolate crumb, mandarin orange, and creamy cinnamon gelato for $11.
For reservations visit: http://enzoshideawayfla.com
Buca Di Deppo
Multiple locations
Will be open for Thanksgiving offering a prefixed menu, and providing Thanksgiving meals to go
LINK to menu
Margaritaville Resort Orlando
Spend the Thanksgiving in a tropical island-inspired paradise at Margaritaville Resort Orlando with brunch, complete with all the traditional fixings of fall. Visit multiple stations serving Thanksgiving turkey, made-to-order omelets, butternut squash, cranberry sauce, stuffing, sweet potato casserole and lavish display of holiday desserts. Visit margaritavilleresortorlando.com to make your reservation.
Margaritaville Cottages
Orlando
Enjoy Thanksgiving dinner in a private, island-inspired cottage home at Margaritaville Resort Orlando. Celebrate with a Turkey Day meal that feeds 5 to 7 people: 16 to 18 lb. roasted turkey,  Butternut Squash SoupCreamed Corn Cornbread, Roasted Root Vegetable Salad Farmer Green Salad Sweet potato casserole, Creamy Mashed PotatoBrussel Sprouts with  Bacon Green Beans, Almandine Roasted Baby Carrots, Turkey Gravy and Cranberries Sauce. A choice of Pumpkin Pie or Apple Pie for dessert. Family-style dinner is 169.95. Visit margaritavilleresortorlando.com to book.