There is a new brunch spot in Orlando!
Every Sunday Delaney's Tavern at The Delaney Hotel, located directly across from Orlando Health, hosts a Sunday Funday Brunch.
The menu – created by Executive Chef Anthony Albino (formerly of Santiago's Bodega Orlando) features all you can eat decadent dishes such as crab claws, prime rib, deviled eggs, candied bacon, a carving station, a cronut station and more!
Their brunch runs from 10am – 3pm and they plan to change it up from week to week with new items featured on the hot line, cold line, action carving station, action dessert station and a la carte items.
Buffet is $39.99 per person and unlimited mimosas or Bloody Mary's for $9.99 per person.  Free parking is available in the garage located behind the restaurant.  I know this will be a very popular Orlando brunch spot very soon.

Q & A with The Delaney's Hotel + Delaney's Tavern's Executive Chef Anthony Albino and President Greg Allowe:
1. How did the concept of Delaney's Tavern come about?
Greg Allowe: I live in Delaney Park and I was frustrated with the limited options in the area.  Chatting with my partners Dr. Tom Winters and Dr. Rebecca Moroose who are based out of Orlando Health we knew that the residents of Delaney Park must feel the same way, so from that conversation Delaney's Tavern was born.  Much like the hotel we knew we wanted a place that was really comfortable, a place where you could come to get away from fast pace of life and slow down, relax and enjoy innovative food and drink.  We designed a menu that is social, we wanted our guests to share hence the array of small plates and shareables.  Unlike most hotel restaurants we built Delaney's Tavern for the locals, not focusing on the hotel guests.  We wanted it to be a place where you could come after work, on a date night, with friends and family.  We knew that if the locals enjoyed us that the hotel guests would as well.  We interviewed many talented chef candidates and are delighted that we found Chef Anthony.  He has a great background and the personality we were wanting.  He really understood the vibe we and we gave him a great deal of creative license to bring our vision to life.
2. What do you want guests to experience when they come to Delaney's Tavern?
Greg Allowe: We want them to feel comfortable and at ease.  We want them to savor the flavors that the chef has created, enjoy the relaxed ambience and impeccable service (however not stuffy) we want them to feel pampered and most of all we want them to leave with a smile and that when they return it will feel like family.
3. Tell us about your background in the hospitality industry.  What were some key moments that made you say this is what I want to do?  What inspires you?
Greg Allowe: During the summers when I sixteen I worked as a bellman at a resort hotel in upstate New York.  After my bellman shift was over I would work as busboy in the dining room.  By the next summer I knew that I was in love with the business.  I knew I wanted to own a hotel and restaurant, with that dream i went to get a degree in hospitality management at SFSU.  After graduating I was recruited by Hyatt hotels where I spent the next eleven years.  It was a great experience and prepared me well.  I worked in every department from the bottom up before becoming a general manager.  However, I still dreamed of having my own hotel… well dreams do come true.  I met an M & A attorney who was willing to take a chance on me and we bought a old run down hotel called Nordic Hills, I fixed it up ran it for a few years and sold it.  This is now my 11th project in the past twenty five years.
4. What are some upcoming plans for the hotel and restaurant in the near future?
Greg Allowe: We have some great outdoor spaces to build out.  We have what will be known as Delaney's Terrace just outside of the tavern.  We plan to do outdoor music and movies that will played on a 70-foot-high wall on the adjacent building, additionally we are adding 50 rooms.  These will be VIP and key access only floors with a private lounge.  Lastly, we are looking at other markets in central and north Florida to add additional Delaney Hotels and Delaney's Taverns.
5. Tell us about your background.  How did you end up working in the restaurant industry?
Chef Anthony: I started in working in the restaurant industry as a teen for Broadway Pizza and also Shipyard located at the OIA.  Then I became a carpenter for several years and took on the mortgage industry during the boom.  I was a Licensed Mortgage Broker for about 6 years – and when the boom finally came crashing down I put myself through Le Cordon Bleu and studied Culinary Arts.  Trying to get back into the business was tough.  Imagine a mortgage broker trying to become a line cook.  At several points I was even trying to prove my worth by washing dishes.  Finally, I got a break from a small restaurant in Altamonte Springs, R.G. Brewski's.  After working for R.G. and going to school, another student said I should try to work with him at Bubba Gump Shrimp Co.  So I went and applied, shortly after I became a Certified Corporate Trainer and then I was off to open my first restaurant under Bubba Gump in Cancun, Mexico.  Shortly after opening a second Bubba Gump in Gavelston Island, TX, I met Jason Dugan – Owner/Operator of Santiago's Bodega. After helping opening that location, Jason offered me the position of Executive Chef.  I was Executive Chef for 6 years at the Orlando location then eventually crossing paths with Greg Allowe to open and create the Delaneys brand.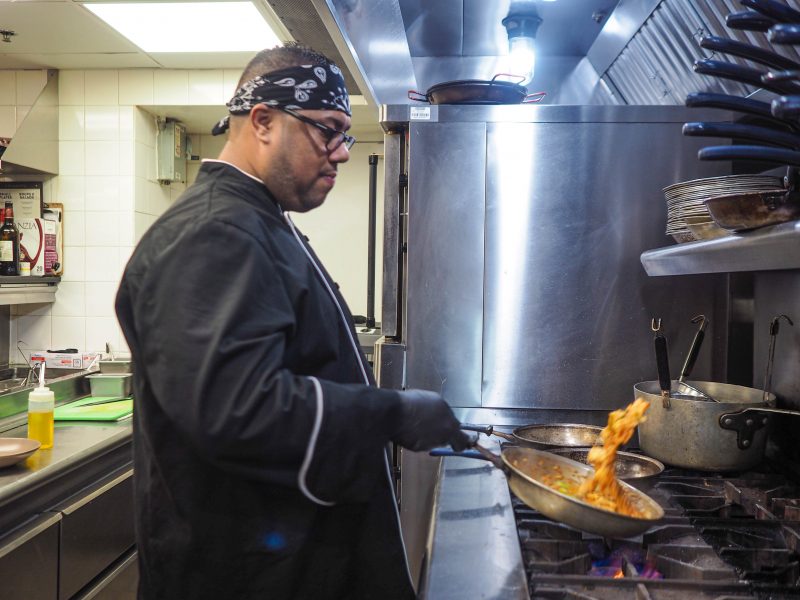 6. What inspired you growing up to cook?  What are some memorable moments in the kitchen that inspire you today?
Chef Anthony: Growing up with a single mom and a sibling forced me to cook.  Also watching my abuela and aunts cook.  I would spend every summer for the first 12 years of my life down in Puerto Rico at my abuela's house which stayed open all day for visitors and family to come by and grab a meal.  She would cook anything and everything.  The camaraderie of the kitchen is what inspires me today.  Literally I spend more time with my restaurant family than my actual family, so we embrace each other as such.  A lot of my kitchen crew, we have been working with each other for the past 10-12 years so we are intertwined in each other's life and have been on an incredible journey.
7. What were some of your favorite dishes growing up?
Chef Anthony: Watching my abuela and aunts cook I was very keen on cooking Spanish food and particularly where my abuela lived we cooked a lot of comida criolla (Creole style food) so I fell in love with southern style cooking, specifically Creole.
8. Santiago's Bodega has won quite a few accolades for their food.  What are some of the things you have learned from that experience coming to
Delaney's Tavern?
Chef Anthony: Teaching, learning from and trusting my staff.  Honestly at the end of the day these guys and girls are making the magic happen.  Coming up with recipes, teaching them how to do it consistently, making sure they have the tools and equipment to do so is my job.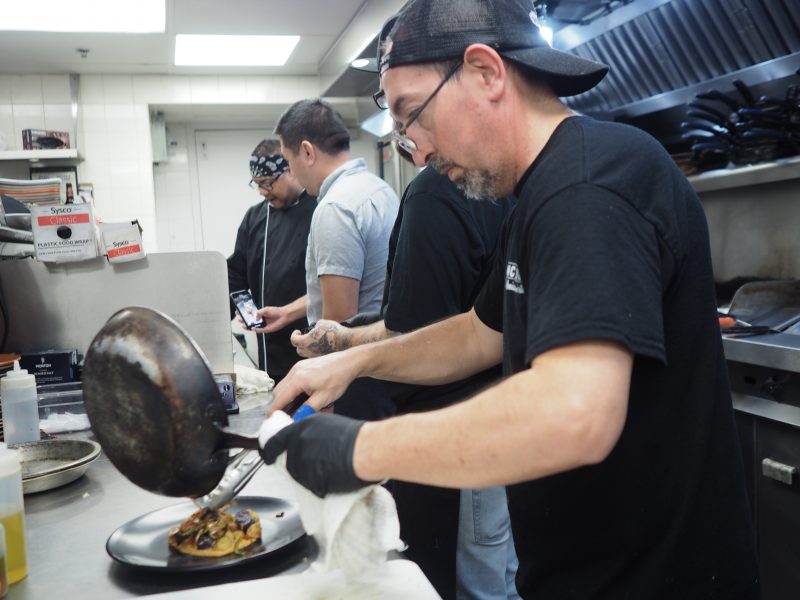 9. What are your most popular dishes right now at Delaney's Tavern?
Chef Anthony: The Blue Crab Beignets are our #1 seller followed by the meatballs and the Tavern burger.  Honestly, I created a wide variety on the menu so you can come back and try something new every time and get it while it lasts, the menu will change seasonally with the newest menu set to roll out in the next few days.
10. Tell us about the brunch menu.  How did you come up with some of the
dishes and what do you have planned in the coming months for brunch?
Chef Anthony: I created the brunch menu at the bodega some time ago and it took off.  I personally love a brunch that features a buffet so I implemented the buffet style featuring classic brunch items with a twist here at Delaney's.  The plans are to change it up from week to week with new items featured on the hot line, cold line, action carving station, action dessert station and a la carte items.   I have an army of talented chefs especially my sous to not hold back the creative juices and let them share. Obviously I will always keep an ear out for items that need to stay and those players will be in rotation but people are going to have to come check it out so I know.
Here are pictures from the inaugural Sunday Funday Brunch:
Stone Crab Claws
Deviled Eggs
Charcuterie Board
Tuna Poke Nachos
Salmon Ceviche
Deconstructed Salad
Chopped Caprese Salad
Smoked Turkey (top), Beef Short Rib (bottom)
Biscuits & Sausage Gravy
Scrambled Eggs, Sausage & Candied Bacon
Poblano & Onion Hash, Smoked Gouda Mashed Potatoes
Grilled Chicken, Wild Rice
Crawfish Étouffée
Cauliflower & Broccoli Gratin
House Rolls


Vegan Rangoon – vegan buffalo chicken
Mini Monte Cristo – applewood smoked ham & smoked gouda, raspberry chipotle
Made To Order Omelette – onions, red peppers, jalapeño, mushrooms, tomatoes, bacon, sausage, chorizo, feta, cheddar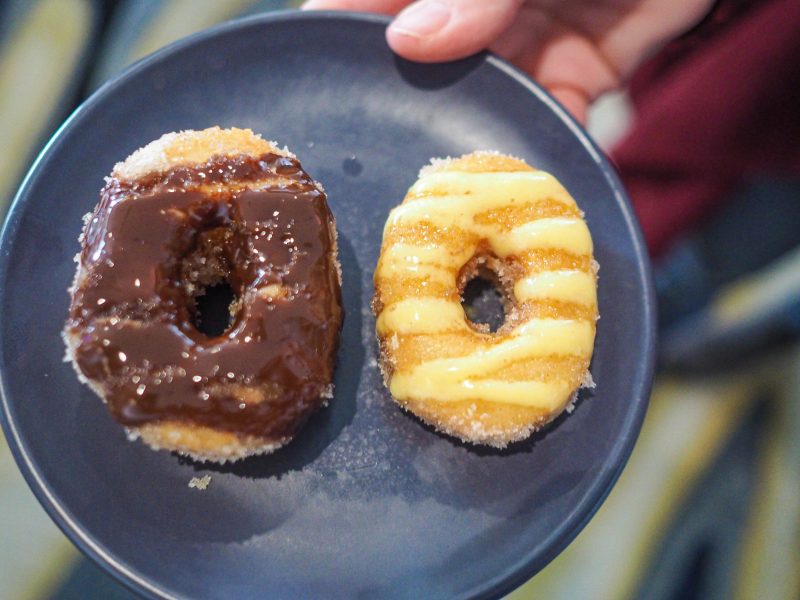 Cronut Station
Sugar Cookies, Chocolate Chip Cookies
Crossiants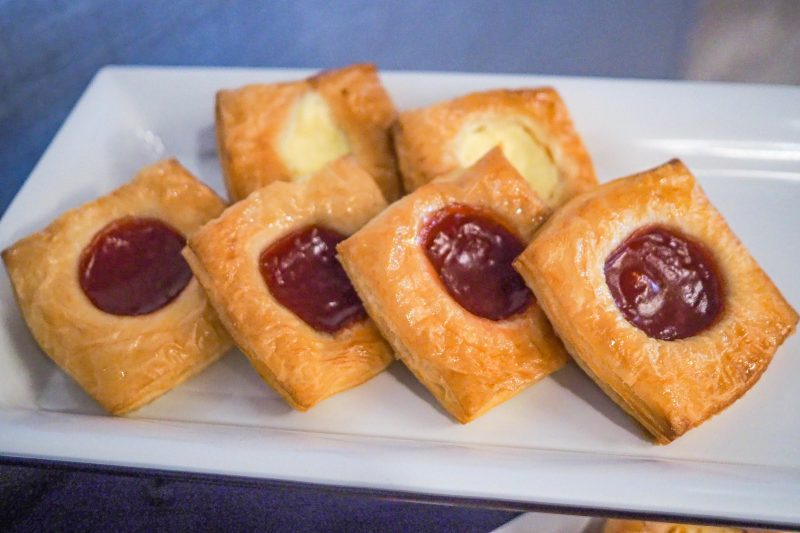 Cheese Danish, Strawberry Danish
Be sure to check out Delaney's Tavern in SoDo for their new Sunday Funday Brunch!  Highly recommended, cheers!
Delaney's Tavern
1315 S Orange Ave Suite B, Orlando, FL 32806
(407) 849-0801
eatdt.com