Chef Jason Shenefield has worked for over 30 years at establishments ranging fom Walt Disney World Resort's Victoria & Albert's, Le Cellier, and Coral Reef Restaurant to the Bohemian Hotel Celebration, The Plantation House, Red Rose Dining Room as well as The Terrace Hotel in Lakeland FL.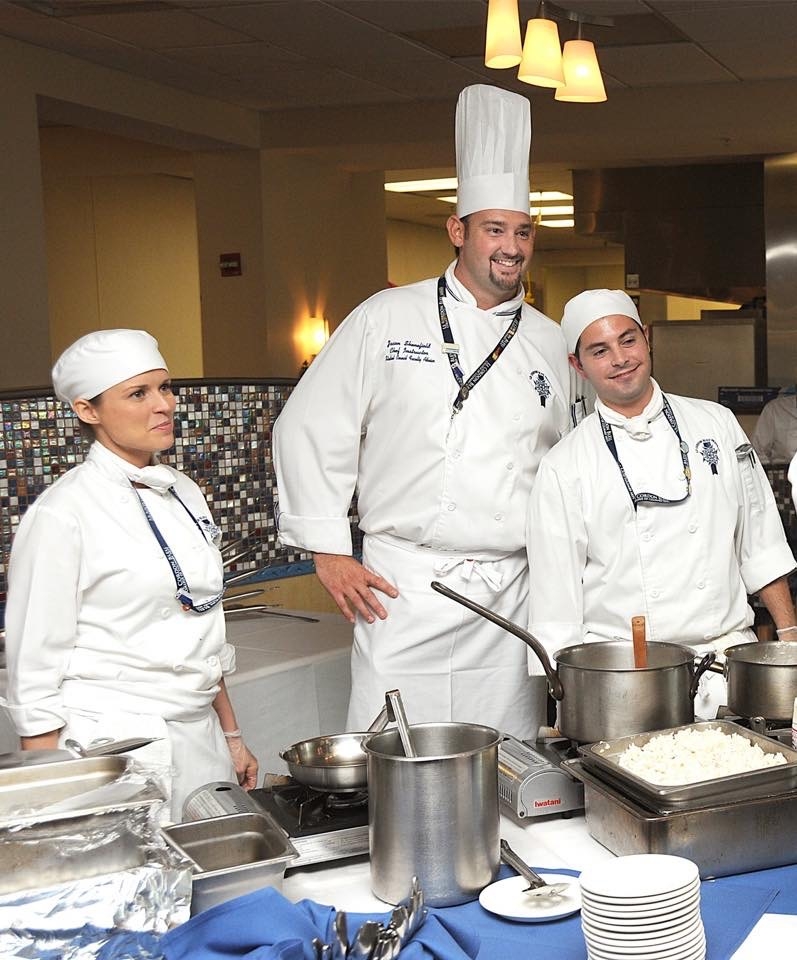 A Florida native, Chef Shenefield's background includes a Bachelors of Science in Hospitality and Culinary Arts from Johnson & Wales University and Hospitality Management, Nutrition and Healthy Living from Cornell University and he is a Certified Executive Chef and Certified Culinary Educator from the American Culinary Federation, Certified Hospitality Educator from the American Hotel and Lodging Educational Institute, Advanced Level Sommelier from the court of Master Sommelier and a 10 years in Culinary and Hospitality Education as a Chef Instructor at Le Cordon Bleu College of Culinary Arts in Orlando, Fla.
He has also been the Team Chef for NASCAR's Famed Hendrick Motorsport's Jeff Gordon and Jimmy Johnson and prepared and cooked for both drivers and their teams on race days at a variety of tracks for two seasons.
Chef Shenefield currently specializes in showcasing his professional creativity for Ultra High Net Worth (UHNW) Individuals and Families in their Private Homes and on their Luxurious Private Jets and Yachts domestically and Internationally.
His love for cooking started in the kitchen with my mother and grandma – the love continued to grow with self gratification for cooking for family and friends at different gatherings. In high school, he went through a unique Home Economics Program, where they actually created a restaurant that fed the Teachers and the High school athletics program.
While attending Johnson & Wales University, Miami campus, he had the unique opportunity to work and learn from all of the "mango gang" Chefs for lengthy time. These "rock star" local Miami chefs included Cindy Hutson, Allen Susser, Mark Militello, Douglas Rodriguez, Norman Van Aken and Robbin Haas who were all a part of the "Mango Gang," the group that helped stamp the bright, sweet and spicy flavors of South Florida's "Floribbean Cuisine" onto the national scene.
Chef Shenefield also served as a Le Cordon Bleu Chef Instructor for a variety classes including: Safety and Sanitation, Meat Fabrication, Culinary Fundamentals, Cuisine Across Cultures, Cost Control, Wine and Beverage, Dietary Trends and Nutrition, Traditional Asian Cuisine, Catering and Buffet and Intro to Patisserie and Baking.
A few of his past students include:
Joe Dodd- King of the Coop Tampa
-Michelle Hulbert – K Restautant, Michelle Pastries
-Patrick Tramontana-Antonio's
-Bruno Fonseca- The Foreigner Experience
-Ryan Mclaughlin K Restaurant and Dexters-New Standard
-Jason Wolf -K Restaurant
-Alexis Lorenzo – (The main man behind the curtain and Sonny's sidekick at Domu and Tori Tori)
-Wendy Lopez -Tapa Toro/Reyes
– Frank Galeano-Tapa Toro
– AJ Haines (The main man behind the curtain at Pizza Bruno)
Corwin Cowart (Corwin's Personal Chef and Catering)
Brandon Basista- The Bearded Chef (James Beard Award Winner)
Successful Student who are away from Central Florida
-Tartiana Pairot (chopped champion/Beat Bobby Flay)
-Edouardo Jordan (2 James Beard Awards for June Baby and Salare Seattle)
-Ryan Ratino (Awarded his Michelin Star a second year in a row at Bresca D.C.
This Stone Crab Season, Chef Jason has begun offering a special service for local residents.
Chef Jason Shenefield: "I wanted to bring central Florida a product and Service that no one was offering. At the beginning of the stone crab season, I happened to have posted some pictures of freshly caught stone crab claws being taken right off the boats by the crabbers and then a video of them being cooked and chilled on my social media pages. Instantly, that post reached over 50k people in less than 24 and over 150 shares. With that much interest, I saw a demand and craving that seafood lovers needed fulfilled."
"As a Chef, I always seek out the freshest and best available products. To ensure this, I've always went to the source omitting a middle man. Being a native Floridian, getting the freshest seafood as possible just makes sense. I work with boat captains directly and all my orders that I fill are right off the boat the morning I pick them up before being delivered. So that means that all my inventory is fresh daily and customers who've placed their orders, receive the freshest Stone Crab Claws as possible unless they have caught and cooked their own."
Some Tips to Eating Stone Crabs from Chef Shenefield
– Stone crabs are recommended to be eaten cold but if you and your guest want them warm.
-Fill a pot large enough to comfortably hold all of the crab claws with enough water to cover the claws.
-Bring the water to a boil, then remove the pot from the heat
-Place the crab claws into the hot water, ensuring each claw is completely covered. Allow the claws to soak in the water for at least two minutes.
– Remove the claws from the hot water and crack and serve them
If you're new to the stone crab phenomenon, here are NINE things you might like to know:
1) Florida Stone Crabs are harvested October 15 through May 15 of Each Year.
2) Commercial & Recreational Harvesters, typically use baited traps, and each have their own identifiable floats/bouys at the surface.
3) Commercial crabbers might put out as many as several thousand traps each year; recreational anglers are allowed 5 traps with a proper license.
4) Unlike other crab harvesting methods, stone crabbers remove only one approved-size claw from each crab, then they return the crab to the water. An adult crab will regenerates its claw after about 1 year and, within 3 years, it will have regained about 95% of its original claw size. The process is carefully managed by the Florida Fish & Wildlife Conservation Commission, to ensure longevity of the species.
5) Many commercial fishermen cook the claws on their boats or at the docks after harvesting — it not only ensures freshness, but also reduces the possibility of meat sticking to shells. When cooked, they take on that beautiful red-orange color.
6) Stone crab has white, flaky meat that's sweet, tender and oh-so-succulent and delicious.
7) Most seasoned crab eaters will tell you that the best way to enjoy them is cold, but you can also enjoy them slightly warmed.
8) Once you crack open the shell, you can devour the meat all by itself OR dip it into a sauce — the classic, must-have is mustard sauce, but drawn butter runs a close second.
9) Cracking them open doesn't require heavy tools like a hammer or a fancy crab-cracking device. Nope. A sturdy kitchen spoon achieves great results, with moderate shell fragments in your kitchen (although, it's probably best to take the operation outside). Simply lay each claw in the palm of your hand then rap the shell firmly with the back of the spoon – one, two or three times should do it. This fractures the shell into a couple of large pieces (as opposed to smashing it to smithereens) then you should be able to pull out the meat easily. The knuckle also has lots of meat, so be sure to use the spoon to crack that as well.
I have met many wonderful and passionate foodies, Chefs and Restaurant owners who have just raved on and on about ultimate fresh quality and of course how much they have loved my two accompaniment sauces that I've offered for $5 each including
-Roasted Garlic and Citrus Herb Butter (Think Scampi Butter Sauce but even more addicting)
-Creamy Horseradish Mustard Sauce (Think Joe's Stone Crab's Traditional Sauce elevated to an new dimension)
For inquires regarding Intimate Dinners, Elaborate Parties, Interactive Food and Wine Classes and how to place your order for some of the freshest right off the boat Stone Crab available, Please see his professional Facebook Page Chef Jason Shenefield. Available sizes and prices are on a post pinned to the top of the page.