Coach Don Shula is an American sports legend, best known as the most "winningest" coach with 347 overall wins and for leading his team to the only perfect season in NFL history (1972 Miami Dolphins).
In 1989, Coach Shula began Shula's Steak House restaurant group and today the company has grown to over six different restaurant concepts including Shula's Steak House, Shula's Bar and Grill, Shula's 2, Shula's on the Beach, and 347 Grille.
In the Orlando area, most residents are probably most aware of the long time Shula's Steak House located at Walt Disney World's Swan and Dolphin Resort. But in Lake Mary, there is a second Shula restaurant concept known as 347 Grille, a upscale sports dining restaurant.
Shula's 347 Grille, located inside the Westin Lake Mary Hotel, features beef that use many of the same custom cuts and aging process from the legendary Shula's Steak House. The restaurant features American fare in addition to steaks and burgers and features a full bar, served in a relaxed casual atmosphere. We were recently invited to check out the restaurant and their new offerings this spring.
If you have been to Shula's at the Swan and Dolphin, you may be familiar with the succulent New Orleans BBQ Shrimp dish – the dish here at Shula's 347 Grille is just as good and maybe even better what I remember at Shula's, served with a creamy, delicious Cajun style sauce with garlic crostini bread.
Despite being known for their superior steaks, there's a few new dishes like the Grilled Salmon and the Tuna Poke, accentuating their seafood items executed quite well.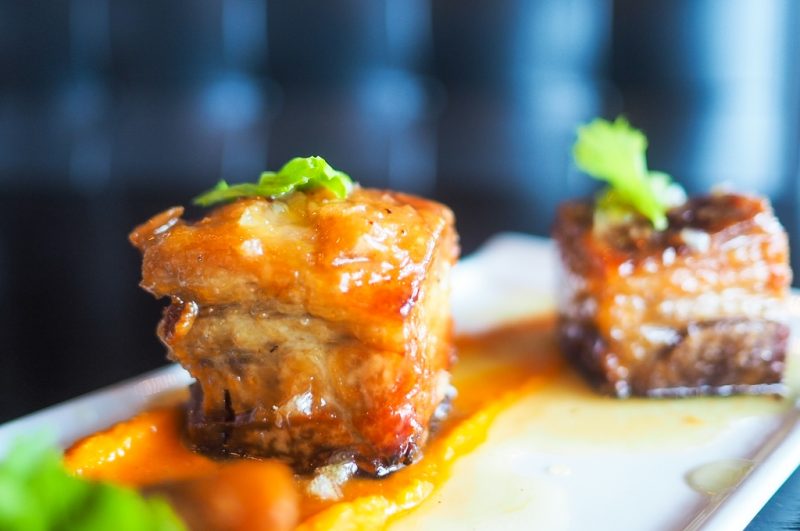 Crispy BBQ Pork Belly* $12.00
Carrot Romesco, Lemon Marmalade
New Orleans BBQ Shrimp* $13.00
Creamy Cajun Sauce, Garlic Crostini
Bleu Cheese Chips $6.00
Tuna Poke* $15.00
Gochujang Dressing, Crispy Wonton Chips
French Dip Sandwich
Grilled Salmon* $23.00
Maple Mustard Glaze, Pomme Puree, Broccoli, Beurre Blanc
The restaurant is led by Chef de Cuisine Carmen Pagan-Lozado who moved to Florida from Puerto Rico in 2011. She started working at Rio Bravo where she found her love for food and joined the 347 Grille by Coach Shula team in 2017 as a line chef while she attended school at Daytona State College. Carmen quickly worked her way through all the stations in the kitchen and when she graduated with her Associates in Culinary Arts Management the Shula Chef position became available. She has proved to be an asset to her team and her talent and originality has greatly benefited the operation, both in the restaurant and in for banquet operations.
Specials: Happy hour Mon. – Fri. 4PM to 7PM, appetizers for $3, $4 or $7 and flights of martinis, wine or beer for $3.47
Sunday Brunch with a Bloody Mary and Mimosa Bar and each Bloody Mary or Mimosa for $3.47
Shula's 347 Grille at The Westin Lake Mary
2974 International Parkway
Lake Mary, FL 32746
Phone: 407-531-3567