We were invited to Wine Bar George, located in Disney Springs next to Raglan Road, to check out their newest menu item – Saganaki On Fire!
Watch the video below to see how their Sagnaki on Fire is served:
This traditional Greek dish is made with Vlahotiri cheese and Metaxa (a Greek spirit) then set on fire table-side and served with crostini.  It was what cheese dreams are made of.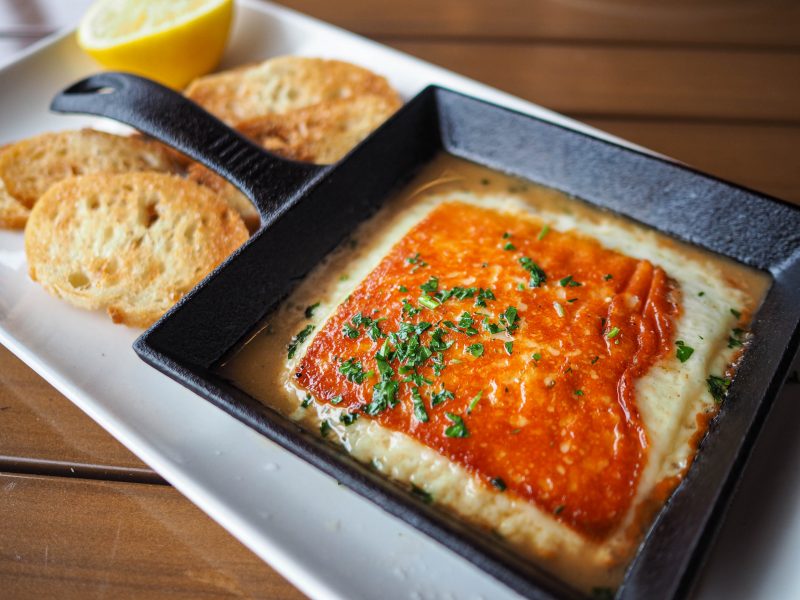 Master Sommelier George Miliotes recommends pairing it with Avancia, Godello from Valdeorras, Spain or any dry white wine from their wine list.  Wine Bar George offers a unique wine list that features 140 wines from around the globe, all of which are available by the glass and the ounce. 
Saganaki On Fire
Vlahotiri / Metaxa / crostini
We were in the mood for a frozen cocktail so we order the Frozcato to go with our meal and it hit the spot.
FROZCATO made with DOLE WHIP® PINEAPPLE
Moscato / Vodka / Pineapple
We also ordered their Ibérico Pork Pluma served with Yukon potatoes confit.  George Miliotes personally delivered this dish to us and told us the meaning behind it.  See what makes this cut so special in the video below:
Their Ibérico Pork Pluma was incredibly tasty that my dining companion, a huge foodie, praised this dish and said it was the best thing that he has eaten in a long time.  It was outstanding.
Grilled Whole Greek Sea Bass
cannellini bean ragout / asparagus
This stunning grilled whole Greek sea bass was cooked and served perfectly.  The fish was tender and the flavors were mesmerizing.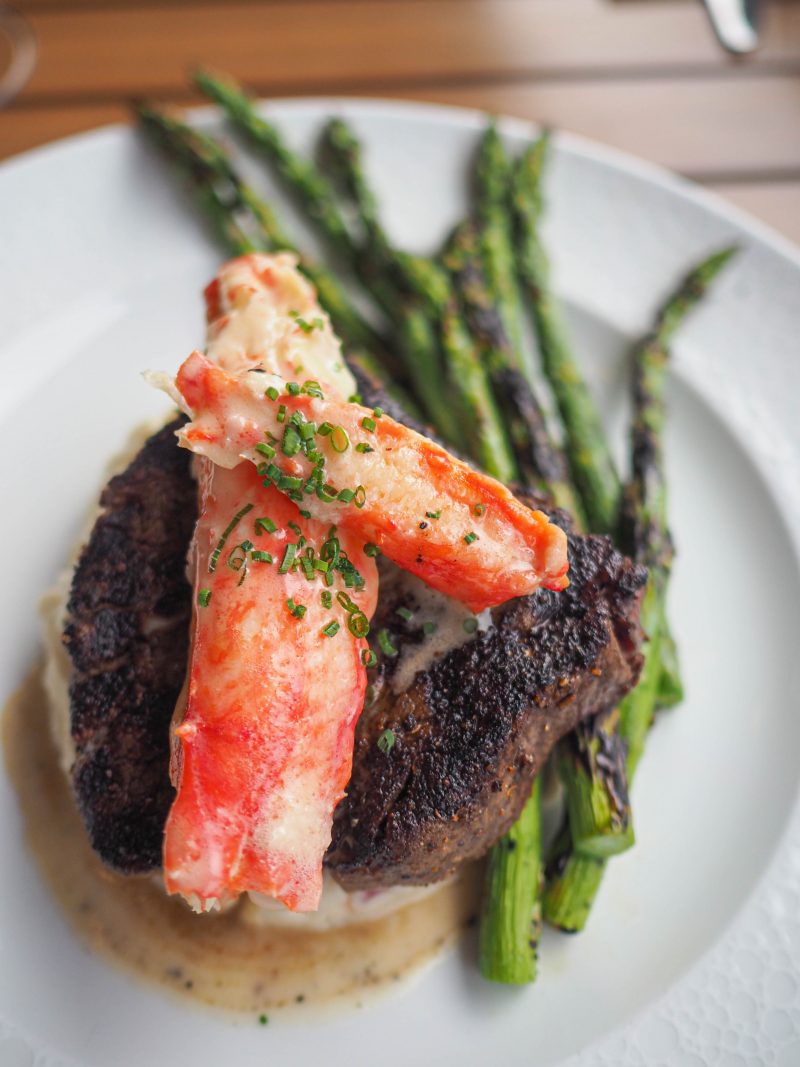 For the surf and turf lovers, Wine Bar George offered this filet mignon with red potato mash, asparagus, and butter poached king crab or winter black truffles as their Valentine's Day special this year.
Tasty Chomps Q & A with George Mililotes of Wine Bar George:
Tasty Chomps:  Tell us about the Saganaki dish – what is special about it to you and your heritage?
George Mililotes:  Saganaki is an authentic Greek dish that is a lot of fun! The fun is all about lighting the cheese on fire at the table. The basis of any Saganaki dish though has to be the quality of the cheese. The Vlahotiri cheese we use is all sheep's milk, and that is the basis for making our Saganaki special.
Tasty Chomps:  Can you tell us a little bit more about your Greek heritage and how that has influenced your palate? What are some of your memories around Greek food growing up?
George Mililotes:  While there are tons of different dishes that I remember from both my mom and grandmother cooking throughout my youth, the overarching theme was that there was always more than enough of everything on the table.  Similar to the Vlahotiri cheese in our Saganaki, the quality of ingredients was always the most important thing at the table.  I can even remember as a 7-year-old that we always had a huge tin of extra virgin Greek olive oil in the house and in the 60's olive oil was an ingredient not many people were familiar with or used at home. So whether it's real Greek olive oil, real Greek feta, etc. it was always about the quality of the ingredients.
Tasty Chomps:  What are some upcoming plans for Wine Bar George in 2020? What are some other new dishes planned for this spring?
George Mililotes:  In May we will celebrate our second anniversary and we look forward to continuing to serve exceptional wine and food to our guests.  Our wine list which features more than 140 wines (all of which are available by the glass and the ounce) will continue to evolve as we discover more of the world's best wines.  We are constantly innovating in the kitchen and hope to roll out some new items in the coming months.  Stay tuned!
We had an amazing first time dining at Wine Bar George and we are already looking forward to coming back soon. Thank you George Miliotes for hosting us and our server Bret for taking such great care of us on such a beautiful and lovely Valentine's Day afternoon.
Wine Bar George
1610 E Buena Vista Dr, Lake Buena Vista, FL 32830
winebargeorge.com
(407) 490-1800