The Orlando-based Flippers Pizzeria has rolled out a brand new menu.  As part of the new menu, they are now offering the option for pizzas to be made with gluten-free or cauliflower crust.  We had the opportunity to try the new cauliflower crust as well as their new menu items and we really enjoyed it.
Flippers Pizzeria was founded in 1987 by two college graduates who were seeking fresh, high-quality pizza in a fast-casual environment in Orlando but could not find many options in the area so they opened their first pizza shop near Sea World.  Now Flippers Pizzeria has 15 locations across Central Florida, including locations in St. Pete and The Villages.
From their fresh-packed, San Joaquin pizza sauce and crushed imported DOP San Marzano tomatoes to their 100% Wisconsin whole milk mozzarella and BelGioioso fresh mozzarella, they obsessively seek out the finest ingredients.  Everything they serve is made fresh using 100% natural ingredients.  You will not find artificial colors, flavors or preservatives in anything they serve.  Just real food, brick-fired to perfection.
Salame Piccante – Crushed DOP San Marzzano tomatoes, fresh mozzarella, pepperoni, salami, Peppadew peppers and local honey drizzle.  This was my favorite dish out of them all.  However, I would order it with less honey next time just because things got a bit sticky.  It was really good though so I would highly recommend it.  The cauliflower crust was perfection as well.
Breadstick Bites – Garlic butter, romano cheese and a side of pizza sauce.  A smaller portion of the Flippers favorite breadsticks.

Steak & Fire – Spicy fresh tomato sauce, red onions, green peppers, roasted jalapenos, pepperoncini peppers, Roma tomatoes, aged mozzarella, sharp cheddar, black olives and fresh oregano.  Their meats are all-natural, spices are hand-picked, and their vegetables are hand-chopped, sliced, diced, and roasted in-house.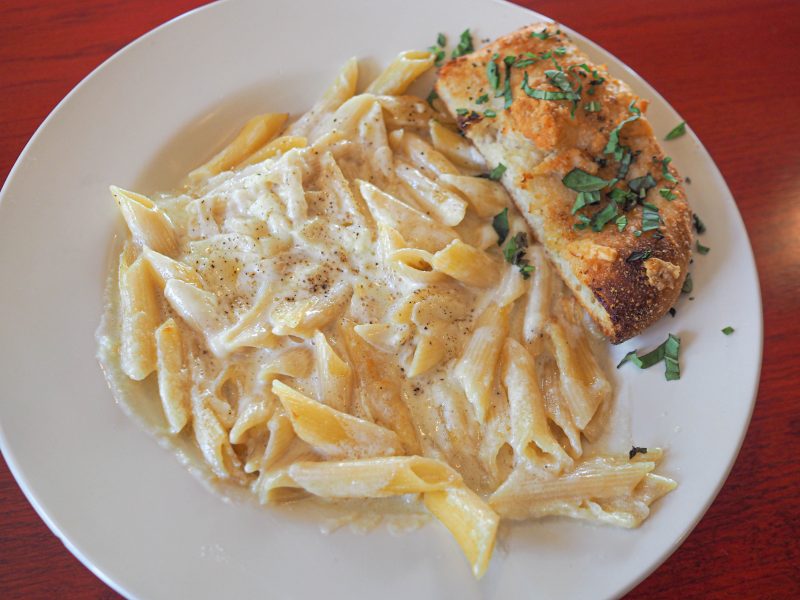 Penne Asiago Pasta – Penne rigate with their asiago cream sauce.  Wow, the asiago cream was made fresh and it was rich and creamy.
Farmers Market Salad – Organic mixed greens, red onions, carrots, roasted grape tomatoes, gorgonzola, glazed walnuts, smoked bacon, balsamic vinaigrette and a drizzle of local honey.

Salami & Prosciutto Sandwich – Salami, prosciutto, fresh mozzarella, arugula, Peppadew Peppers, red onions, Roma tomatoes and balsamic dressing.
A big thank you to Chef Johnny and the Flippers Pizzeria team for hosting us!
Flippers Pizzeria
7339 W Sand Lake Rd, Orlando, FL 32819
407-352-2213
flipperspizzeria.com