Rocco's Italian Grille is a charming, romantic and intimate Italian restaurant inside a vintage 1940's building in Winter Park located next door to The Glass Knife.
The neighborhood has changed some since the opening of Rocco's fourteen years ago but one thing has remained the same – the consistency of Rocco's award-winning authentic Italian cuisine prepared by their experienced native chefs.
Rocco's has a full bar and a cozy cocktail lounge where you will find wines ranging from Aglianico to Zinfandel.  Happy Hour runs Monday through Friday from 5:00pm to 7:30pm (excluding holidays) where bar beverage favorites are discounted ranging from $1 to $3 off.
Proprietor Rocco Potami was born and raised in Italy and he has always been passionate about cooking.  His restaurant offers recreated recipes of his homeland which he has spent years researching, developing, and perfecting.  Mr. Potami has almost 40 years of experience cooking in Central Florida and it is evident when you indulge in his extraordinary dishes.
We were invited to try Mr. Potami's favorite menu items, as well as their weekly special, and it all exceeded our expectations.  We were also pleased to see employees wearing a face mask and guest practicing social distancing by sitting at least six feet apart from each other.
Their menu is composed of a variety of appetizer, pasta, seafood and meat dishes that recreate old favorites and brings out new flavors.
They use only the freshest meats, imported pastas and sauces made from scratch to serve a broad selection of dishes from each of Italy's regions.


GAMBERONI AL GORGONZOLA – Shrimp flambéed with a Vecchia Romagna Brandy and finished in a Gorgonzola cheese reduction.
I enjoyed this appetizer so much I was even licking the Gorgonzola cheese reduction off my fingers every time my server turned around so he would not notice my questionable manners.  It was that good so I did not want to hold back.
FUNGHI RIPIENI ALLA JOJO
Their attention to detail on every dish's presentation did not go unnoticed – the symmetry was simply stunning, almost too pretty to eat.
A Calabrian treasured recipe of roasted mushroom caps filled with a mixture of sausage, red bell peppers, shallots and mascarpone cheese.
VEAL & BEEF RAVIOLI – with imported white truffle cream imported from Italy, parmesan, finished off with black truffle shaving.  It was incredibly delicious.  This was the special of the week, but it really should be on the permanent menu.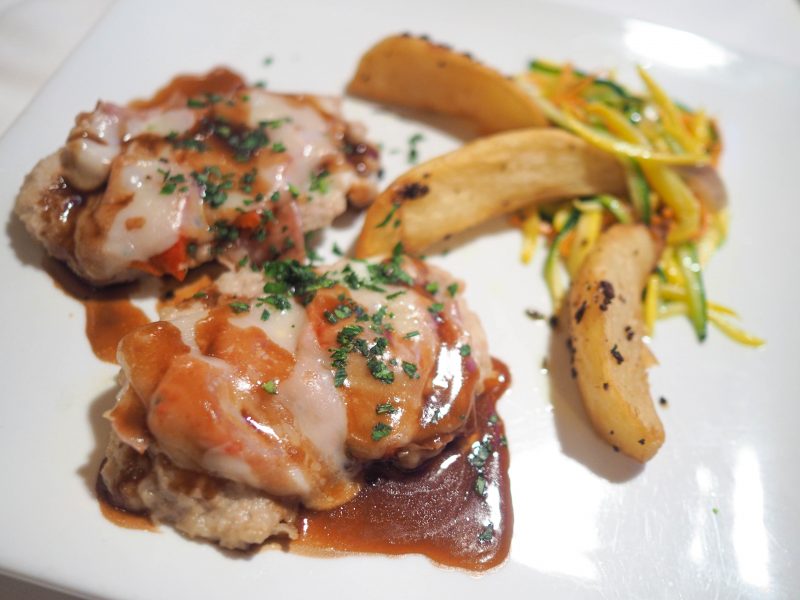 SCALOPPINE DI VITELLO ALLA ROCCO – Veal scaloppine topped with roasted peppers, prosciutto and Fontina cheese, deglazed with white wine, finished with a rich demi-glace sauce and served with vegetables of the day.  I was so excited to try this dish out of them all since it has Rocco's name at the end of it, therefore it must be good.  When it came out, it actually exceeded my expectations.  The veal was tender and the sauce was rich.  The potato wedges with julienne vegetables complimented it very well.  Every bite was pure perfection and there was not a speck left behind on my plate.
PROFITEROLE – A sweet, light-as-air cream puff pastry filled with chocolate and chocolate cream inside.
ITALIAN RICOTTA CHEESECAKE – with strawberry sauce then topped with sliced strawberry over powdered sugar.  Its silky texture tastes both rich and light at the same time.
Rocco's Italian Grille is an exquisite gem that has a beautiful and welcoming ambiance, exceptional dishes using the highest quality of fresh and imported ingredients, and five-star service.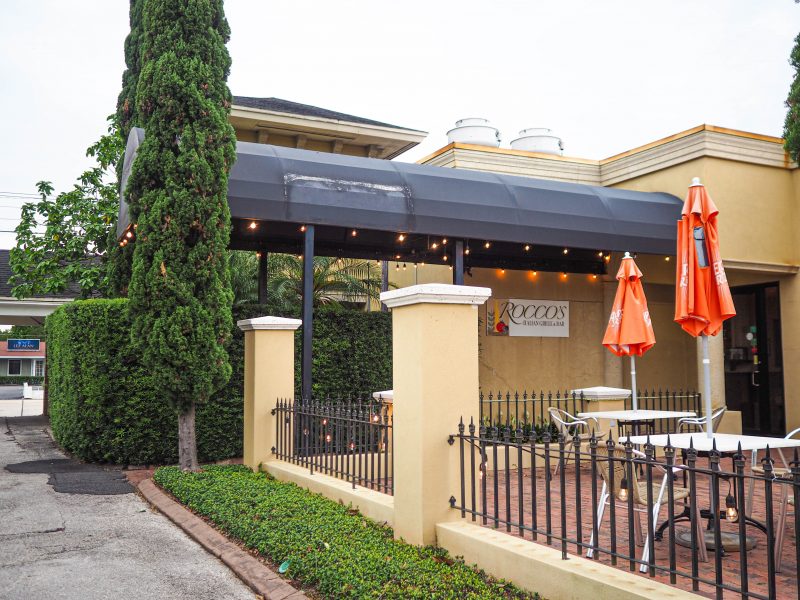 Be sure to check them out the next time you are in the Winter Park area, you will love it!
Rocco's Italian Grille
400 Orlando Ave, Winter Park, FL 32789
(407) 644-7770
roccositaliangrille.com