We were invited to Tabla Indian Cuisine located inside Clarion Inn & Suites near Universal Studios to try their food and we enjoyed our experience.
At Tabla you will find authentic Indian food with an amazing taste.  Their menu offers a wide variety of Indo-Chinese and Thai food that can be prepared for individual preferences such as healthy vegan, vegetarian, gluten free, and jain.
Guest can find the restaurant located on the first floor in the lobby.
Tabla attributes its success to great food prepared by passionate chefs.  Over the years they have taken traditional recipes and enhanced them with a modern approach using progressive cooking techniques to bring the taste of Indian, Thai, and Indo-Chinese together.  They have been creating memories as a premium Asian caterer at events for past years and now they are bringing the same creativity and uniqueness to both of their restaurants in Central Florida.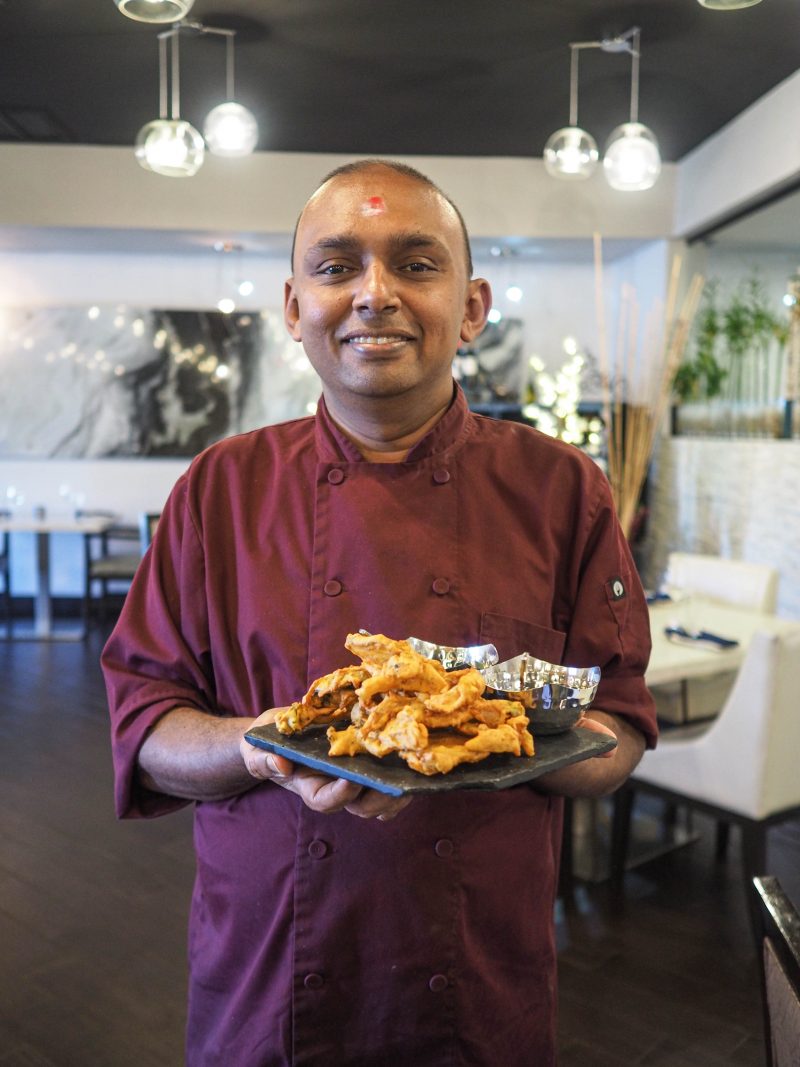 Executive Chef Sajan Prem
Mixed Pakora – Spiced Cauliflower, Potato, Spinach and Onion Fritters.  This dish was tasty and fun to eat.  It was also gluten-free, which was a pleasant surprise to my dining companion and I since he is gluten-free.
Mint Chutney 
Sweet Tamarind Chutney.  Both sauces were good, but I enjoyed this sauce the most.
Garlic Naan.  It was fresh, moist, and tender.  The bread absorbed the spices from the other dishes very well.  I ordered mine with Chana Masala, Chicken Tikka Masala, and Jerra Rice which were all great.  I enjoyed the Chicken Tikka Masala which was prepared medium hot and I loved the chickpeas cooked home style with onions, tomatoes & ginger in the Chana Masala.  It was my first time trying it and it was unique and healthy.
Tandoori Chicken – Roasted, Young, Bone-in Chicken Marinated in Tandoori Masala.  It was succulent, juicy, and perfectly smoky from the grill and smoked paprika they used.  Every bite boasted a tapestry of earthy flavors from garam masala to ginger to garlic.
A refreshing Mango Smoothie. 
Tabla Indian Cuisine currently has two locations.  Be sure to visit them at this location off of International Drive or at their new location on Park Avenue.
Tabla Indian Cuisine
5847 Grand National Dr., Orlando, FL 32819
(407) 248-9400
tablacuisine.com