We were invited to stay overnight at SoDo's newest boutique hotel The Delaney Hotel, located across from Orlando Health just south of downtown Orlando, and it was simply amazing, to say the least.  We absolutely loved our experience.  The Delaney Hotel is hospitality reimagined.  It is like home, but so much better. Delaney's Tavern restaurant on-site is just icing on the cake.
The 54-room boutique hotel features new, innovative designs such as over-sized rooms, walk-in showers, room service – combined with advanced technologies – in-room tablets, digital concierge, mobile keys, room automation, bathroom mirrors with integrated clocks, 55″ smart tv's with guest-device streaming, as well as a state-of-the-art fitness center and business center.
Although they just opened this past August, they certainly know what they are doing in terms of giving guest the ultimate hotel experience.
The Delaney Hotel strives to create a new commitment to authentic hospitality and genuine service with individualized accomodations.
In regards to COVID-19, your safety is their first priority.  
The Delaney Hotel + Delaney's Tavern is founded by local physicians that own their own practice right next to the hotel property so they are very active with their business ventures.  They want to keep guests informed about the precautions that they are taking to ensure a healthy and relaxing stay.
Some of their guidelines are as follows:
"Housekeeping: Our staff uses an EPA registered Peroxide product to quickly and effectively disinfect our guest rooms. This solution kills 99.999% of germs and bacteria – including Norovirus and Coronavirus in as little as 45 seconds!  An additional layer of protection is employed through the use of BetONE RTU – a broad spectrum disinfectant cleaner designed for hard, non-ports inanimate surfaces.
If that wasn't enough to kill these germs, Ultraviolet germicidal irradiation (UVGI) is a disinfection method that we deploy which uses short-wavelength ultraviolet (UV-C) light to kill or inactivate microorganisms by destroying nucleic acids and disrupting their DNA, leaving them unable to perform vital cellular functions.
All of the air filters throughout the hotel have been switched to MERV 13 rated, anti-bacterial/viral air filters from Nordic Air.  We've installed Advance Gel Sanitizer Stations throughout the property to provide fast, proven antimicrobial efficacy against a wide range of microorganisms." – The Delaney Hotel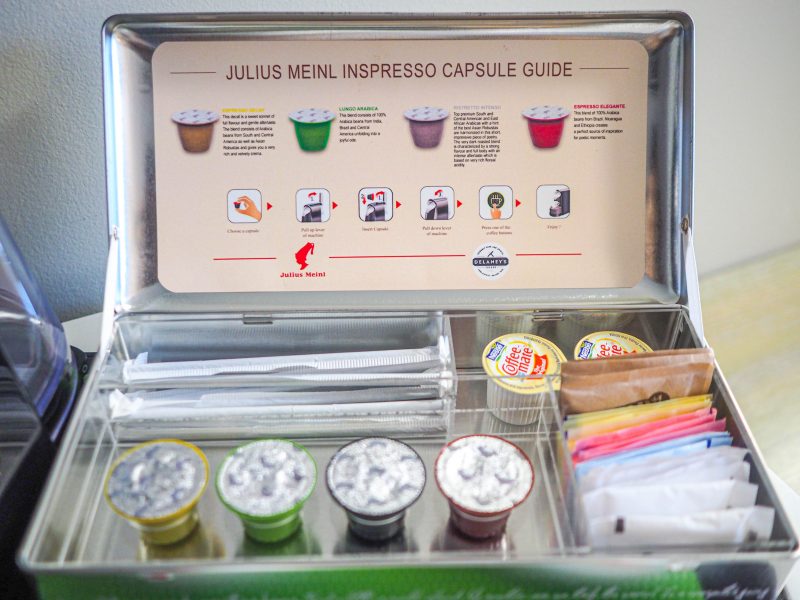 All rooms include:
Express Check-in + Checkout
55″ Smart TVs
In-Room Tablet
In-Room Safe
Julius Meinl Gourmet Coffee Maker
Herbal Bath Amenities
Private Work Space
Individual A/C Controls
Complimentary Super Fast WiFi
Complimentary, Local & Long Distance.
To enhance our stay, we upgraded in style to their Posh Luxury Suite.  Extra space, extra spiffy, and only for a bit extra.  With a generous, separate living area including a super-comfy sofa, dining table, and luxury amenities that combine the luxurious and the local.
I was so grateful for the LED mirror with a digital clock on it.  It was very helpful in making sure I was on time to all of my appointments.  This hotel is family-friendly or business professional-friendly for individuals like myself.
I thought this complimentary amenity was very thoughtful.  I have never seen makeup remover available in any hotel room before.  I definitely used them to wipe my makeup off at the end of the night.
Modern and sleek walk-in shower.
My overnight stay was so peaceful and relaxing.  I honestly did not want to leave.
Cheers!
The in-room tablet was very resourceful.  It was nice to have everything right at my fingertips.  You could look up hotel information on it and order anything on it from food to complimentary toiletries like q-tips, shaving kits, ear plugs, etc.
It even had the Bible app on it.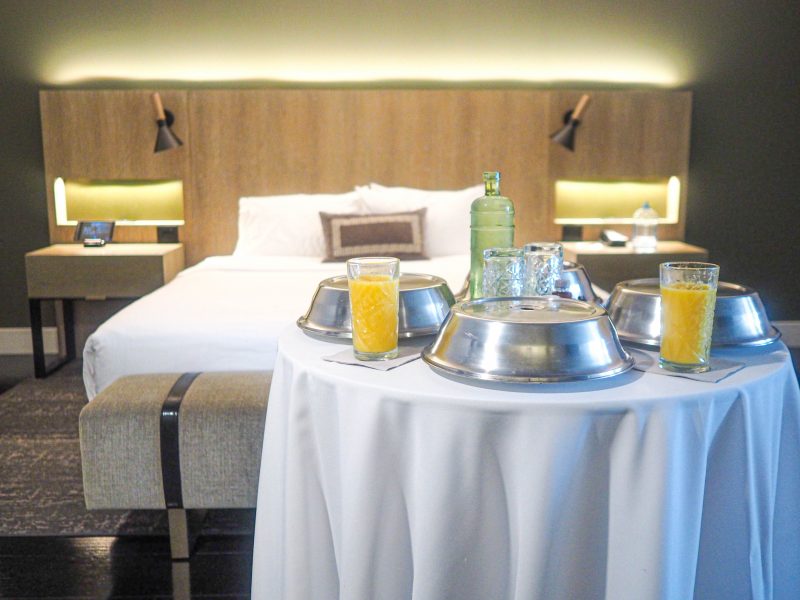 Room service breakfast the next morning was a real treat.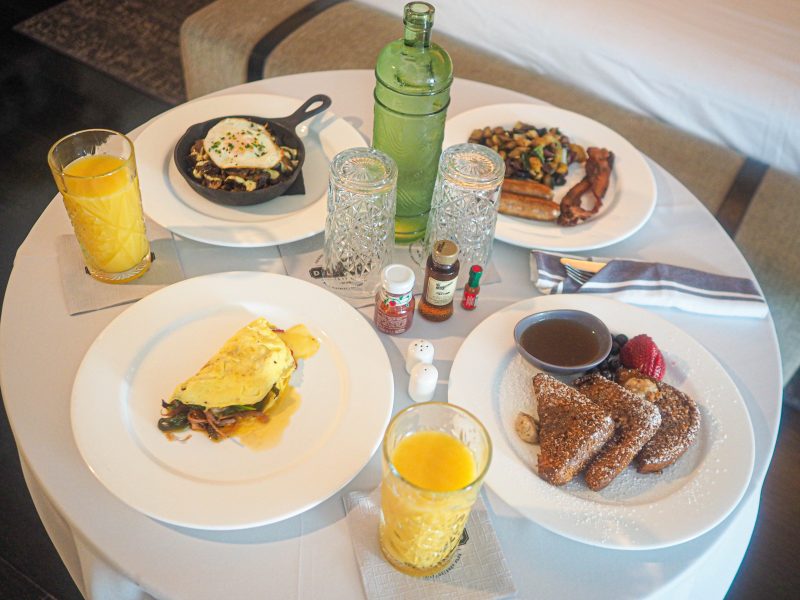 Breakfast was prepared by the hotel's on-site restaurant Delaney's Tavern, which provides all of their room service and catering.
Beef Short Rib Skillet with Over Easy Egg.  This is their #1 breakfast item and I thoroughly enjoyed it.
Texas Style Brioche French Toast.  I had some leftover so I took them home and reheated it the next morning for breakfast.  They were amazing, even the next day.  Highly recommended!
3 Egg Omelet.  It was fresh and scrumptious.
Poblano & Potato Hash, Sausage Links, Pecan Smoked Bacon.  I ordered these as my sides items and they were all delicious!
I washed everything down with fresh-squeezed orange juice.  Yum!
Breakfast in bed.  There is no better way to start the day than like this.
The fitness center was conveniently just a few steps away from our room.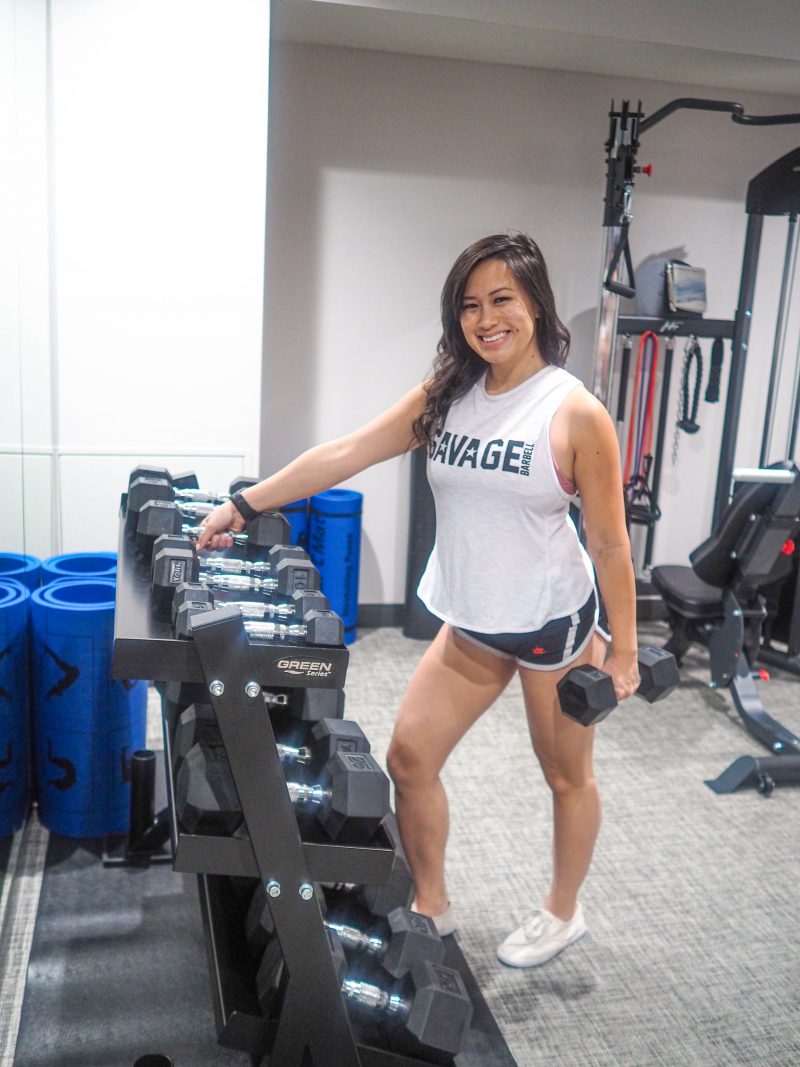 It was very clean and had every equipment that I needed.
Their business center is located next to the fitness center.
The Tavern and staff are applying the same precautions as the hotel to insure the safety of their patrons.  Every employee wore masks and they have transitioned to single-use menus.
If you decide to not take a menu, you can scan their QR code on your phone and view the full menu from there.
Small plates and shareables featuring New American cuisine is the cornerstone of Delaney's Tavern.
Delaney Tavern's microbrew and craft cocktail menu.
Champagne and wine list.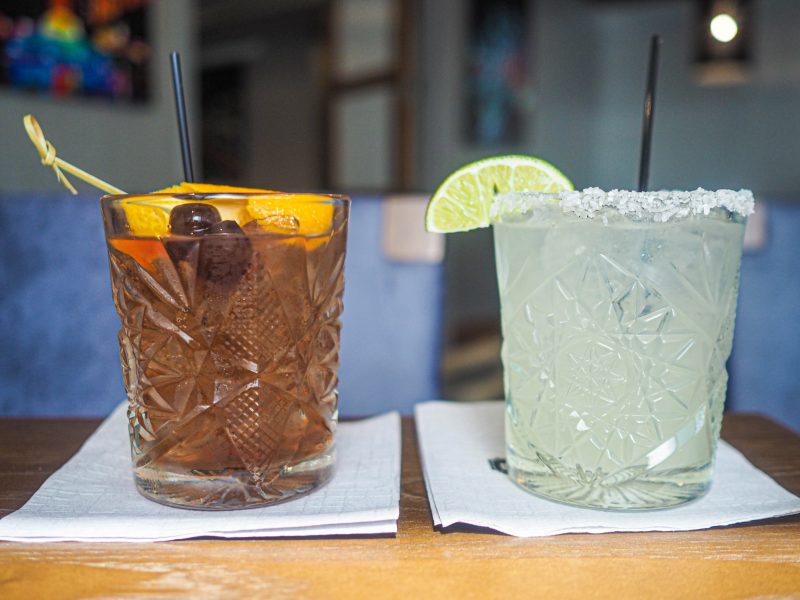 New Fashioned & Delaney Rita.  Recommended by the bartender.  My dining companion consumed these and although he is picky about his cocktails, he approved of these and gave them both two thumbs up.
Tuna Tartare with Wonton Chips. Executive Chef Anthony Albino let me preview this new dish and it was perfection.  There was not a speck left behind.  If you are a tuna lover like me, you will love this appetizer!

Lychee gastrique, raspberry chipotle, avocado, green onion, cucumber, micro greens, sesame seeds, black sesame seeds.
Blue Crab Beignets
Apple fennel slaw, horseradish aioli.  It was light and savory.
Vegetarian French Onion Soup.  It was warm and comforting.


Diver Scallop, Shrimp & Grits – Local Jacksonville parmesan purple grits, tasso ham, sun-dried tomato cream sauce.  It was rich and creamy.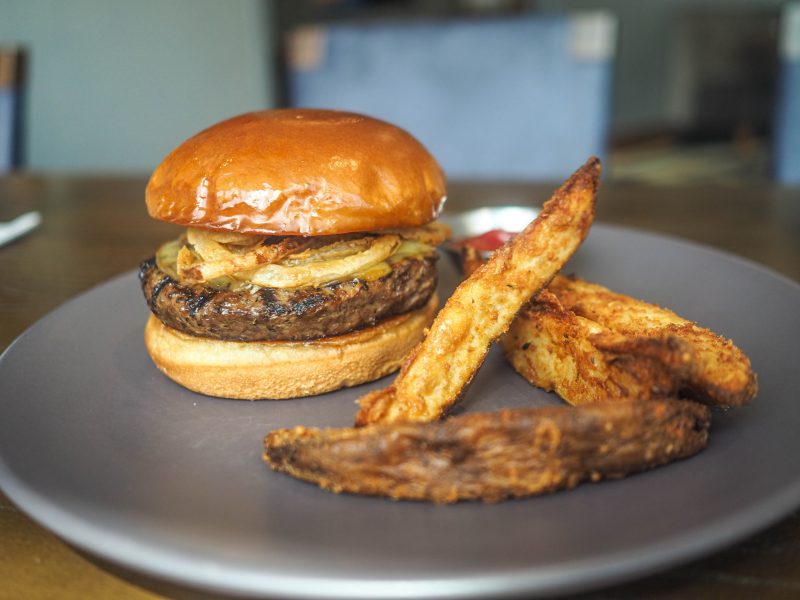 Tavern Burger.  I have had this twice and it my favorite dish.  Highly recommended!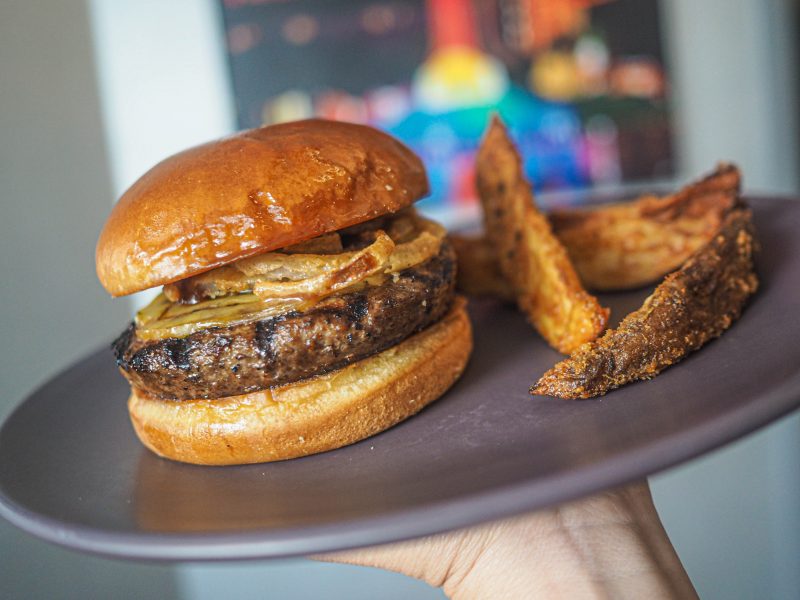 Brisket, chuck, short rib blended patty, smoked gouda cheese, chipotle bbq, caramelized onion aioli, crispy onion frizzle, brioche bun.  I ordered mine with a side of crispy seasoned potato wedges.
Tiramisu.  Executive Chef Anthony Albino let me preview this new dessert and the presentation was super cool.  Chef Anthony Albino had the tiramisu in a cylinder container and then he lifted the cylinder to let all the sauce fall down into the dessert for a cool dripping presentation.
Lounge areas with plush seating and walls decorated with vibrant Orlando paintings and celebrity paintings provide a chic atmosphere.  They offer fun outdoor seating as well.
Playful, unscripted experiences awaits you.  Take a break from your typical 9-to-5 and pamper yourself in lush accommodations, swanky service, and convivial ambiance.  You will not regret it.  Highly recommended!
For more information, please visit: staydh.com & eatdt.com
The Delaney Hotel + Delaney's Tavern
1315 S Orange Ave Suite B, Orlando, FL 32806
(407) 849-0801