Today we celebrate National Ice Cream Day – not that any of us needed an excuse to indulge. What better way to spend this extremely important holiday than by taking a trip to the theme parks? Join us on our guide to the most decadent frozen offerings at Walt Disney World and Universal Orlando Resort. Plus, watch out for a bonus ice cream treat at the end!
A Guide to National Ice Cream Day at Orlando's Theme Parks
*Note: Some locations/restaurants may be currently closed, or opening in phases, due to COVID-19. We recommend calling ahead before visiting.
Walt Disney World
1. Kitchen Sink 
Location: Beaches & Cream Soda Shop, Disney's Beach Club Resort 
The Kitchen Sink at Beaches & Cream Soda Shop isn't first on our list by accident. This may just be the largest and most intense ice cream dish in all of the theme parks, so naturally it's a must on National Ice Cream day.
2. Sundaes
Location: Ghirardelli Soda Fountain and Chocolate Shop, Disney Springs
Ghirardelli at Disney Springs is known for its rich, tasty ice cream. Since it's a holiday, we recommend splurging on one of their incredible sundaes – you won't regret it.
3. Ice Cream Cones
Location: Plaza Ice Cream Parlour, Magic Kingdom 
If you're headed to Magic Kingdom, one of Disney's best dessert spots is just a quick stroll down Main Street, USA. Plaza Ice Cream Parlour offers guests some of the tastiest ice cream in the forms of cups, cones, sandwiches and sundaes. They are almost as adorable as they are delicious.
4. Croqué Glace
Location: L'Artisan des Glaces, France Pavilion at EPCOT
Hidden within the France Pavilion at Epcot's World Showcase, L'Artisan des Glaces is a wonderful little ice cream shop that puts an authentic French twist on its dessert offerings. Although it's tough to choose, our favorite menu item is probably the Croqué Glace, made of warm brioche with your choice of ice cream or sorbet in the center.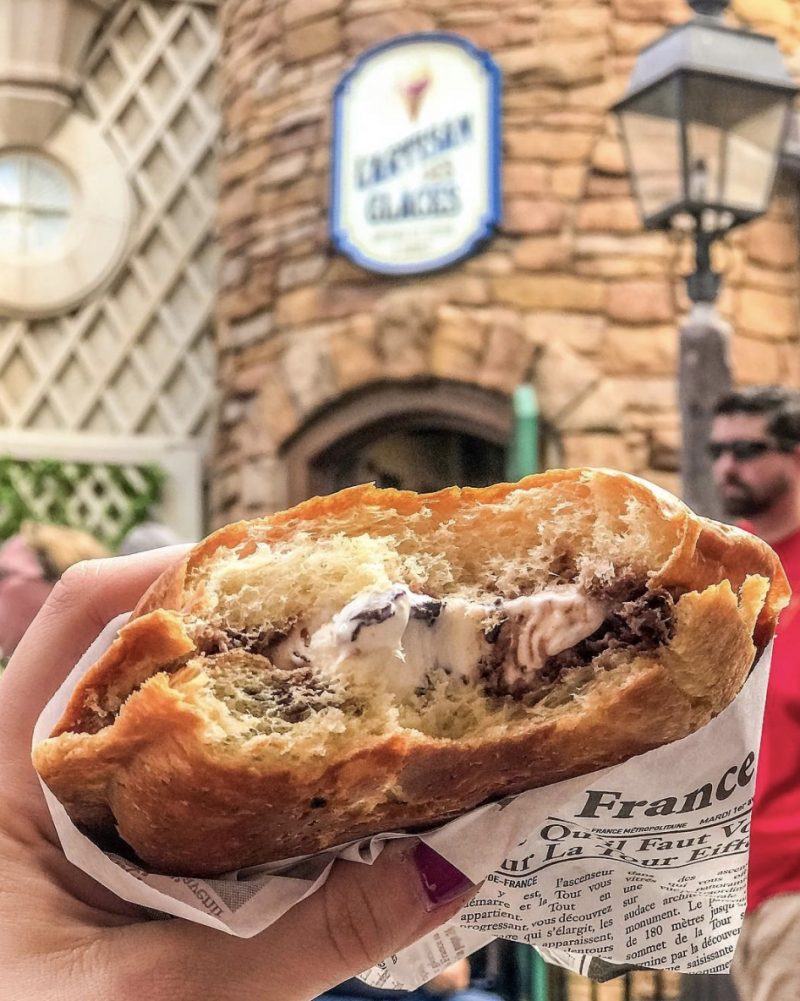 5. Mickey Bar
Location: Ice Cream Carts Throughout the Disney Parks
Probably the most iconic treat on this list, the Mickey Bar is beloved by many – and for good reason. You can't go wrong with vanilla ice cream covered in a hard chocolate shell, but for some reason we can't explain, it just tastes better at Disney World. Find Mickey Bars at ice cream stands all throughout Walt Disney World parks.
6. DOLE Whip
Location: Aloha Isle, Magic Kingdom 
Another Disney World must, DOLE Whip is the perfect way to cool off during a toasty summer day here in Orlando. This pineapple-flavored soft serve will instantly transport your taste buds to the warm beaches of Hawaii. If you've never tried DOLE Whip before, now is definitely the time!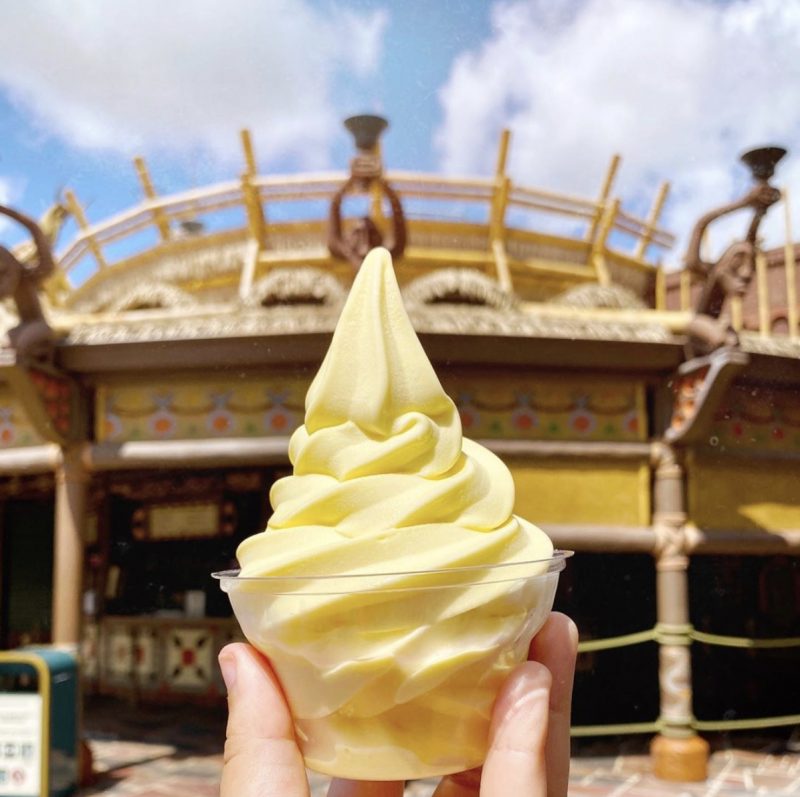 Universal Orlando Resort
7. Butterbeer Soft Serve
Location: Florean Fortescue's Ice-Cream Parlour, Universal Studios 
We didn't know Butterbeer, a Universal Orlando stable, could get any better. That is, until we tried the Butterbeer soft serve at Florean Fortescue's Ice-Cream Parlour in Diagon Alley. It's rich, creamy and somehow creates an even more delicious Butterbeer flavor than the beverages. Plus, you get to keep the souvenir cup!
8. Waturi Fusion Ice Cream Cone 
Location: Universal's Volcano Bay 
The Waturi Fusion at Universal's Volcano Bay just might be the most instagrammable treat on this list. Strawberry, blue raspberry, orange and banana are layered in the most beautiful soft serve you've ever seen.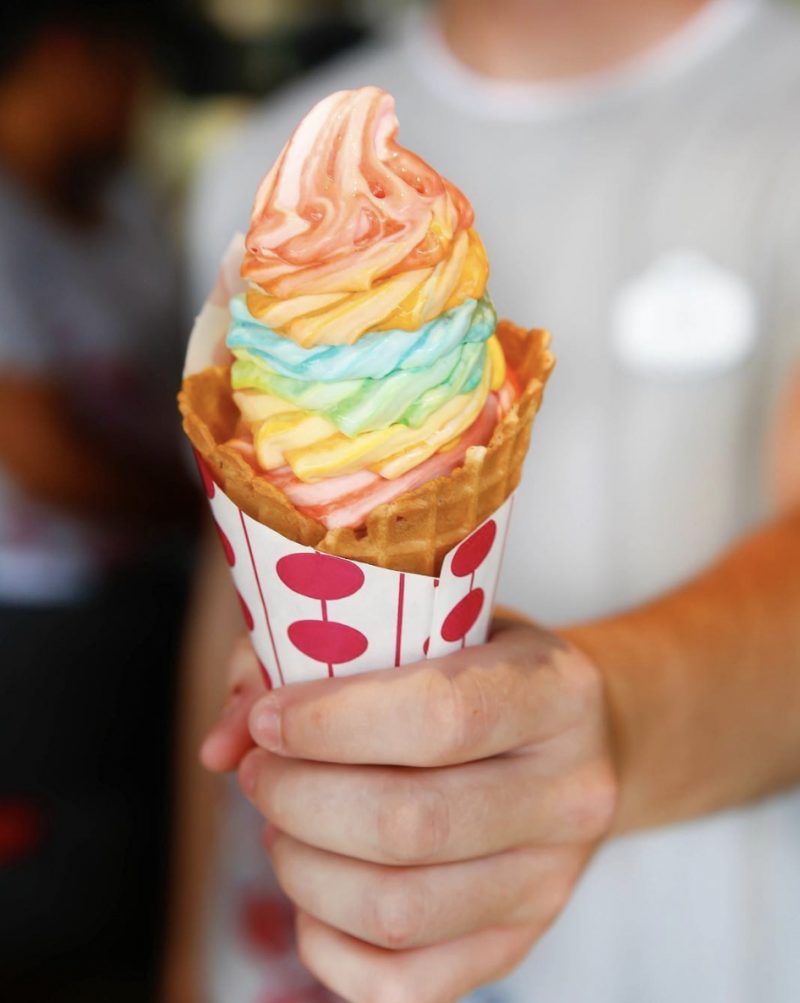 9. Brain Freezin' D'oh-Nut Sundae
Location: Lard Lad Donuts, Universal Studios
Lard Lad donuts are tasty enough as is, but when you turn them into a sprinkled donut ice cream sandwich – it's an automatic win. The Brain Freezin' D'oh-Nut Sundae at Universal Studios Florida is just the sugar-rush you deserve.
10. No Melt Ice Cream
Locations: Honeydukes (Islands of Adventure) & Sugarplum's Sweet Shop (Universal Studios) 
If you wish to celebrate the holiday without making a mess, the No Melt Ice Cream at Honeydukes might be the right choice for you. It's just as tasty as the real thing, but you can relax and take your time eating it, because it'll never melt!
11. Gelato & Sorbet
Location: Gelateria at Loews Portofino Bay Hotel
Rich Italian gelato is served fresh at Loews Portofino Bay Hotel's Gelateria. Flavors include Cappuccino, Stracciatella, Pistachio, Tiramisu, Lemon Sorbet and more.
12. "May Contain Nuts" Sundae
Location: Toothsome Chocolate Emporium & Savory Feast Kitchen 
Toothsome may be known for its out-of-the-box milkshakes, but it also has an impressive array of ice cream sundaes to choose from. The "May Contain Nuts" sundae pictured below is a peanut butter lover's paradise. 
BONUS: SeaWorld Orlando
13. Hurricane Sundae
Location: Manta Soft Serve 
This massive ice cream sundae can easily be shared by an entire family (or all on your own – we don't judge). It's definitely a "treat yourself" kind of dessert, but isn't that what holidays are all about?  You can find this sweet treat at SeaWorld Orlando's Manta Soft Serve stand.