Conveniently located on Par Street just off Edgewater Drive, The Tap Room at Dubsdread is the gathering spot for all.  Although Tap Room is located on the 95-year-old Dubsdread golf course, the restaurant is open to the public.  You will enjoy the friendly and upbeat atmosphere while you relax in their beautiful and unique woodsy setting, nestled among the high trees with hanging moss, overlooking the historic course.
We were invited to Tap Room in College Park to get a first look at their Magical Dining menu and everything we tried was delicious.
Tap Room's Magical Dining menu proudly offers fresh seafood, prime cuts, and house-made desserts.  Along with a three-course meal for $35, you will also have the option to enhance your meal with add-ons such as Crab Cake Maryland Style ($9), Sea Scallops ($8), and Cowboy Style – bleu cheese crumble, onion straws, balsamic glaze ($3).
This special dinner menu will be available for dine-in starting today, Aug. 28 through Oct. 4.  No carry outs.
What is Magical Dining?
3 courses – Appetizer, Entrèe, and Dessert
Price: $35 per person, price does not include tax or gratuity.
Over 70+ participating restaurants
August 28 – October 4
Through Visit Orlando, one dollar from each meal will benefit Feed the Need Florida, which works to help feed people who have struggled with getting access to healthy food during the COVID crisis.
Here are our favorites from the Magical Dining menu at The Tap Room at Dubsdread:
Hot Jumbo Lump Crab & Cheese Dip – topped with fresh tomato & scallions, served with toast points.  This meaty and cheesy dip blew my mind.  It was an amazing starter.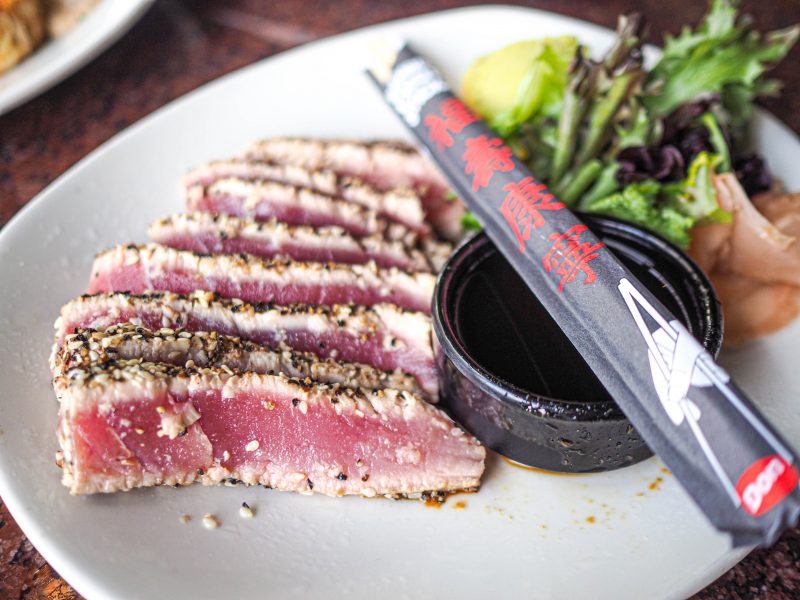 Fresh Seared Tuna Sashimi (GF) – seared sushi grade tuna with a peppercorn and seasame crust, served with soy horseradish.
Filet Mignon (GF) – 8 oz, barrel cut, bacon wrapped.  A excellent cut of steak!  The mash potatoes were light and fluffy.  We enhanced this dish by adding on the sea scallops for an additional $9 and it was worth it.
Crab Cakes – 2 Maryland style, jumbo lump with house-made rémoulade.  The crab cakes tasted amazing.  It was pure perfection.
French Macarons (V) – raspberry, pistachio, coffee.  A fun and colorful treat to end a wonderful meal!
Brownie Sundae (V) – house-made fudge brownie, vanilla ice cream, whipped cream with cherry.  A very filling dessert!
For more information, please visit: visitorlando.com/en/magical-dining/restaurants/the-tap-room-at-dubsdread/47554
The Taproom at Dubsdread
549 W Par St, Orlando, FL 32804
(407) 650-0100
taproomatdubsdread.com