Winter Park features some of the most unique and underrated food spots in all of Central Florida. With a quick stroll down Park Ave., you'll pass numerous restaurants ranging from Indian cuisine to dessert shops, and everything in between. We've decided to shine a spotlight on some of the lesser known eateries in Winter Park. Some of these spots recently opened, and others are just a bit off the beaten path. Join us as we explore some of the very best hidden gems in all of Winter Park.
6 Hidden Gems in Winter Park: A Foodie's Guide
1. KrungThep Tea Time
KrungThep Tea Time earns a spot on this list based off of its tea menu alone. This sandwich and tea shop also offers a long list of delicious bites, all with a Thai twist. Our personal favorite food item is the Gra-Prow Chicken pressed sandwich, which features chicken, mozzarella, fresh basil, red pepper, onion and the tastiest spicy basil mayo we've ever had. It's worth noting that all signature sandwiches are served with a show-stopping side salad tossed in a house dressing that is so tasty we wish they sold it by the bottle. The Thai Tea is unmatched, and for anybody looking for a more refreshing drink, we recommend the Nom Yem. It's sweet, creamy and best of all: pink!
2. Garp & Fuss 
Nestled within The Hidden Garden on Park Ave., Garp & Fuss offers one of the dreamiest restaurant atmospheres we've experienced. The best seating area is without a doubt the beautiful brick wall atrium. As far as food goes, our personal favorite menu item is the Fuss, which is a fried chicken sandwich topped with marinated cucumber, arugula, hot honey, blueberry relish and boss sauce. We also highly recommend the Mac & Cheese as a starter.
3. The COOP
Central Florida natives already know 4 Rivers Smokehouse. But did you know about its Southern sibling specializing in comfort food? The COOP in Winter Park offers a a variety of Southern Staples from shrimp and grits to fried chicken buckets. The large selection of sides doesn't disappoint either. From the warm mac n' cheese to the gooey cinnamon bread pudding, you really can't go wrong at The COOP.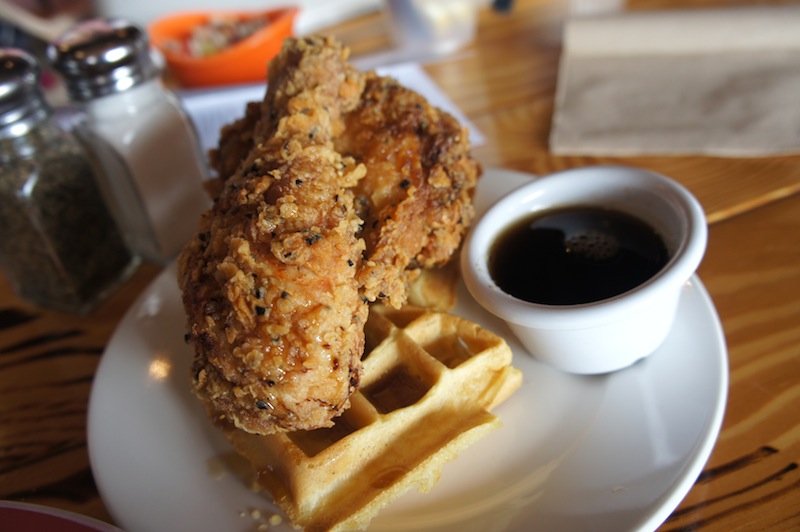 4. Pannullo's Italian Restaurant
A Winter Park staple, Pannullo's opened over 25 years ago and remains a must for all things Italian. From pasta to pizza and all things in between, Pannullo's offers delectable Italian cuisine with a cozy Tuscan-inspired atmosphere. Let's be honest, it isn't difficult to find an Italian restaurant in Central Florida. However, Pannullo's level of authenticity and theming is hard to come by. It's refreshing to find a food spot that provides a genuine escape through its simplistic yet intentional ambiance. We recommend the Ravioli Terracina and honestly any of their massive pizzas. 
5. Light on the Sugar 
Light on the Sugar is a lovely family owned bakery and coffee shop, offering a delightful assortment of pastries with an Asian twist. The best part is all of their menu items are made with high quality ingredients that are — you guessed it — light on the sugar. Believe us, you can taste the difference. Our top two dishes are the Cream Puffs (the Earl Grey and Ube flavors are our favorites) and the Japanese Cheesecake. If you're a fan of Panna Cotta, you'll also want to try one of their many flavor combinations, like Matcha Strawberry or Coffee Vanilla. They come packaged in the sweetest little plastic jars, which is clearly a plus. Nearly the entire baked goods menu rotates day to day, so you never know what exciting new flavors will be available at Light on the Sugar. 
6. Tabla Indian Cuisine
For even more delicious bites in Winter Park, Tabla Indian Cuisine offers traditional Indian dishes from rich curry to perfectly seasoned kabobs. We recently visited Tabla and had the chance to chat with the owner, Nora Jain. You can read more about our visit here. 
Feature Image Credit: Camels & Chocolate