Update: Saturday April 19, 2014 –
The Coop has officially opened! Here are a few shots from our recent visit on a Saturday afternoon. The line, of course, was out the door…
The hours are:
Monday – Friday
11-2 and 5-9
Saturday
11-9
Sunday – Closed
The phone number is: 1-407-THE-COOP ((407) 843-2667) – They are not taking to -go orders yet, so you'll have to wait in line for now!
Overall impressions on first visit, definitely worth a try, despite some missteps. The assembly line nature at the counter could be improved to enhance overall experience – it all seemed a bit rushed once getting to the front. The fried chicken was a bit too dry and there seemed to be a bit of a heavy hand with the black pepper today. The mac and cheese was fabulous, though, as was the shrimp and grits with tasso ham. I am sure they will figure out all the kinks and have a lot of success in the coming days, though.
The menu
—————————————–
Original Date posted – February 13, 2014
For the past year or so, Chef John Rivers of 4 Rivers Smokehouse has been quietly tilling away at the kitchen in search of the perfect recipe for fried chicken, quietly testing his recipes and hatching ideas in creating a new refined Southern menu for The Coop (http://asouthernaffair.com/), and the results are astounding.
To say my mind was blown when tasting some of the dishes at a recent preview of the menu is an understatement. The chicken and biscuit, for example, may sound innocuous at first, but the fried chicken, made with dark thigh meat instead of white breast meat – which tends to be dry, was tender and juicy while the biscuit itself was a little sweet and fluffy and together with the bourbon maple syrup – it was divine. I do reckon that bourbon maple syrup that they've come up with is going to be a favorite in any Southern kitchen for years to come.
John Rivers wants The Coop to be a place known for its refined, not "gourmet", Southern comfort food, something that you'd feel welcome to eating at home on your porch on a weekend Florida afternoon, with dishes like the low country shrimp and grits, made with savory, flavorful grits cooked in a chicken/shrimp broth and tender sausage and tasso ham made from a home recipe. The menu has hints of both New Orleans Cajun cuisine and Carolinas low country southern food from the shrimp po boy sandwiches to the Charleston Shrimp Perloo, a dirty rice dish that's a cousin of the jambalaya and more distantly the Spanish paella. The Coop is much more than about just fried chicken.
No wonder Visit Orlando – the official Tourism Bureau for Central Florida – among its list of "Top 10 Reasons for Visiting Orlando in 2014" included The Coop, the only local restaurant among a sea of theme park attractions and developments. Get ready for a very delightful March when The Coop opens its doors in Winter Park for the first time – it will be a year for fried chicken all around. The phone number is 407-The-COOP and the address is 610 West Morse Boulevard, Winter Park, FL 32789 – I suggest you bookmark it in your GPS/Google Maps now. The COOP will be open Monday through Saturday for lunch and dinner from 11 a.m. to 9 p.m., and will be closed on Sundays. For more information, visit www.asouthernaffair.com.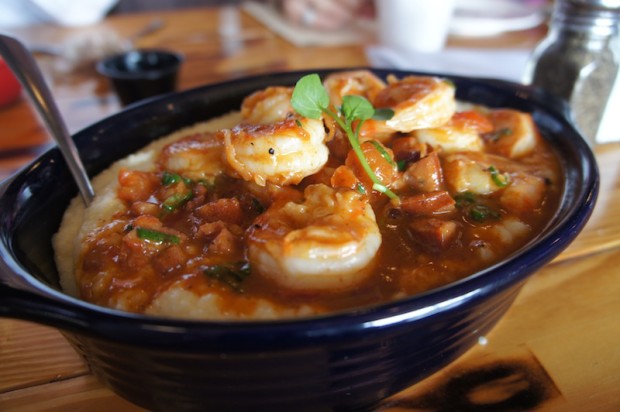 Low Country Shrimp and Grits with house made Tasso ham and sausage