New Southern Biscuit Breakfast and Lunch Spot in Orlando Alert ! Did you know that the first North Carolina-based Rise Biscuits in Central Florida is now open daily 7am-2pm in Winter Park at Lakeside Crossing, 110 S. Orlando Avenue, next to Bulla Gastrobar and Sixty Vines?
Home of the "Best Dang Biscuits" since 2012, Rise recently won "Best Biscuits in the US" by Food and Wine Magazine for their fresh, made-in-house, pillowy, warm-buttered Southern biscuits.
With the recent closing of The Coop and Popeye's nearby, will Rise "rise" to rule the roost at the top of the Chicken Strip District?
Rise relies on locally-sourced ingredients like North Carolina-milled flour from Renwood Mills, 100% butter (no shortening in these biscuits).
Serving up Southern Biscuits, Righteous Chicken Sandwiches and Donuts, they are having their GRAND OPENING Event on Saturday, September 9th starting at 7am.
Here's what they've got in store for GRAND OPENING Day:
Free Winter Park exclusive sticker for first 100 customers
Spin the Wheel to win one of several prizes, including free Rise food and merchandise. Everyone is a winner!
Enter to win FREE RISE FOR A YEAR. Visit https://risebiscuitschicken.com/locations/winter-park/ for details
Join Rise Rewards for a free biscuit on your next visit!
Rise will also be donating 10% of sales on Saturday September 9th to Bishop Moore Catholic High School!
For more information on their grand opening festivities and to win free Rise food and drink follow/like Rise on Facebook and Instagram @risebiscuits.
Founded in North Carolina, Rise is taking the country by storm with their fresh take on Southern breakfast and lunch. Rise might be fast and casual, but founder Tom Ferguson was a formally trained chef from the Culinary Institute of America, and has worked for himself and for others in high-end restaurants around the country.
Rise serves breakfast and lunch comfort foods with a playful twist–like the Righteous Chicken Sandwiches topped with anything from crispy bacon to fried green tomatoes.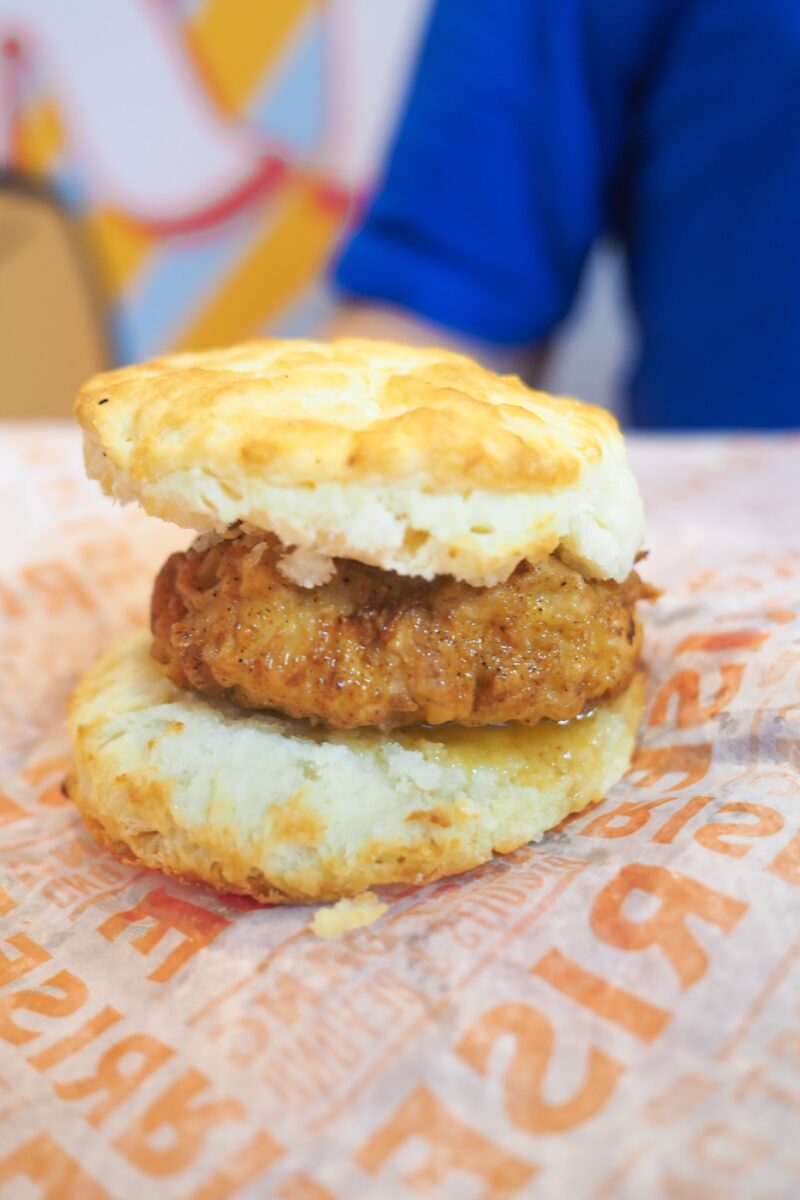 Their chicken is tenderized, brined in buttermilk, fried to golden-brown perfection and then served on a biscuit, bun or as strips with your choice of toppings and sauces.
Donut flavors range from your standard old-fashioned to Maple Bacon Flavored and Cheerwine donuts.
Sides like cheese grits, fried okra, cheddar tots, and country gravy round out the Southern menu. They also have a fantastic sweet-glazed blueberry biscuit that is a must try!
The Rise ordering and pickup process is streamlined to get customers their orders quickly and efficiently. Orders are placed online via the RISE app and website or via kiosks in the restaurant.
Convenient pickup is available through heated food lockers – just like those automats from NYC back in the day.
They are not stopping at Winter Park, with plans in the works for a second location of Rise in downtown Orlando coming soon.
Rise Biscuits Winter Park
Lakeside Crossing
110 S. Orlando Avenue, #6
Winter Park, FL 32789
https://risebiscuitschicken.com/locations/winter-park/