We were invited to Streamsong Resort in Polk County (about 1.5 hours from Orlando) to experience the resort's food, spa and lake view hotel room and our weekend trip was nothing short of remarkable.
Streamsong Resort is Florida's best kept secret, it is a hidden gem, literally and figuratively.  The 7-year-old resort is 16,000 acres and the land was formerly used for mining phosphate also known as P205; which has become the name of one of their restaurants.
The intimate haven features 228 spacious, modern guest rooms; 25,000 sq. ft. of flexible conference and function space, with distinctive outdoor venues.  You will find guests spending time on property utilizing the luxury golf courses, bass fishing on the serene lakes, shooting sporting clays, practicing archery, going for a walk on the nature trails, dining at the restaurants, or sunbathing at the lakeside infinity pool.
Golf lovers will experience a new standard at the resort's three critically-acclaimed luxury golf courses Streamsong Red, Blue, and Black; the only destination in the world where three distinct golf courses were designed by four legendary architects.
Aside from the sheer beauty of the resort, what stood out to me most (and got the most airtime on my social media platforms) was the food.
The Streamsong team mentioned how more people from the surrounding areas were coming to the resort solely to enjoy the food, seek refuge in beauty and nature for the night or weekend and escape their cancelled vacation blues.
Locals do not have to go far to experience extraordinary cuisine while feeling like they have left Florida.  Led by Executive Chef Michael Ford, the resort boasts five unique restaurants:
Restaurant Fifty-Nine – USDA Prime cuts and seafood
Bone Valley Tavern – gastropub
SottoTerra – fine Italian
P2O5 – casual American
Fragmentary Blue – a rooftop lounge with stunning views (currently closed due to COVID-19)
After we checked in, we walked into our room and were pleasantly surprised with a charcuterie board patiently waiting for us to be eaten.  The tasty charcuterie board was made with duck prosciutto, compressed melon, cantaloupe, Frangelico chocolate truffles, Gorgonzola & balsamic strawberry, salted Marcona almonds and came with a bottle of chilled Luigi Baudana Dragon 2018 wine.
After getting settled in we went downstairs to P205, the casual American restaurant located next to the main lobby, to enjoy cocktails and appetizers.
Conch Fritters – lime aioli, sriracha remoulade.
Charcuterie Board with 3 different meats, all cured in house.
Pork Lonzino – air cured for about 30 days and wet cured for about 8 days
Duck Country Ham – salted for 2-3 days and then air dried for about a week.
Tasso Ham – made with pork shoulder, smoked and seasoned with traditional cajun seasonings.
Carmenrena – A blend of both Blanco and Añehjo El Tesoro tequila and sweet and bitter botanicals from Campari and Sweet Vermouth brings Mexico to Italy in this spirit forward cocktail.
Kyoto Old Fashioned – A cocktail that Japan's third largest city would be proud of.  Suntory, Toki Whiskey perfectly complimented by a touch of Yuzu syrup and Angostura bitters to balance this clean cocktail.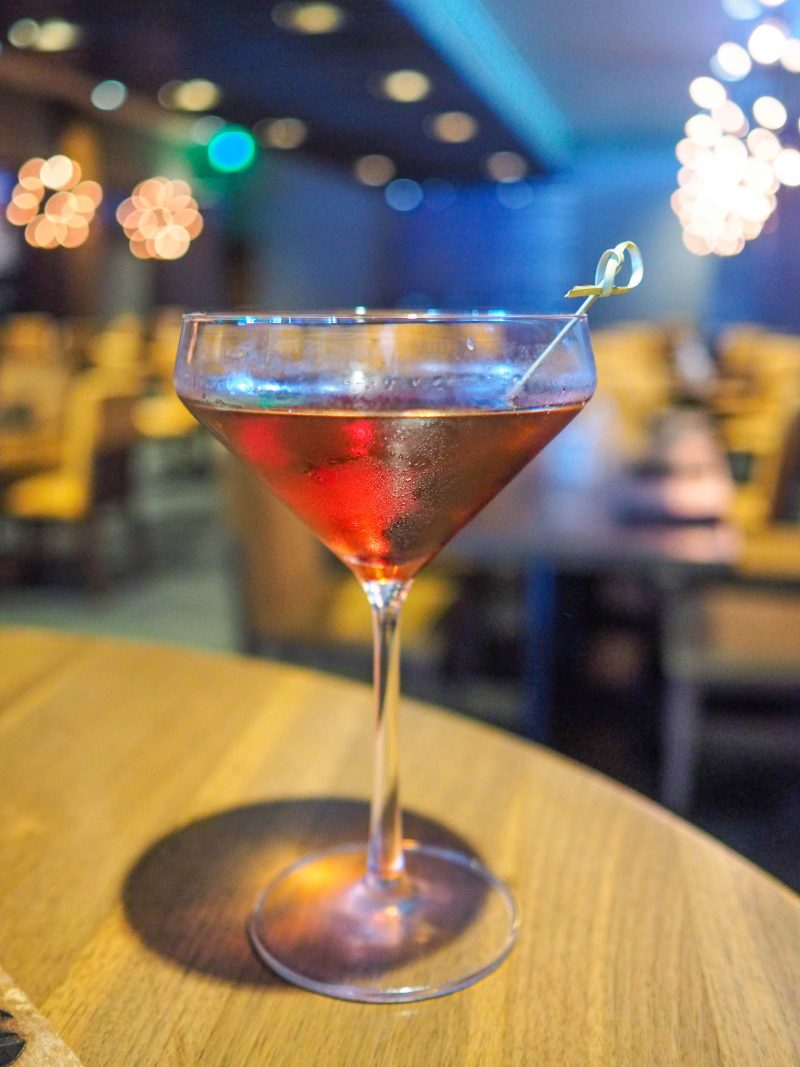 Indian River – Sip Smith London Dry Gin combines with a bittersweet shrub made from grapefruit from Florida's Indian River, sweetened with basil, a touch of lime and Elderflower undertones.  Elegant and refreshing.
Then we went down to the lower level for dinner at SottaTerra – the resort's restaurant that is under Earth.
Bread with roasted red pepper and pesto butter and by request you can order olive oil & balsamic vinegar dipping sauce that includes the signature Streamsong logo.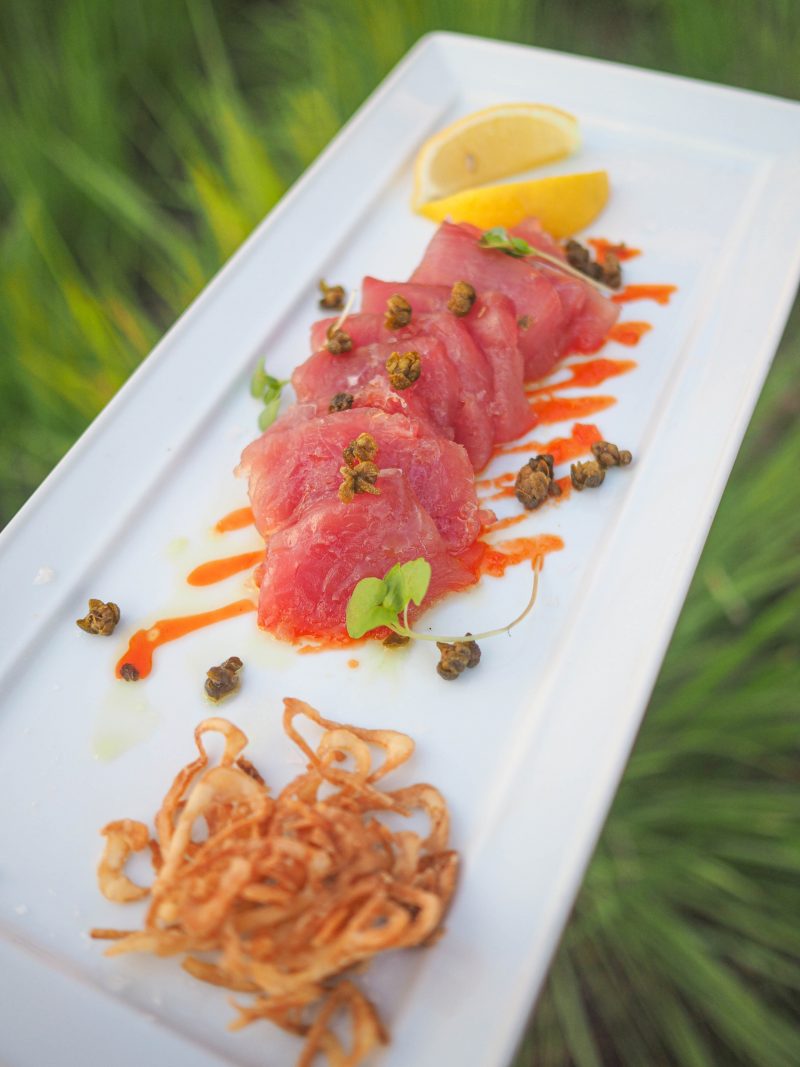 Tuna Crudo – sushi grade tuna, capers, lemon, shallot, basil, evoo.  We really enjoyed this appetizer, it was fresh and meaty.
My dining companion ordered the Roasted Branzino – polenta, confit tomatoes, asparagus, lemon and I ordered the Pan Seared Prime Ribeye – roasted fingerlings, mushrooms, arugula, aged balsami.
My ribeye was cooked perfectly medium rare and packed a ton of flavor.
For dessert we ordered the Gelato Trio – dark chocolate, Madagascar vanilla bean, and pistachio.
It was AMAZING!  Wow, I wish I could eat this for dessert after every meal!
The next morning we had breakfast at Restaurant Fifty-Nine – the epitome of a luxurious seafood and steakhouse.  My dining companion ordered the Brisket Hash & Egg Skillet – smoked beef brisket, crispy potatoes, onions, fried eggs, toast and I ordered the Steak & Eggs Bagel – country fried steak, fried egg, pimento cheese that came with breakfast tots.
It was the best bagel sandwich that I have ever had in my life and one of my favorite meals during our trip.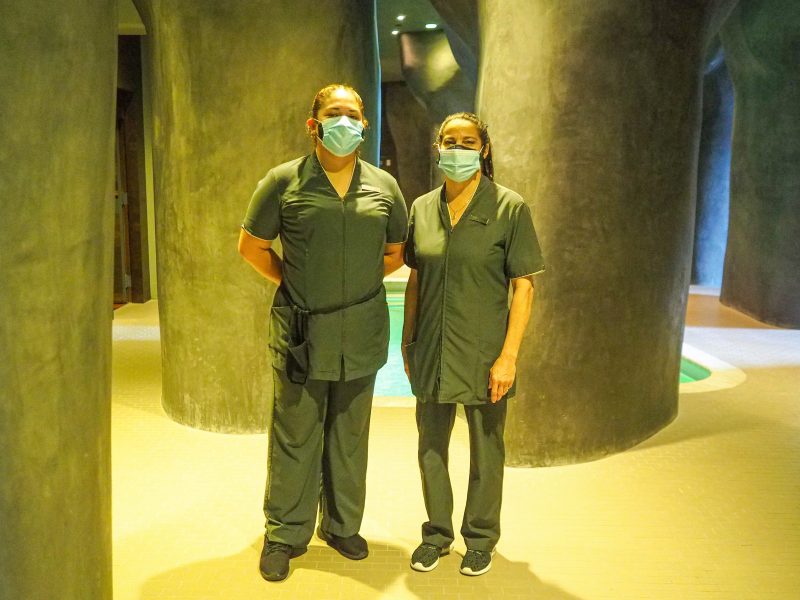 After lunch we headed back to the resort for our spa appointment at the grotto-style AcquaPietra spa.
That deep tissue massage was everything!
The resort's European-style grotto spa was constructed to look like elephant legs dipped in an ocean.
After our spa appointment we headed to lunch at Bone Valley Tavern.
Bone Valley Tavern is the resort's most popular dining experience led by Chef David.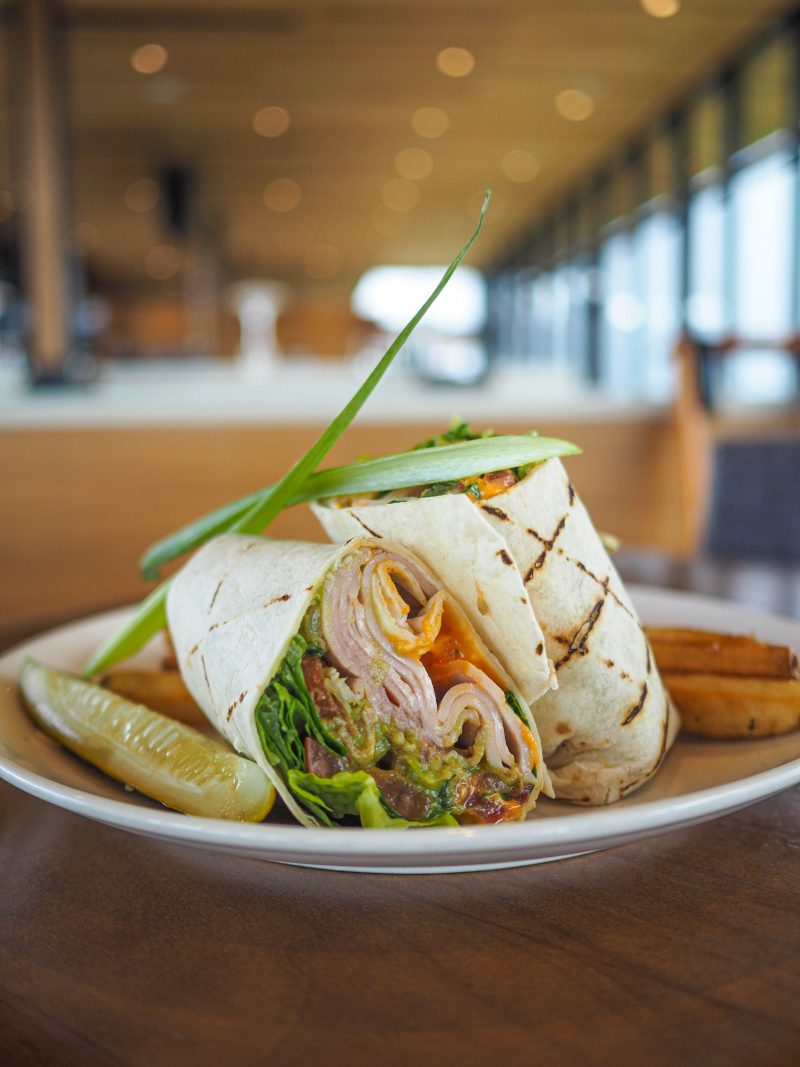 East Coast-West Coast Club Wrap – turkey, avocado, bacon, ham, pimento cheese, lettuce, tomato, herb aioli.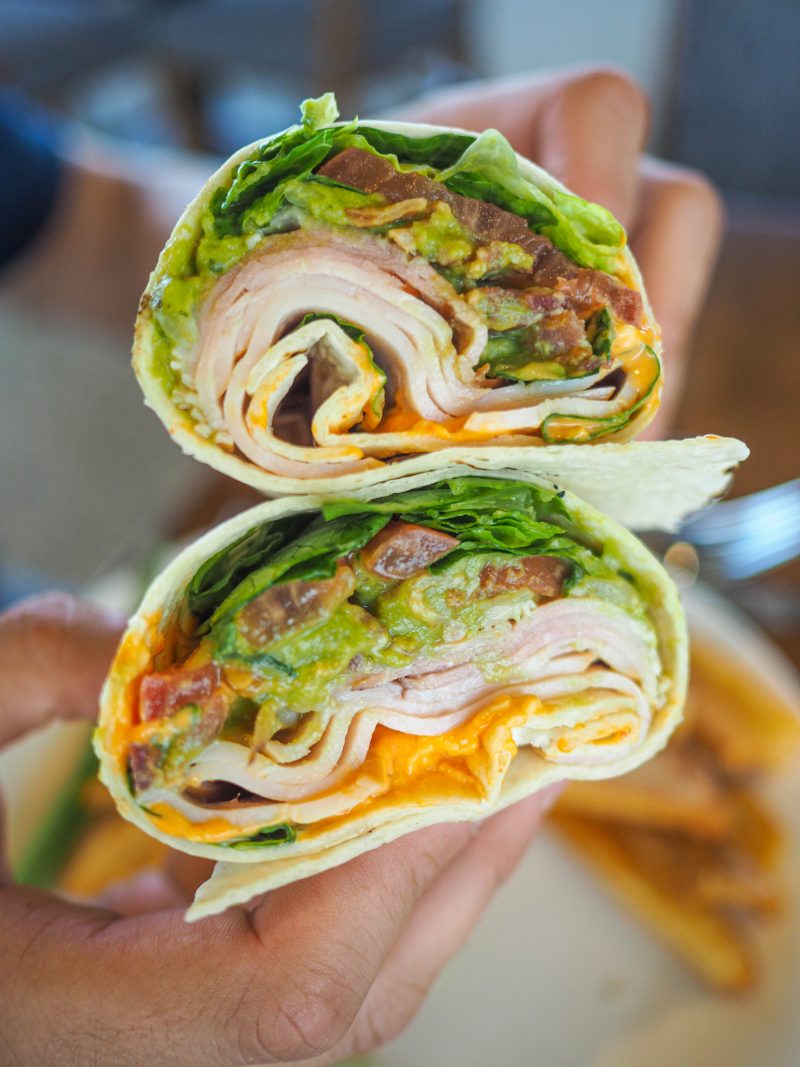 The wrap was refreshing and provided so much texture contrast and pops of flavor.
Chef's Catch Fish Sandwich – grilled local Florida hogfish snapper, lettuce, tomato, remoulade sauce.
Unbelievable!  This fish sandwich was addictive!  Hands down my favorite meal at the resort!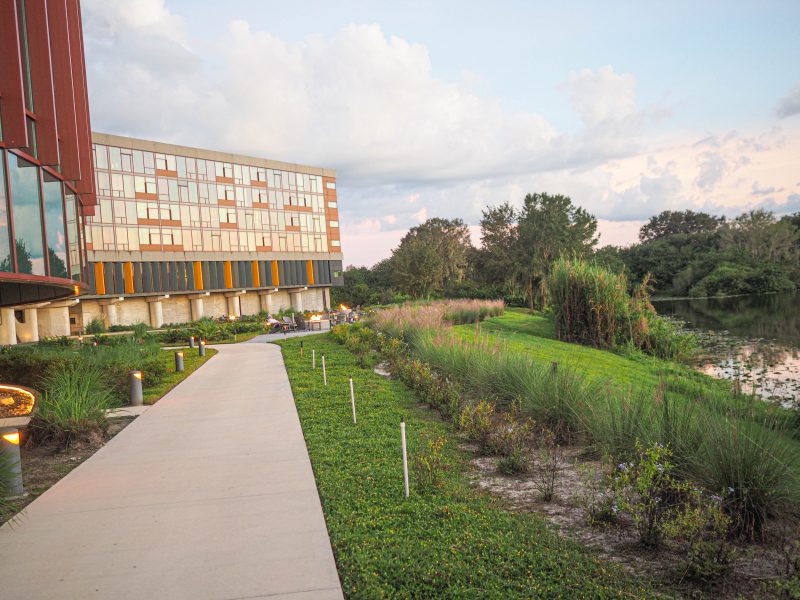 After lunch we headed back home although we did not want to leave, we were having so much fun on property.  Next time we will have to book a longer stay.  I would like to thank Streamsong Resort for generously hosting us.  We had an amazing time and we could not have asked for a better weekend escape.  Everything was perfection.  Be sure to check out Streamsong Resort soon for an unforgettable experience!  You will love it!
Streamsong Resort
1000 Streamsong Dr, Bowling Green, FL 33834
(888) 294-6322
streamsongresort.com