After shutting its doors nearly one year ago, Disney's Blizzard Beach Water Park has officially reopened to the public. Guests can once again experience the park, which is themed around a ski resort built in Florida after a surprise snowfall, that is now in the process of melting away into Blizzard Beach Water Park.
Whether you prefer to lounge in the sun in front of Melt-Away Bay, get your heart racing down Summit Plummet or stuff your face at Lottawatta Lodge, Blizzard Beach has something for you. Disney invited us to experience a media preview of Blizzard Beach just days before it reopened on March 7, 2021. We sampled some new food and beverage items, and even got a sneak peek at the new merchandise available in 2021.

Inside Look: Disney's Blizzard Beach Water Park Reopens with New Food, Drinks & Merchandise
Blizzard Beach is bringing back some of its most popular eats, while introducing other brand-new menu items to the various snack stands and quick-service restaurants throughout the park. Some of the best food and drink spots at Blizzard Beach include Lottawatta Lodge, Avalunch, Warming Hut, Cooling Hut and the Polar Pub.
Menu items throughout Blizzard Beach are diverse, offering many options for individuals with dietary restrictions. Vegan and gluten-free bites are aplenty throughout Blizzard Beach.
During our trip, we had the opportunity to sample some of the snacks and beverages available for purchase at the water park. Here are some of our favorites.
Honey Butter-Chicken Sandwich
Available at the Warming Hut, the Honey Butter-Chicken Sandwich is an appetizing dish made with tasty fried chicken, topped with honey and pickles. The honey is a sweet addition to a classic sandwich, and the combination of flavors is delicious. This sandwich is served with your choice of chips on the side.
Shrimp Louie Lettuce Wrap
Tasty shrimp and pico de gallo fill this lettuce wrap, making for the perfect healthy bite during your fun in the sun at Disney's Blizzard Beach. It's a light meal that's surprisingly more filling than you might expect. The wrap is also served with a side of chips.

White Cap Flatbread
You can find this yummy white sauce flatbread at Lottawatta Lodge. It comes topped with chicken breast, bell peppers, parmesan, bacon and tomato. This menu item is filling without being too heavy, making it a great option during a long day at the water park.
Plant-Based Bratwurst Sandwich
This plant-based treat is a fantastic option for anybody looking for a heartier bite. Whether you're a vegan or a meat-lover, the delicious flavors in this sandwich are sure to impress. This dish is served with roasted pepper, pickled onions and a side of house-made chips.
Banana Cabana Cocktail
The Banana Cabana cocktail is made with Cruzan Mango Rum, Parrot Bay Coconut Rum, Bols Crème de Banana, orange and pineapple juice and a splash of grenadine. This adult beverage is a great refresher on a sunny Florida afternoon. The cocktail is nothing short of delicious, and we highly recommend trying it the next time you find yourself at Blizzard Beach.
You can find the Banana Cabana as well as the Piña CoLAVA, Blue Blizzard Margarita, Rum Runner and many more at the Polar Pub.
Mark Dukes, general manager of Blizzard Beach Water Park, welcomed us and emphasized how excited he and the Blizzard Beach cast members are for the park's reopening.
New Blizzard Beach 2021 Merchandise
Blizzard Beach has debuted a brand-new collection of merchandise for its 2021 reopening. From t-shirts to towels to bucket hats, there's something special for guests of all ages. Some shirts and clothing items available at Blizzard Beach even have ultraviolet protection built in. Check out the newest merchandise for 2021 below.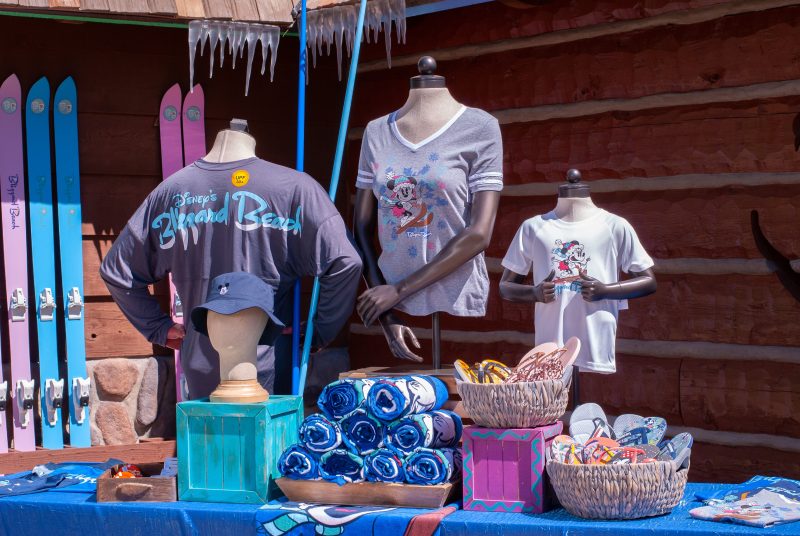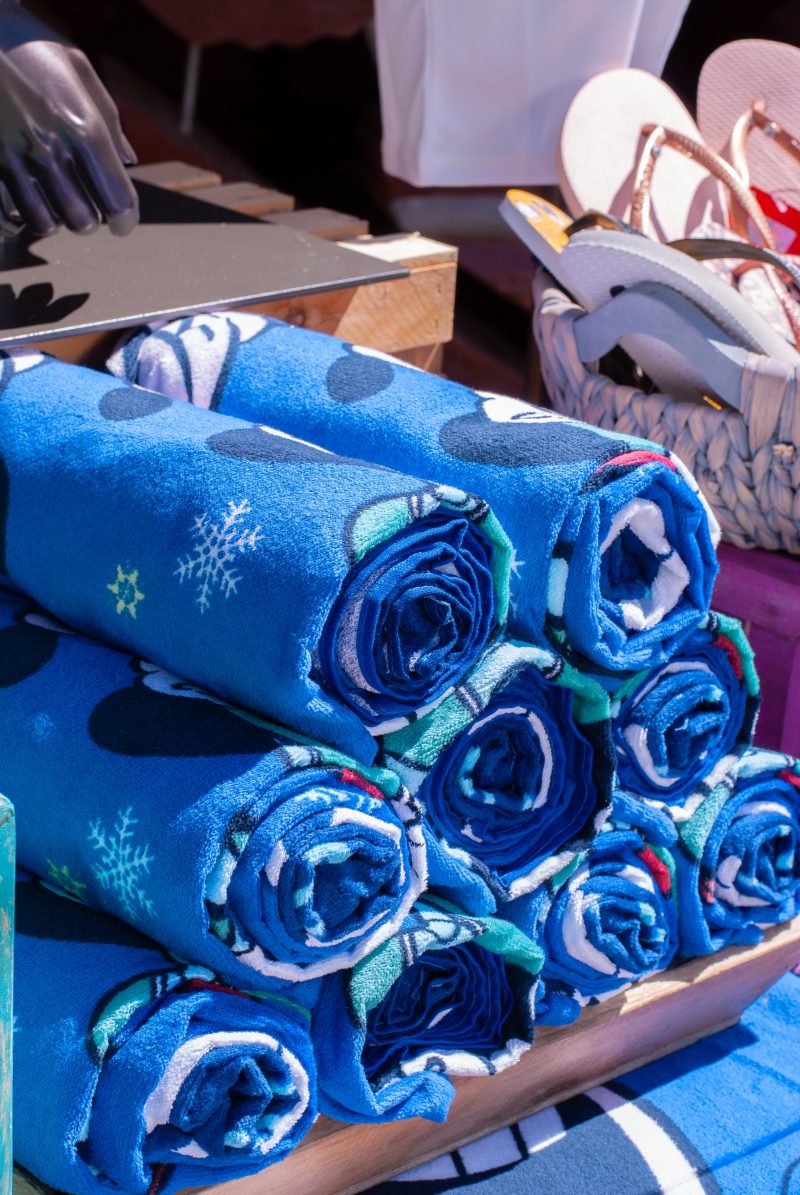 Some of our favorite items in the collection include the Mickey bucket hat and the Blizzard Beach-themed towel.
With thrilling waterslides, relaxing lounge spots, delicious snacks, brand-new merchandise and so much more, Blizzard Beach is the perfect summer escape.
At this time, face coverings are required for all guests ages 2 and older, and must be worn at all times unless actively swimming or eating. To learn more about current safety precautions in place, click here.
For more information about Disney's Blizzard Beach Water Park and to purchase tickets today, click here.