Spring has finally sprung in Central Florida, and as we wave the chilly winter months goodbye we also welcome the Taste of EPCOT International Flower & Garden Festival back to the Walt Disney World Resort.
More than 20 outdoor kitchens are scattered throughout the park during this festival, offering guests a delicious variety of spring-themed eats. This year, you'll notice a heightened emphasis on sustainability, from the food to the merchandise. The festival began March 3 and will run until July 5, 2021.
Disney invited us out to a media preview where we experienced the Flower & Garden Festival, and sampled some of the dishes available this year. Here is our inside look at the Taste of EPCOT International Flower & Garden Festival 2021.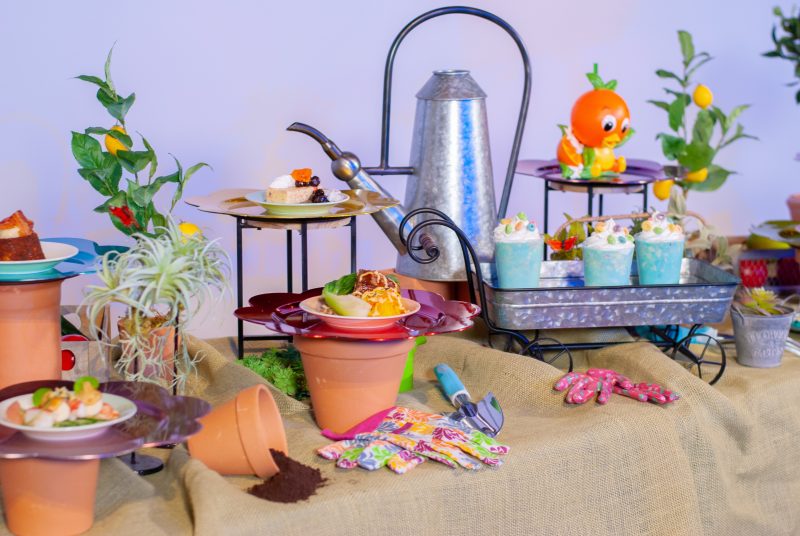 Inside Look: Taste of EPCOT International Flower & Garden Festival 2021
Topiaries
Beautifully crafted topiaries can be found all throughout EPCOT and the World Showcase during the Flower & Garden Festival. Each topiary sculpture is made with care by Disney's own team of horticulturists. See if you can spot all 20+ displays during your visit. Here are some of our favorites.
Simba and Friends (Rafiki, Simba, Mufasa and Sarabi) – Future World West
Kermit the Frog and Miss Piggy – Between United Kingdom and Canada Pavilions
Winnie the Pooh – United Kingdom Pavilion
Woody, Bo Peep and her sheep – Future World West
Minnie and Mickey – World Showplace
Breathtaking gardens and spreads of flowers can also be spotted throughout EPCOT during the Flower & Garden Festival.
Must-Try Eats and Treats at Flower & Garden:
An impressive variety of eats of treats made with fresh, garden-inspired ingredients can be sampled at EPCOT's Flower & Garden Festival this year. There's something for everyone to enjoy, from snacks and desserts to entrees and alcoholic beverages.
Chef Kevin Downing, who serves as chef for EPCOT festivals, was available to walk us through some of the new and returning dishes at the festival this year.
Here is our list of must-try Flower & Garden Festival treats.
Avocado Toast – EPCOT Sunshine Griddle
The Avocado Toast is the perfect light snack during your Flower & Garden adventures. It's topped with marinated toybox tomatoes and goat cheese, and garnished with edible flowers.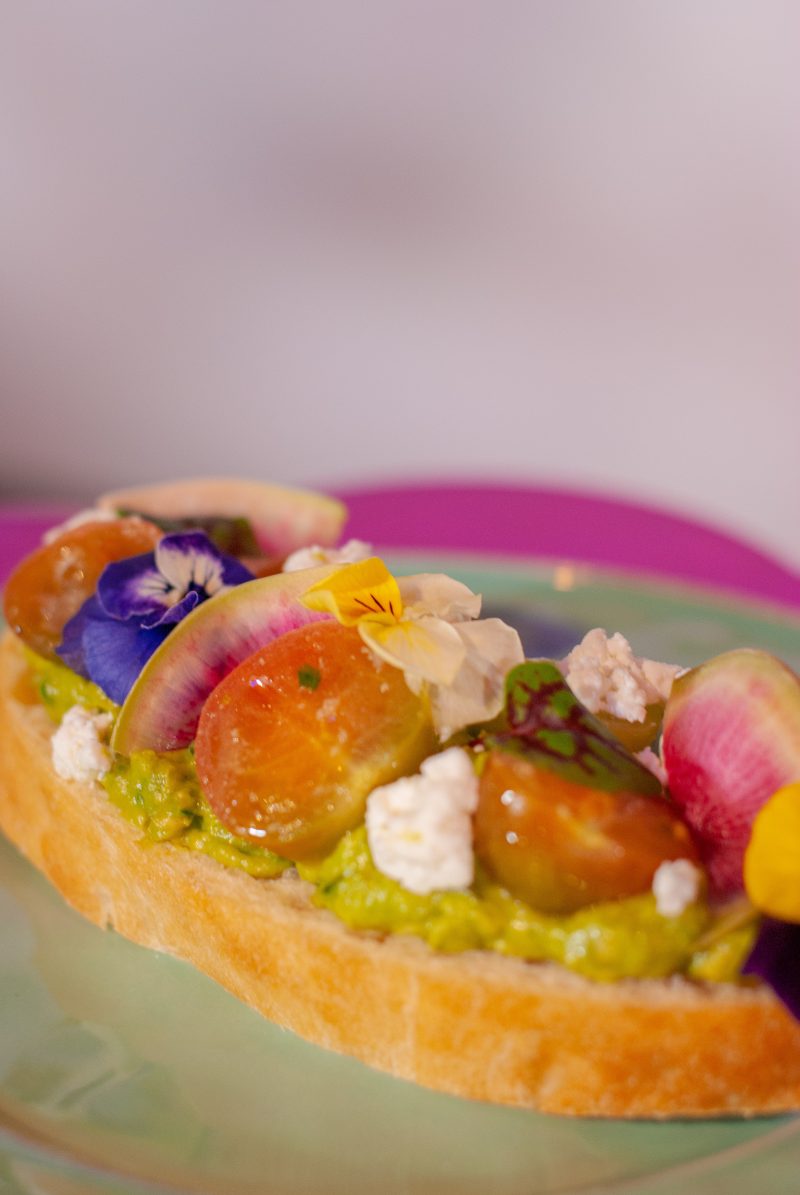 Froot Loops Shake – EPCOT Sunshine Griddle
This non-alcoholic shake is the perfect refreshing sweet treat. It's beautiful to look at, and even tastier to drink.
Twinings of London Energize Matcha Cranberry & Lime Green Tea with Hanger 1 Makrut Lime Vodka – Trowel & Trellis
While this delicious tea is also available without alcohol, we highly recommend getting the vodka version if you're over the age of 21. It's incredibly refreshing on a warm Florida afternoon. Plus, it comes in this adorable mason jar.
Lemon Magdalena Cake with Fig Compote and Sangria Gel – Taste of Marrakesh, Morocco Pavilion
Lemon and fig flavors combine to create this wonderful dessert dish. It's light, sweet and definitely worth a try.
Beef Brisket Burnt Ends and Smoked Pork Belly Slider – Festival Favorites
This slider features smoked pork belly, beef brisket burnt ends, garlic sausage, chorizo, cheddar fondue and a house-made pickle. The flavor is rich and and the dish is impressively hearty.
Hibiscus Lemonade Cocktail – Farmers Feast
If you're a fan of gin, run and order this cocktail right now. Made with Islamorada Brewery & Distillery Hibiscus Gin, this drink is both tasty and refreshing, without being too sweet. Farmers Feast has a rotating menu, so you'll want to grab this cocktail before it's replaced.
Off The "Beat"en Path – Farmers Feast
These yummy profiteroles are filled with red beet mousse with golden beet pastry cream, whipped goat cheese cream and candied walnuts decorating the plate. We know what you might be thinking, but trust us and give it a try. We were pleasantly surprised with what turned out to be one of our favorite food items of the entire festival.
Key Lime Tart – Festival Favorites
If you're a fan of key lime, you can't go wrong with this delightful tart. Served with toasted meringue, this sweet treat is exquisite.
Lavender Pot de Crème – Trowel & Trellis
This dessert dish is fantastic, made with blueberry cake, pink peppercorn and lime whipped cream. The flavors complement one another surprisingly well, creating a dessert that is both delicious and unique.
House-made Potato and Cheddar Biscuit with Salmon Tartare – Cider House
This dish features the flavors of fresh salmon and biscuit reminiscent of a home-cooked breakfast. It's a combo that any salmon lover will surely enjoy.
Meyer Lemon-poached Lobster Salad – The Citrus Blossom
This lobster salad is made with grapefruit-rosé vinaigrette, yuzu-marinated hearts of palm and avocado-yuzu panna cotta. It's a great option for anybody craving some refreshing seafood.
Cider Flight – Cider House
Cider lovers rejoice! A delicious new Cider Flight is available at this year's festival. The flight comes with the 3 Daughter Brewing Pink Lemonade Hard Cider, Bold Rock Watermelon Hard Cider and the Blake's Hard Cider Co. Triple Jam Hard Cider. All three were great, but our favorite was probably the pink lemonade cider.
Duck Confit – Farmers Feast
Duck Confit with carrot purée, roasted root vegetables, rainbow chard and duck jus is available at Farmers Feast. This booth has a rotating menu, so if you want to try this tasty duck dish you'll want to to do soon.
Frushi – Hanami, Japan Pavilion
Frushi is a Flower & Garden classic, and for good reason. This delightful dish is made with strawberries, pineapples and cantaloupe wrapped in sweet rice and pink soy wrap. It's served with whipped cream, toasted coconut and berry sauce.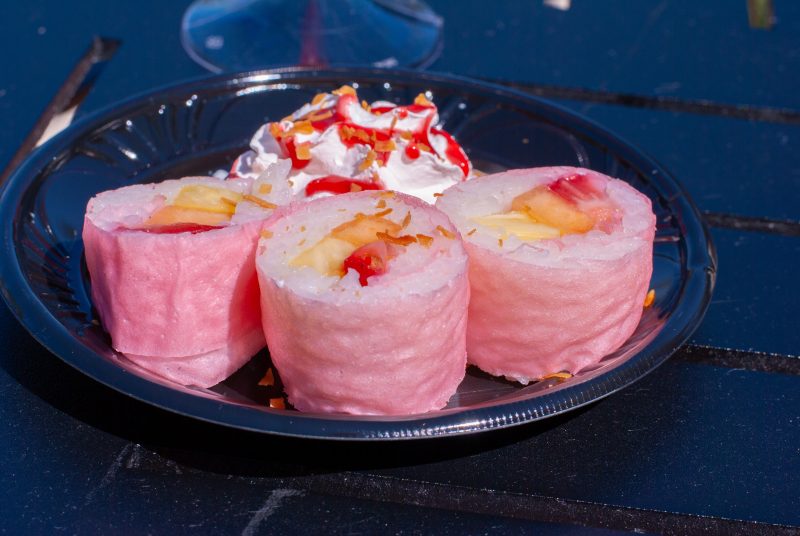 Blood Orange Sour with Fresh Mint – Hanami, Japan Pavilion
The Blood Orange Sour is a tasty adult beverage with a spectacular presentation. It's sweet, tart and filled with a ton of blood orange pulp and fresh mint leaves.
Beignet Caramélisé, Fourré Crème Vanille, Glacé au Caramel Fleur de Sel – Fleur de Lys, France Pavilion
The Caramelized Vanilla Cream Beignet is a rich, sweet snack option during your Flower & Garden festivities. The consistency is similar to a classic donut filled with tasty vanilla cream. What really sets this menu item apart is the caramelized sugar on top, which adds delicious flavor to the dish.
New 2021 Merchandise
A new Taste of EPCOT festival means an all-new collection of themed merchandise. This year, the collection offers some unique items featuring the Orange Bird, Figment and our favorite mouse duo. The collection features t-shirts, spirit jerseys, cups, hats, ears and a lot more. Check out some of the merchandise available during the Flower & Garden Festival below.
With all the exciting food, topiaries, gardens, live entertainment and new merchandise available at this year's Flower & Garden Festival, there's something for everyone to enjoy. Learn more about the festival here.