May is Asian Pacific American Heritage Month and to celebrate the Orange County Library System has set up a calendar of events exploring Asian Pacific American heritage and culture (https://www.ocls.info/asian-american-and-pacific-islander-heritage-month) as well as a reading challenge list on Beanstack (https://ocls.beanstack.org/reader365)
Below is a list of books for the "Little Foodie" in your home to celebrate AAPI Heritage Month from the Orange County Library – I actually have read quite a few of them with my little ones and they are such a blast to read with them as well as learn about food from different cultures around the world –
Here is the "Little Foodie" Children's Book Recommendations for Asian Pacific American Heritage Month 2021 presented by the Orange County Library System
Amy Wu and the Perfect Bao – By Kat Zhang ; illustrated by Charlene Chua. It's a struggle when you can't do things as well as your parents and grandparents. Meet the funny, fierce, and fearless Amy Wu, who is determined to make a perfect bao bun today. Can she rise to the occasion? Amy loves to make bao with her family. But it takes skill to make the bao taste and look delicious. And her bao keep coming out all wrong. Then she has an idea that may give her a second chance…Will Amy ever make the perfect bao?
Bee-bim bop! . By Linda Sue Park ; illustrated by Ho Baek Lee. Even the littlest kids can help prepare a family meal. Bee-bim bop ("mix-mix rice") is a traditional Korean dish. In bouncy rhyming text, a hungry child tells of helping her mother make bee-bim bop: shopping, preparing ingredients, setting the table, and sitting down to enjoy a favorite meal. The enthusiasm of the narrator is conveyed in the whimsical illustrations, which bring details from the artist's childhood in Korea to his depiction of a modern Korean-American family. The book includes Linda Sue's own bee-bim bop recipe!
Bilal Cooks Daal – By Aisha Saeed ; illustrated by Anoosha Syed. It is hard to be patient when something delicious is cooking. Six-year-old Bilal is excited to help his dad make his favorite food of all-time: daal! The slow-cooked lentil dish from South Asia requires lots of ingredients and a whole lot of waiting. Bilal wants to introduce his friends to daal. They've never tried it! As the day goes on, the daal continues to simmer, and more kids join Bilal and his family, waiting to try the tasty dish. And as time passes, Bilal begins to wonder: Will his friends like it as much as he does? This debut picture book by Aisha Saeed, with charming illustrations by Anoosha Syed, uses food as a means of bringing a community together to share in each other's family traditions.
A Big Mooncake for Little Star – by Grace Lin. A dreamy mother daughter story with a recipe at the end. Little Star loves the delicious Mooncake that she bakes with her mama. But she's not supposed to eat any yet! What happens when she can't resist a nibble? In this stunning picture book that shines as bright as the stars in the sky, Newbery Honor author Grace Lin creates a heartwarming original story that explains phases of the moon.
Every Night is Pizza Night – By J. Kenji López-Alt ; illustrated by Gianna Ruggiero. The James Beard Award Winning Chef's first children's book. Best-selling author J. Kenji López-Alt introduces Pipo, a girl on a quest to prove that pizza is the best food in the world. Pipo thinks that pizza is the best. No, Pipo knows that pizza is the best. It is scientific fact. But when she sets out on a neighborhood-spanning quest to prove it, she discovers that "best" might not mean what she thought it meant.
Magic ramen : the story of Momofuku Ando – By Andrea Wang. An uplifting tale of trying to help your community by inventing a convenience food. Inspiration struck when Momofuku Ando spotted the long lines for a simple bowl of ramen following World War II. Magic Ramen tells the true story behind the creation of one of the world's most popular foods. Every day, Momofuku Ando would retire to his lab–a little shed in his backyard. For years, he'd dreamed about making a new kind of ramen noodle soup that was quick, convenient, and tasty for the hungry people he'd seen in line for a bowl on the black market following World War II. Peace follows from a full stomach, he believed.
The Ugly Dumpling – by Stephanie Campisi ; illustrated by Shahar Kober. A twist on the classic tale of feeling like you don't fit in. It's not easy being the ugliest dumpling in a dim sum restaurant. Uneaten and ignored, the ugly dumpling is down in the dumps. But when an encouraging cockroach sees the dumpling's inner beauty, this unlikely duo embarks on an eye-opening adventure, leading the ugly dumpling to discover its true identity and realize that being different is beautiful after all.
Luna's Yum Yum Dim Sum – By Natasha Yim ; illustrated by Violet Kim. A storytelling math book. On Luna's birthday, the whole family goes out for dim sum–but Luna and her brothers can't agree on how to share their pork buns fairly. How can three people divide up five buns? Should some siblings get more than others? Or should they cut the buns into smaller and smaller pieces so everyone gets the same amount? A playful exploration of division and fractions, featuring Chinese American characters and a cultural note.
Hot, Hot Roti for Dada-ji  – By F. Zia ; art by Ken Min. Overflowing with family, food, and a tall stack of fun, Hot, Hot Roti for Dada-ji is sure to warm the heart and tickle the tummy. A fun way for children to learn about the cultural traditions and foods of India to be enjoyed by the whole family. Aneel's grandparents have come to stay, all the way from India. Aneel loves the sweet smell of his grandmother's incense, and his grandfather, Dada-ji, tells the world's best stories.
Apple pie 4th of July – By Janet S. Wong ; pictures by Margaret Chodos-Irvine. A daughter laments the food her parents plan to sell at their store on the holiday. Shocked that her parents are cooking Chinese food to sell in the family store on an all-American holiday, a feisty Chinese American girl tries to tell her mother and father how things really are. But as the parade passes by and fireworks light the sky, she learns a surprising lesson.
More New AAPI Children's Book Recommendations from Holiday House (not all food related)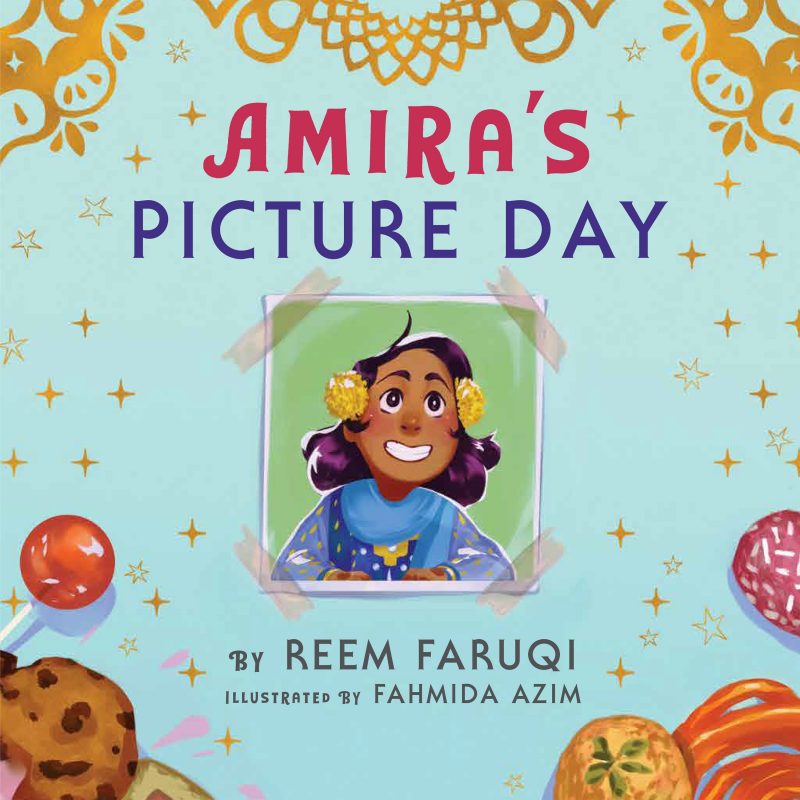 Amira's Picture Day by Reem Faruqi, illustrated by Fahmida Azim (Holiday House, for ages 4–8, on sale now) Ramadan has come to an end, and Amira can't wait to stay home from school to celebrate Eid. There's just one hiccup: it's also school picture day. How can Amira be in two places at once? A last-minute idea on the car ride home might just provide the solution to everything in this delightful story.
Brother's Keeper by Julie Lee (Holiday House, for ages 8–12, on sale now) North Korea. December, 1950. Twelve-year-old Sora and her family live under an iron set of rules. But war is coming—and war is the perfect time to escape. The plan is simple: Sora and her family will walk hundreds of miles to the South Korean city of Busan from their tiny mountain village. When an incendiary bombing changes everything, Sora and her little brother Young will have to get to Busan on their own. Can the two survive three hundred miles of warzone in winter? Haunting, timely, and beautiful, this harrowing novel from a searing new talent offers readers a glimpse into a vanished time and a closed nation.
Enemy Child: The Story of Norman Mineta, a Boy Imprisoned in a Japanese American Internment Camp During World War II by Andrea Warren (Margaret Ferguson Books / Holiday House, $22.99, on sale now) Meticulously researched and informed by extensive interviews with Mineta himself, Enemy Child sheds light on a little-known subject of American history. Andrea Warren covers the history of early Asian immigration to the United States and provides historical context on the U.S. government's decision to imprison Japanese Americans alongside a deeply personal account of the sobering effects of that policy.
My Tree by Hope Lim, Il Sung Na (Neal Porter Books / Holiday House, for ages 4–8, on sale 5/4/2021) A young boy, recently arrived from Korea, finds a glorious plum tree in his new backyard. When the tree falls in a storm, he feels like he's lost both a friend and a connection to his old home. Before long, a new plum tree is planted, new blossoms bloom, and a new friendship takes root.
'Ohana Means Family by Ilima Loomis, illustrated by Kenard Pak (Neal Porter Books / Holiday House, for ages 4–8, on sale now) Join the family, or ohana, as they farm taro for poi to prepare for a traditional luau celebration. Acclaimed illustrator and animator Kenard Pak's light-filled, dramatic illustrations pair exquisitely with Ilima Loomis' poetic text to celebrate Hawaiian land and culture. The backmatter includes a glossary of Hawaiian terms used, as well as an author's note.
Sunday Funday in Koreatown by Aram Kim (Holiday House, for ages 3–7, on sale now) The latest addition to Aram Kim's Yoomi, Friends, and Family books celebrates family, resilience, and Korean culture. In Sunday Funday in Koreatown, Yoomi will learn the importance of being open-minded. The book includes a family recipe for kimbap.
Toasty by Sarah Hwang (Margaret Ferguson Books / Holiday House, $17.99, on sale 5/4/2021) A deliciously funny story about Toasty, a piece of bread who wants to be a dog. Sarah Hwang's inspiration for Toasty came from her childhood experience as an immigrant and her discovery that you find your best friends when you're willing to just be yourself.
Watercress by Andrea Wang, illustrated by Jason Chin (Neal Porter Books / Holiday House, for ages 4–8, on sale now) In this autobiographical tale, gathering watercress by the side of the road brings a girl closer to her family's Chinese heritage. At first, she's embarrassed. But when her mother shares a story of her family's time in China, the girl learns to appreciate the fresh food they foraged. Together, they make a new memory of watercress.