Maybe you feel like celebrating recently with everything going on – a taste of the holidays for Florida's spring/summer. A standing rib roast, also known as prime rib, is a cut of beef from the primal rib, one of the nine primal cuts of beef, often slow roasted "standing" on the rib bones so that the meat does not touch the pan.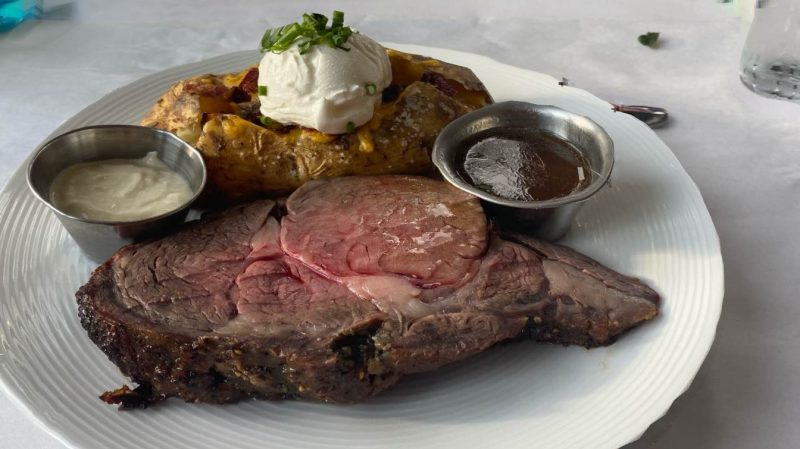 Photo courtesy of Rob D.
Prime Rib Tuesday! Enjoy a delicious, perfectly prepared piece tonight, with a baked potato & salad for only $31.95! – RussellsOrlando.com
Tuesday's at Tornatores means the best prime rib deal in town – they have been doing prime rib Tuesday for 9 years now and have it down to a science. Only $24! Do your mouth a favor! https://tornatoresitalianrestaurant.com/
Available on Fridays and Sundays – their herb encrusted prime rib comes in both Queen and King cuts with a choice of house or Caesar salad, or sub in a wedge for $4 more. taproomatdubsdread.com
Santiago's Bodega
This tapas restaurant (which also has a branch in Key West) just off of Mills Avenue on Virginia Drive (I think they still call it part of Ivanhoe Village?), has a $39.95 all you can eat weekend brunch that includes all you can drink mimosas and sangria which includes prime rib, crab legs, leg of lamb, roast chicken, as well as sliced cheese, cured meats, chorizo paella, sweet maple bacon, biscuits and gravy, and more.
https://santiagosbodega.com/
BoVine Steakhouse
On Wednesdays and Thursdays as both14-ounce Queen ($28) and 20-ounce King ($36) with a dijon herb crust and shaved horseradish – BoVine Steakhouse in Winter Park

Dinner is a prix fixe menu, including shared starters, a choice of individual plated entrees, and 'sweet spells' to top off the meal – including a choice of Royal Prime Rib Roast  with Horseradish-Mashed Potato, Carrots, Popover, Jus  ($60).