White Castle , home of The Original Slider and America's first fast-food hamburger chain, opened its Orlando Castlewith ribbon cutting at 8 a.m. this past Monday May 3rd, 2021.
It was a wild day full of car lines stretching back literal miles and waits as long as 4 hours with some people lining up the night before at 8pm.
The Orlando Castle – the largest free-standing White Castle in the world – marks the beloved brand's return to Florida since operating four restaurants in Miami in the 1960s.

Located in southwest Orlando at Unicorp's $1 billion The Village at O-Town West mixed-use development, White Castle has been long-anticipated by "Cravers" throughout the Central Florida region and beyond. This newest Castle has hired 140 team members and managers.
The family-owned business, founded in 1921, has been satisfying cravings for 100 years. VIPs joining the grand opening festivities included White Castle President and CEO Lisa Ingram – a fourth-generation family member – along with other third- and fourth-generation family members and company leaders, White Castle Hall of Famers, local elected officials, development partners, invited guests, and notably, craving fans hungry for a taste of their beloved White Castle.
Orlando resident and food lover Michael Yee waited 3 hrs and 45 minutes on Monday and told us, "I was in ae of how big the restaurant is with the amount of people working there. Even with all the customers, media. VIP, and others at the grand opening, everything went pretty smoothly. You just can't beat the taste of a fresh made slider."
Mr. Yee got a Day 1 t-shirt giveaway and proceeded to order 1 of each slider from the menu.

To ensure a tasty, fun and memorable experience for all during its Orlando Castle grand opening and every day, White Castle has implemented health and safety measures consistent with Orange County's COVID-19 guidelines, including mask requirements for all team members and guests, social distancing, ongoing cleaning, and hand sanitizers and wipes.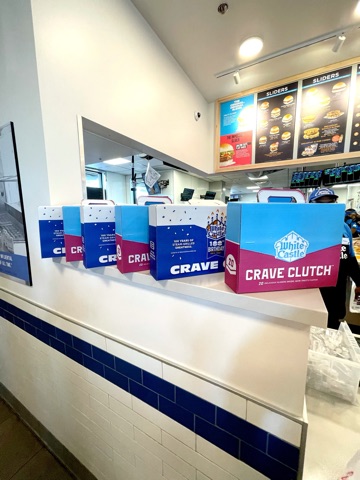 The Orlando Castle is open for take-out, dine-in and drive-through service today until 1 a.m. Starting Tuesday, the Orlando Castle begins regular operating hours, 9 a.m. to 1 a.m., seven days per week. At some point in the future, White Castle will operate 24 hours per day. Guests can "crave on" with a maximum order of 60 sliders per visit. White Castle expects to increase that maximum order as well as launch online ordering in the months ahead.
 Photos Courtesy of Michael Yee