Rocco's Italian Grille is a charming, romantic and intimate Italian restaurant located inside a vintage 1940's building in Winter Park, located next to The Glass Knife.  The neighborhood has changed some since the opening of Rocco's fourteen years ago but one thing has remained the same – the consistency of Rocco's award-winning authentic Italian cuisine prepared by their experienced native chefs.
Proprietor Rocco Potami was born and raised in Italy and he has always been passionate about cooking.  His restaurant offers recreated recipes of his homeland which he has spent years researching, developing, and perfecting.  Mr. Potami has almost 40 years of experience cooking in Central Florida and it is evident when you indulge in his extraordinary dishes.
We were invited to Rocco's to preview their Mother's Day menu and we enjoyed our experience. From the appetizers, to our entrées and dessert, everything was incredibly delicious.  The service was first class as well.
The Mother's Day menu at Rocco's is composed of a variety of seafood and meat dishes that recreate old favorites and brings out new flavors.  Rocco's uses only the freshest meats, imported pastas, and sauces made from scratch to serve a broad selection of dishes from each of Italy's regions.
Here is the Mother's Day menu at Rocco's Italian Grille:
Fresh bread with garlic and rosemary olive oil.  A really great starter courtesy of Rocco's.
Vitello Tonnato Italian Delicacy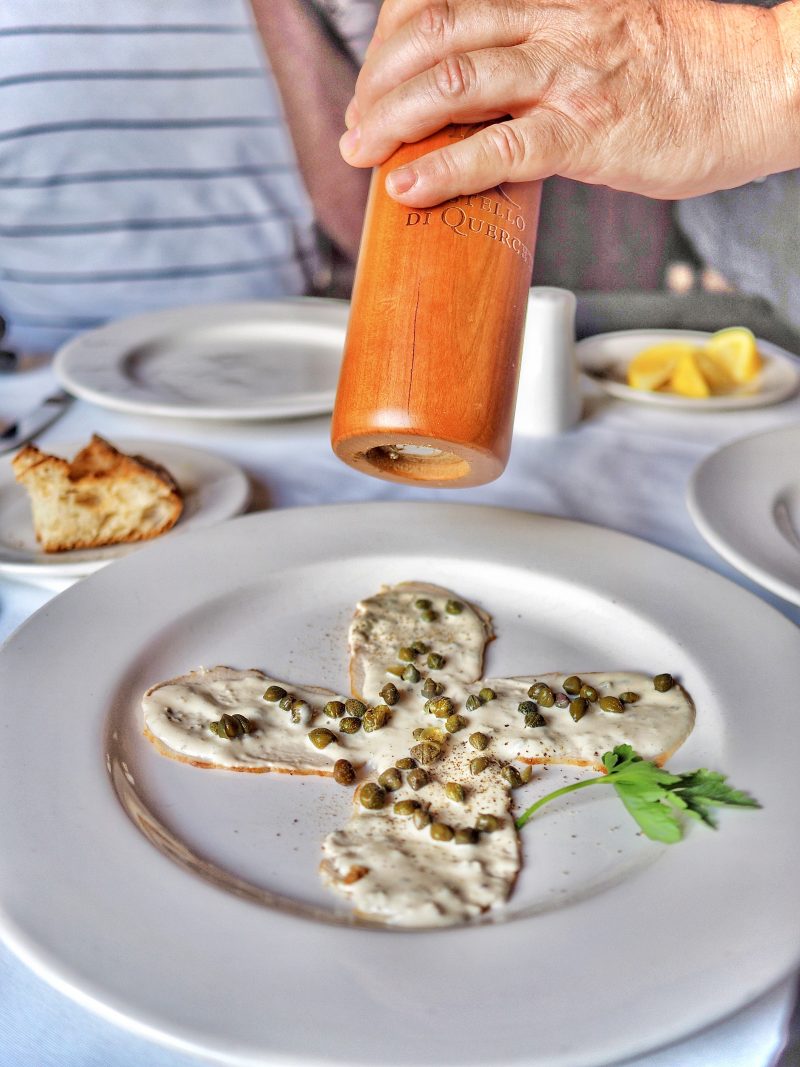 Veal loin roasted then chilled, sliced thin and finished with a delicate tuna caper sauce.
Arancini
A Sicilian specialty – risotto ball with saffrons stuffed with truffle mushrooms over a white truffle cream.
Chilean Sea Bass
Chilean sea bass pan seared in a prosecco (wine) capers and delicate lemon sauce.
Pescatore
Risotto Pescatore that comes from the Naples region – a combination of lobster, shrimp, scallops, calamari, mussels, and clams in a light white wine tomato.
Veal Chop Parmigiana with Tortellini Alfredo

Veal chop fried and topped with lemon tomato sauce and fortina cheese served with tortellini in Alfredo cream sauce.
Dessert
Pistachio, cheese, and mascarpone cake.
Rocco's Italian Grille & Bar is now accepting reservations now for Mother's Day.  Make Mother's Day the best one ever by surprising Mom with a classic Italian meal that is expertly prepared and locally-sourced.  She will love you more than she already does for it!
Reserve your table by visiting roccositaliangrille.com or by calling (407) 644-7770 for assistance from Chef/Owner Rocco Potami for availability.
Rocco's Italian Grille
400 Orlando Ave, Winter Park, FL 32789