The Vail Wine Classic is an annual celebration of all things wine, beer, spirits and snacks. The three-day-long festival shines a spotlight on a variety of local and national wineries and businesses.
This year, the wine festival took place on Aug. 12 to 14 in the premier destination of Vail, Colorado. Guests can purchase tickets to the Grand Tastings, which includes unlimited access to wine and food samplings throughout the event. For an additional cost, you can purchase early access tickets as well as tickets to different seminars and pairings throughout the weekend.
Food, wine and unparalleled mountain views combine for what is always sure to be an unforgettable evening at Vail Wine Classic.
We were invited to attend the wine festival, and received early access tickets to Friday's event, where we sampled the many unique offerings available. Here is our foodie's guide to Vail Wine Classic 2021.
Foodie's Guide to Vail Wine Classic 2021
Vail Wine Classic 2021 featured about 65 different vendors, from wineries to food trucks, catering companies, breweries and more. With early access, the event began at 2 p.m. and ran until 6 p.m., allowing for plenty of time to sample everything in sight.
LangeTwins Winery and Vineyards
Based in Acampo, California, LangeTwins Winery and Vineyards is a family-run business, producing a number of unique, sustainable wines.
We sampled the Sauvignon Blanc, which was light and refreshing, and the Cabernet Sauvignon, which was equally rich and delicious. Cheers!
Ketel One Botanical
Ketel One Botanical is brought to us by the makers of Ketel One Vodka. This new brand of vodka is carefully distilled with real botanicals and infused with fruit essences. Flavors include Peach & Orange Blossom, Cucumber & Mint and Grapefruit & Rose. Our favorite was the Peach & Orange Blossom, which pairs deliciously with sparkling water.
Frankly Organic Vodka
Frankly Organic Vodka is the first of its kind, providing full transparency on their 100% organic ingredients. Frankly Vodka is also free of any refined sugars, GMO's, gluten, synthetic pesticides and artificial colors. The strawberry vodka flavor with sparkling water makes for a delightfully refreshing cocktail.
Hors D'oeuvres from Colorful Cooking
Colorful Cooking is a catering company offering personalized services from professional chefs. Multiple appetizers were available at Vail Wine Classic 2021, all of which were fresh and tasty.
Chickpea Pancakes with Tomato Jam
These unique snacks, made from mini chickpea pancakes and topped with a flavorful tomato jam, were a festival must.
Palisade Peach Skewers
The fruit and cheese skewers, made with Palisade peaches, fresh mozzarella and grapes, were the perfect light and healthy treat during the warm Colorado summer weather.
Street Corn Salad with Pepitas
For something light and fresh, cups of street corn salad (made with local corn and pepitas) were available to snack on.
Turkey Wraps
Bite-sized wraps made with fresh turkey, artichokes, goat cheese and spinach offered the perfect handheld eat.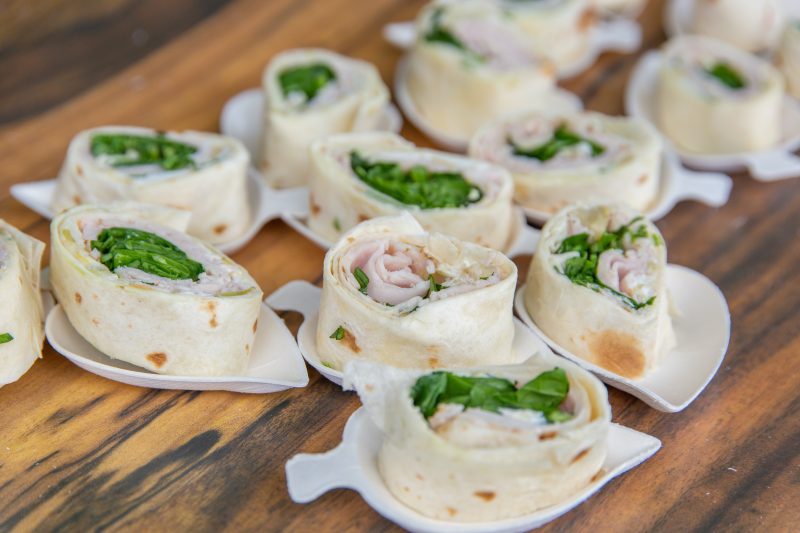 Meats & Cheeses from Altamira
Altamira Specialty Foods Service is a food distributor providing services to the top culinary talent across Colorado and New Mexico. Altamira provided a diverse assortment of artisan meats and cheeses for guests to create their own mini charcuterie board throughout the event, perfect for pairing with wines.
Meatballs from Avelina
Avelina is a modern restaurant located in the LoDo neighborhood in Denver, Colorado. This eatery offers contemporary American cuisine, with a culinary team led by led by Executive Chef Joshua Oakley. The meatballs were well-seasoned and flavorful.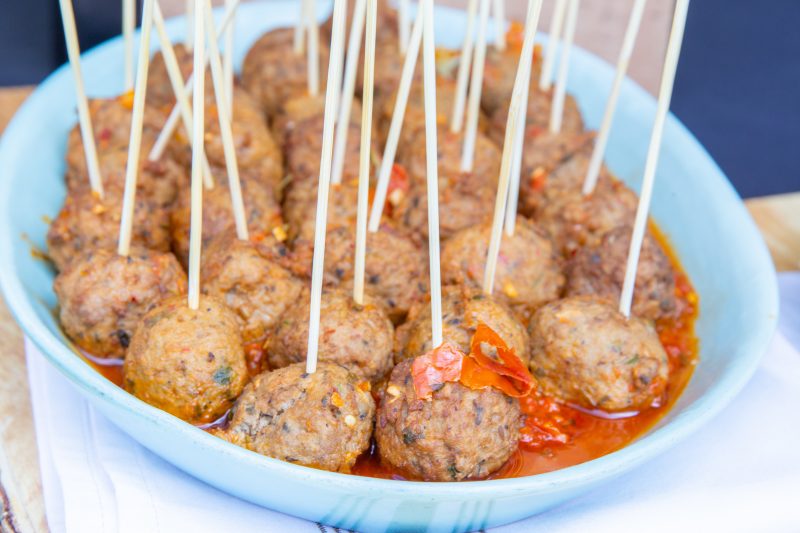 Biker Jims Gourmet Dogs
Biker Jims Gourmet Dogs is a Colorado-based hot dog restaurant with locations in Denver and a food truck that travels throughout the region. You can also enjoy these hot dogs at Coors Field next time you're cheering on the Rockies.
The Elk Jalapeño Cheddar Brat was featured at the Vail Wine Classic, paired cheese and jam on top of toasted bread.
Scheid Family Wines
Scheid Family Wines is a family-owned vineyard and winery located in Monterey Bay in California. Scheid produced multiple unique brands of wine, including VDR, District 7, Metz Road, Stokes Ghost and Sunny with a Chance of Flowers.

Churros from El Bajón Food Truck
El Bajón is a food truck offering some of the most delectable churros in Colorado. They offered unlimited samples of their mini classic churros at the event, and we definitely went back for seconds..and thirds.
Bird Dog Whiskey
Bird Dog Whiskey is available in a variety of flavors from salted caramel to jalapeño honey. At the event, we sampled the Peach Mule (featuring the peach flavor) as well as the Strawberry Lemonade (made with the strawberry whiskey).
Empanadas from Flavor Stop Food Truck
Flavor Stop is a food truck offering authentic empanadas and sweet unique treat creations throughout Colorado and beyond. We were able to sample the veggie, beef and shrimp & cheese mini empanadas at the festival. All were delightful, but our favorite was the veggie.
Made-In Cookware
Made-In Cookware made an appearance at Vail Wine Classic 2021, highlighting their many high-quality kitchenware products.
President and co-founder of Made-In, Jake Kalick, described the company's journey to us. What started as a culinary project in Texas has now grown into so much more. This high-end cookware brand is used by professional chefs in multiple Michelin star restaurants throughout the nation. Learn more about Made-In here.
Live Music & Entertainment
Vail Wine Classic also features live music and entertainment throughout the weekend of events, adding to the atmosphere.
The weekend-long festival is a must for any wine lover, and worth a trip to one of Colorado's most notable mountain towns.
For more information about Vail Wine Classic, visit VailWineClassic.com. To learn about upcoming events from Team Player Productions Inc., visit TPPEvents.com.