The Tap Room at Dubsdread boasts a heritage of culinary excellence.  Their spectacular setting and award-winning food have made them a perennial favorite for Central Floridians.  Politicians, celebrities, friends and families dine in for lunch, dinner and happy hour on the Verandah overlooking the historic 96-year-old Dubsdread golf course.  Conveniently located on Par Street just off Edgewater Drive, Tap Room at Dubsdread is the gathering spot for all to enjoy a friendly and upbeat atmosphere while relaxing in a beautiful and unique woodsy setting nestled among the high trees with hanging moss.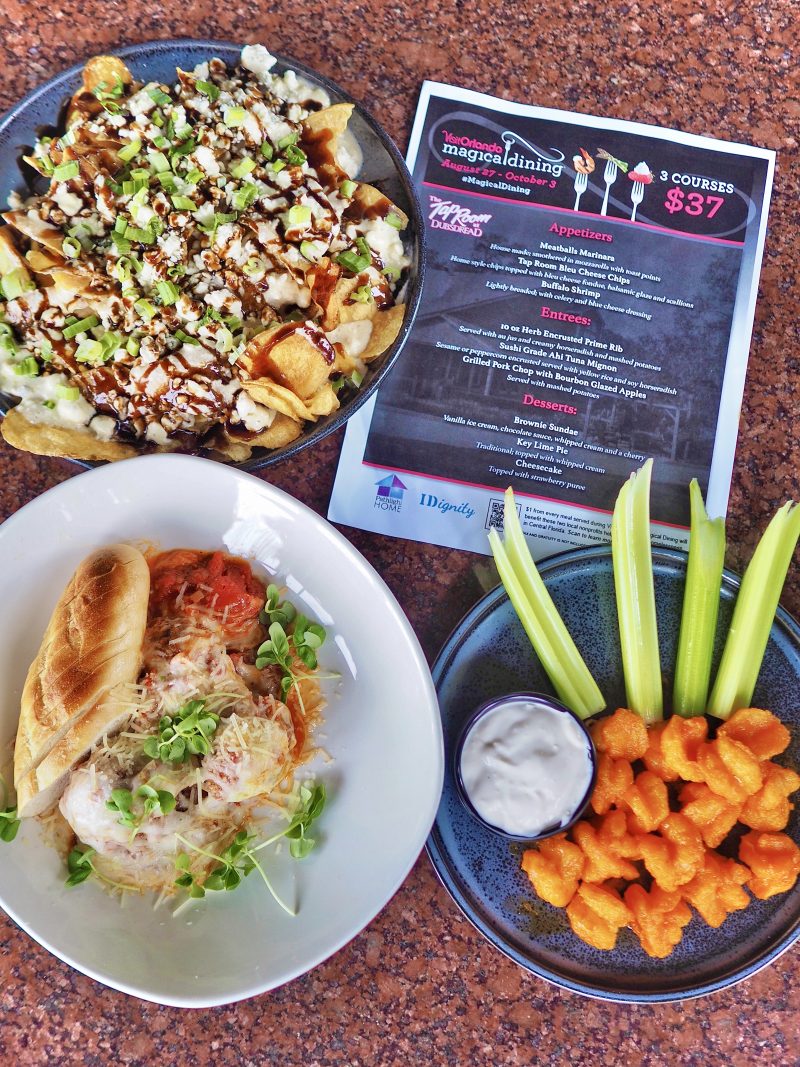 We were invited to Tap Room at Dubsdread in College Park to get a first look at their Magical Dining menu and everything we tried was spectacular.  The Magical Dining menu offers a delicious three-course meal for only $37 per person, dine-in only, starting now through Sunday, Oct. 17, 2021.
What is Magical Dining?
3 courses – Appetizer, Entrée, and Dessert
Price: $37 per person, price does not include tax or gratuity.
Over 85+ participating restaurants
Aug. 27 – Oct. 17, 2021
Through Visit Orlando, $1 from each meal served will benefit Pathlight HOME and IDignity, both of which help to combat homelessness in Central Florida.
Here is a first look at Tap Room at Dubsdread's Magical Dining menu offerings:
APPETIZERS
Meatballs Marinara
House made, smothered in mozzarella with toast points
Tap Room Bleu Cheese Chips
Home style chips topped with bleu cheese fondue, balsamic glaze and scallions
Buffalo Shrimp
Lightly breaded, celery and bleu cheese dressing
ENTRÉES
10oz Herb Encrusted Prime Rib
with au jus, creamy horseradish and mashed potatoes
Sushi Grade Ahi Tuna Mignon
Sesame or peppercorn encrusted with yellow rice
Grilled Pork Chop with Bourbon Glazed Apples
Served with mashed potatoes
DESSERT
Brownie Sundae
with vanilla ice cream, chocolate sauce, whipped cream and a cherry
Key Lime Pie
Topped with whipped cream
Cheesecake
Topped with strawberry purée
For more information, visit: magicaldining.com/listing/the-tap-room-at-dubsdread/47554/
The Tap Room at Dubsdread
549 West Par St. Orlando, FL 32804
(407) 650-0100