Playtime is essential at any age. At The Pointe, there's something for everyone to Sip. Dine. Experience. the best of Orlando.
We are always looking for new things to experience, do (and eat!) at night.  For some memorable experiences and a night out for bites, sips, and music with friends, we recently visited The Pointe, the open-air entertainment destination, featuring local and brand-name restaurants, bars, nightclubs, 20-screen movie theater, comedy club, and attractions.
Locals know that The Pointe has a unique and welcoming vibe that embraces sophisticated fun with or without the kids.
The Pointe really comes alive after dark, when playtime for adults switches into full gear. Follow us below for our "Taste of Nightlife at The Pointe."
* specials and hours are subject to change
Here is A Taste of Nightlife at The Pointe Orlando
1. Marlow's Tavern
Start off the night with a visit to Marlow's Tavern, which features the 'best of the best' in American tavern fare and handcrafted cocktails. The dinner menu features tavern favorites including Pappardelle, award-winning Shrimp & Grits, and Steak Frites.
The beverage menu includes a wide variety of wines from around the world, a unique and varied beer list featuring local favorites, craft and import offerings by the bottle and on draft. Plus, the handcrafted cocktail menu combines fresh juices and specialty, small batch liquors in an innovative and approachable way.
Insider favorites include the New Fashion and the Blueberry Buck, but on our visit we tried their Firecracker Shrimp in spicy and sweet chili sauce, as well as a blackberry mojito with muddled mint.
Guests are invited to enjoy Marlow's with in-tavern and covered patio dining, via delivery through Uber Eats, DoorDash®, and to-go online ordering through our website.
FIRECRACKER SHRIMP
Tempura Shrimp, Carrots, Cilantro, Roast Peanuts, Cracklin' Spicy & Sweet Chili Sauce
BLACKBERRY MOJITO
Bacardi Light, Muddled Mint, Blackberry Syrup, Fresh Lime, Fresh Blackberry
Complimentary self-parking in the garage with purchase of $35+.
Hours
Sun-Thurs 4 pm – 10 pm
Fri-Sat 4 pm – 11 pm
(407) 351-3627
marlowstavern.com
2. Hampton Social
This dining hotspot invokes the relaxed nautical ambiance of The Hamptons, bringing a fresh coastal-inspired menu, cocktails and live music in a beautifully designed atmosphere.
Live music is featured nightly and a "Rose' All Day" lounge add to this engaging experience. Don't miss their special "Giant Seashell" cocktail drinks, enough to share with the whole crew.
Grilled Octopus – grilled octopus, green lentils, roasted seasonal vegetables
Crab + Shrimp Bruschetta  – pan seared shrimp, lump crab, sweet chili aioli, smoked tomatoes, crispy ciabatta
Lobster Roll – With House Potatoes – manhattan style: warm, buttery deliciousness -OR- maine style: chilled, creamy goodness
Smash Burger With House Potatoes – double patty, cheddar, pickles, mustard aioli, egg bun
 Big Boats and I Cannot Lie –  ceres vodka, passoã passion fruit, ginger beer in Large Format Giant Seashell $36
Hours
Sun 10 am – 11 pm
Mon-Wed 3 pm – 11 pm
Thurs 3 pm – 12 am
Fri 3 pm – 2 am
Sat 10 am – 2 am
(689) 800-6760
thehamptonsocial.com
3. The Pub Orlando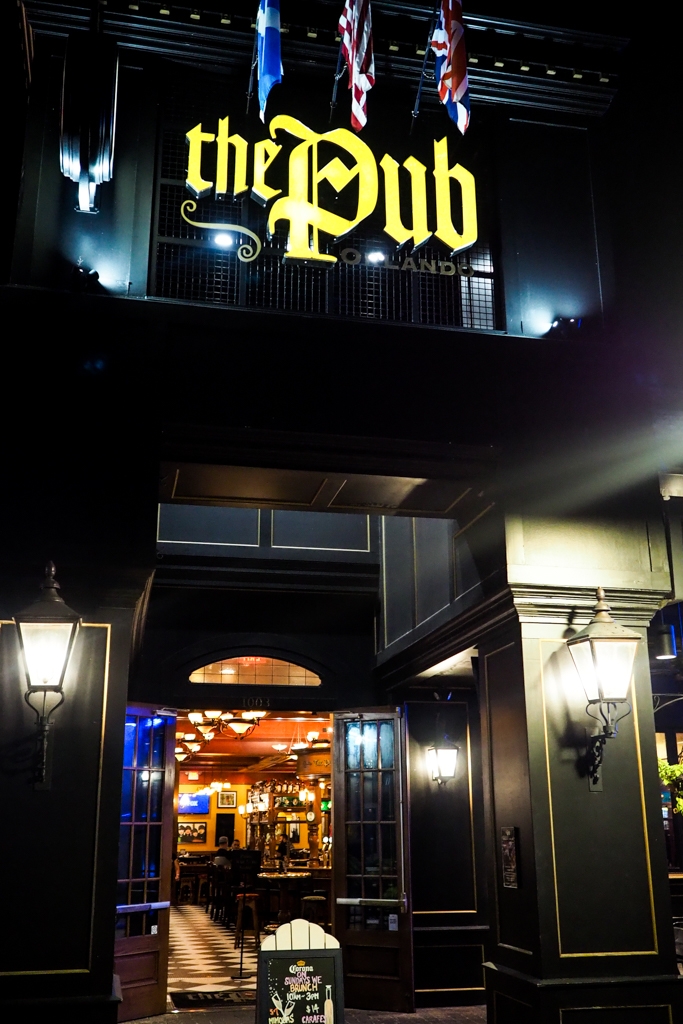 Grab a pint of London's Pride ale over at The Pub. They also have some of the finest fish and chips as well as Scotch egg –  delicately boiled egg wrapped in sausage & parmesan – this side of the pond.
Inspired by the classic corner British pub, The Pub Orlando offers a unique combination of genuine British hospitality and American flair. The award-winning exterior of The Pub and their recently voted "Best Fish & Chips in the USA" will make you feel as if you have transported to the streets of London.
Open for lunch and dinner, The Pub features classic British pub fare along with some American favorites. With two "Pour Your Own Beer Walls" and over 70 different draught beers, scotches, and bourbons, The Pub is the perfect place to "Be a Brit Different" and host your event!
Hours
Mon 3 pm-11 pm
Tues-Thurs 11:30 am–11 pm
Fri 11:30 am–12 am
Sat 10:30 am–12 am
Sun 10:30 am–11 pm
(407) 352-2305
experiencethepub.com
4. Main Event Entertainment
For some fun and games, visit Main Event Entertainment at The Pointe. Main Event Entertainment combines dining, state-of-the-art bowling, high ropes adventure courses, billiards, big screens, and V Play Virtual Reality, the first U.S. free-roam, multiplayer virtual reality game all under one roof.
Hours
Mon-Fri 3 pm – 12 am
Sat-Sun 11 am – 12 am
(407) 352-3300
mainevent.com
5. Taverna Opa
Located on the second level, Taverna Opa Orlando features authentic Greek cuisine from Yia-Yia's cookbook in a fun atmosphere.
Bringing a touch of the Mediterranean to Orlando, Taverna Opa imports cheeses, olives, and oil directly from Greece and is known for their abundant selection of fresh seafood delivered daily as well as their delectable Lamb Chops, the restaurant's best seller. Signature selections such as Tzatziki, Hummus, Greek Yogurt and Dolmades are made daily on premises and from scratch.
Guests can enjoy belly dancing entertainment and Greek music nightly. The restaurant has a semi-private room for parties and meetings and offers menu options ranging from a la carte to family-style service along with vegan and gluten-free dishes.
Come ready to dance, throw napkins, and say, "Opa!" all night long!
Hours
Sun-Thurs 12pm-10pm
Fri-Sat 12pm-11pm
(407) 351-8660
opaorlando.com 
6. Cuba Libre
Cuba Libre features a contemporary interpretation of traditional Cuban cuisine and a broad base of authentic Cuban cocktails, including an extensive rum selection highlighting a signature mojito. Dine, drink and dance the night away at Cuba Libre as you experience the vibrant culture of Old Havana.
Cuba Libre features a contemporary interpretation of traditional Cuban cuisine by nationally renowned chef and restauranteur Guillermo Pernot, along with a broad base of authentic Cuban cocktails, including an extensive rum selection highlighting their signature mojito.
Hours
Wed-Sun 5 pm – 10 pm
Cuba Nights – Fridays 11 p.m. to 2 a.m., Saturdays 11 p.m. to  2:30 a.m.
New Mojito and 3-course menu for Hispanic heritage Month
Learn more: http://www.cubalibrerestaurant.com/en/orlando/blog/
(407) 226-1600
cubalibrerestaurant.com
7. Blue Martini
End the night at Blue Martini located at Pointe Orlando,  a local hot spot for the late 'nightlife' at Blue Martini featuring unique bar experiences and a dance floor with a high energy, fun loving crowd. Combine more than 42 martinis, a full bar and a global tapas menu with live music or a DJ and Blue Martini is your perfect night out.
Guests can go casual on the patio, be in front of the entertainment by the stage, or go exclusive in the VIP lounge.   Live music is also available on Thursday and Saturday evenings until 11pm including Latin and Party Band music.
THE BLUE MARTINI 
Van Gogh Blue Vodka, Bols Blue Curacao, Sour, Orange Juice, Served On The Rocks In An Oversized Snifter
LYCHEE 
Grey Goose La Poire Vodka, Bols Lychee Liqueur, Pineapple, Lychee Garnish
BEEF TENDERLOIN SLIDERS
House Marinated Beef Tenderloin, Sliced and Sitting on a Bed of Arugula, Melted Gorgonzola, Spicy Horseradish Sauce, on a Soft Toasted Slider Roll
Hours
Wed-Thurs 6 pm – 2 am
Fri-Sat 6 pm – 2 am
(407) 447-2583
orlando.bluemartini.com
* Hours, entertainment and dining options subject to change. Call ahead to confirm
Join the Pointe Orlando VIP Club and Enter to Win Dinner for Two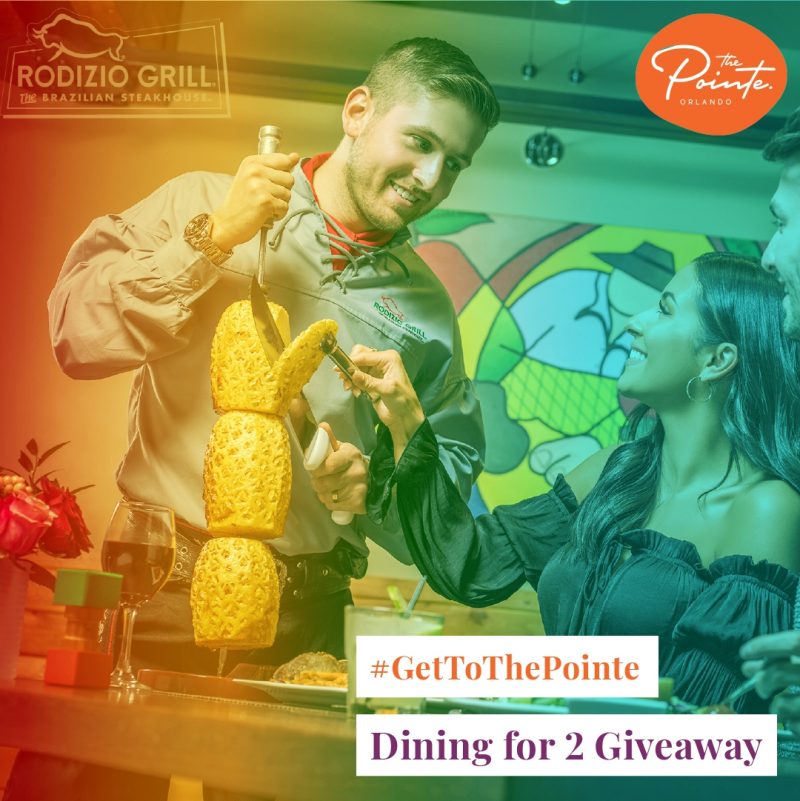 Are you a Pointe VIP? Click here to join. We'll enter you in the sweepstakes for your chance to win a Full Rodizio for two at Rodizio Grill, a Brazilian steakhouse (an $89 value). Plus, you'll be the first to know of happenings at The Pointe.
Start playing now and Get to The Pointe. Stay social @pointeorlando.
Garage and valet parking available for a nominal fee. Ask your server for validation options while enjoying The Pointe.
###