The Betsy Hotel is a historic boutique hotel, conveniently located right on South Beach in Miami, Florida. In addition to its incredible amenities, lovely interior design and cultural events, The Betsy also offers some of the best hotel dining options in Miami.
"The Betsy Ross Hotel" (named after the historic American figure) originally opened its doors to U.S. troops in 1942. Despite the increased popularity of the Art Deco design style in the area, The Betsy Hotel has maintained its classic Florida-Georgian architectural style throughout the years. It stands out amid other Ocean Drive facades with a charm and elegance that is entirely unique to Miami Beach.
We were invited by The Betsy Hotel to experience the property and enjoy the dining options for ourselves. Here is our Inside Look: 24 hours at The Betsy Hotel, Miami Beach.
Inside Look: 24 Hours at The Betsy Hotel, Miami Beach
Check In
Your enchanting stay at The Betsy begins at check-in. Guests are greeted by friendly staff, with complimentary champagne for all those over the age of 21.
We stayed in a Classic King room, which featured large plantation-style windows with views of the pool, two full-length mirrors, a comfortable king sized bed and a spacious, modern bathroom. The room has a historic charm with just the right amount of modern touches. It's no exaggeration to say that these hotel rooms are so delightful, you'll be tempted to stay in.
Coffee & Pastries at The
Carlton Room Café
The Carlton Room Café is located on the first floor of the Betsy Hotel. This coffee bar offers Panther's Coffee as well as an assortment of parties and baked goods. We enjoyed an Iced Vanilla Oat Milk Latter and an Iced Cappuccino.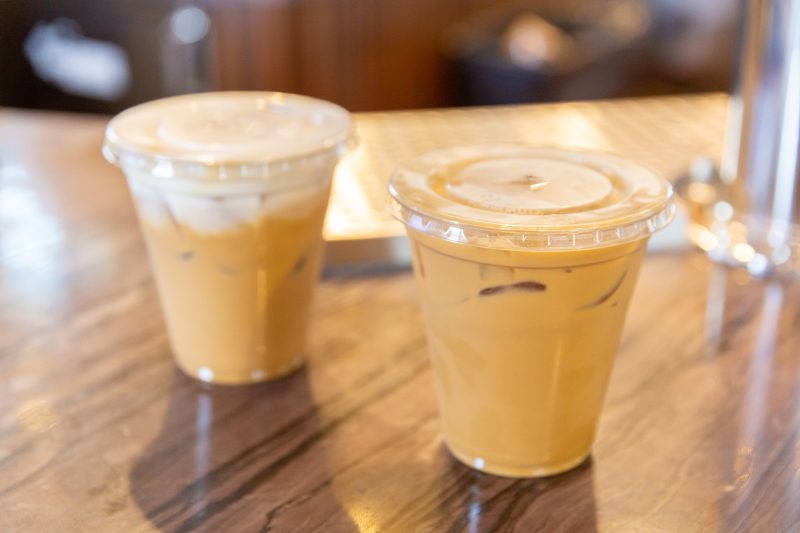 The Guava + Cheese Pastelito is a must. This traditional Miami treat combines sweet cream cheese with delicious guava inside a flakey pastry shell. It's a great choice for a light breakfast or an afternoon snack.
Explore the Hotel
The Betsy Hotel offers an impressive array of amenities with two pools, direct beach access with exclusive beach chairs and cabanas, a rooftop bar and terrace, a spacious courtyard, two full-service restaurants, a coffee bar, a lobby bar, art, cultural events and so much more.
The Betsy Hotel even offers a large library space, ideal for catching up on some remote work or simply sitting back and enjoying a book or two.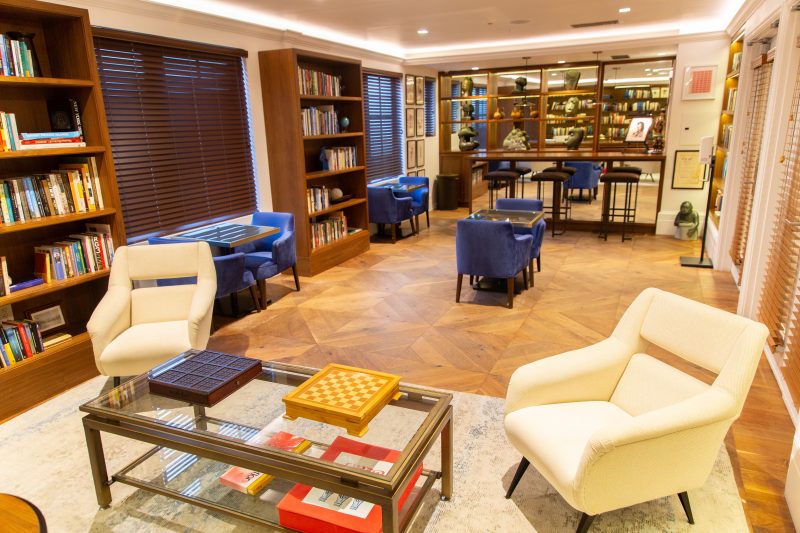 The rooftop deck at The Betsy overlooks the beach, making it the perfect spot to relax and enjoy the view.
Head to the Beach
The Betsy Hotel is located right on South Beach, with direct access to lounge chairs, umbrellas and cabanas available exclusively for guests of the hotel. South Beach can get quite crowded at times, making the quiet and peaceful nature of the beach area in front of The Betsy so much more special. You can also order beverages and picnic bites directly from the Betsy's beach service, and it will be delivered directly to you on the beach.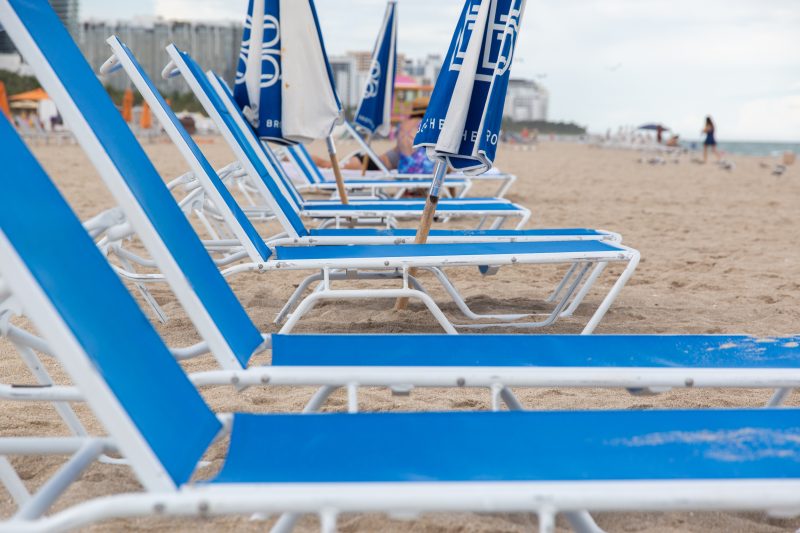 Dinner at LT Steak & Seafood
LT Steak & Seafood is a lovely restaurant located in the main lobby area of The Betsy Hotel, led by Chef Laurent Tourondel. This spot fuses together French, Asian and Latin American flavors to create a menu that is both unique and delicious.
We started off our three-course dinner with some wine, which is a must at LT Steak & Seafood.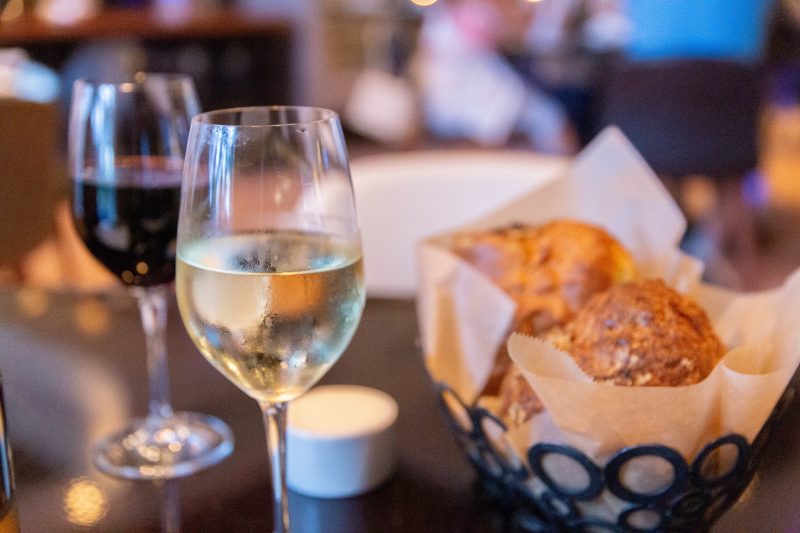 The complimentary bread served at this restaurant is mouthwatering. Be careful to save some room for the entrees!
Crispy Calamari & Zucchini
The first appetizer we enjoyed was the Crispy Calamari & Zucchini. A unique take on an otherwise tradition starter, this dish is served with tasty jalapeño remoulade. It's a great choice if you're looking for something light to prepare for the main entree.
Spicy Tuna Roll
Next up was the Spicy Tuna Roll, featuring sriracha, puffed rice and shallots. The tuna was incredibly fresh, and this roll had the perfect slight kick to it. This dish works great as an appetizer or even as a shareable entree if you plan on ordering multiple plates.
Chermoula Salmon
Delicious salmon is paired with Chermoula sauce, toasted couscous, caramelized carrots, cumin vinaigrette and lemon aioli to create this elevated dish. The fish is extremely flavorful, and this combination of ingredients absolutely works. If you're a fan of salmon or if you love unique flavor pairings, this is the entree for you.
8 oz Filet Mignon
For a juicy, perfectly-seasoned steak, be sure to order the Filet Mignon. You can choose between the 8 oz (pictured below), or the 12 oz for something a bit more filling. Our knife was able to glide seamlessly through this tasty steak, which we order medium rare.
Loaded Baked Potato
For a surprisingly tasty, and very filling side dish, try the Loaded Baked Potato. It's served with warm melted cheese, bacon bits and green onions. It may sound simple, but this is the perfect side dish to pair with the Filet Mignon.
Crème Fraiche Panna Cotta
We found it: the perfect "Miami with a Twist" dessert. The Crème Fraiche Panna Cotta features the delicious flavors of coconut lime sorbet, key lime sauce and coconut tuile. The key lime flavor screams Miami, and it mixes deliciously with the notes of tasty coconut and lime.
Discover The Betsy at Night
In addition to the many daytime amenities available at The Betsy, nighttime was one of our favorite times to explore.
"The Betsy Orb" is a public art installation that can be viewed at any time of the day, but it looks particularly magical at night.
For more information about The Betsy Hotel and to book a reservation today, visit TheBetsyHotel.com.