We were invited to a media preview of 2022 Epcot International Festival of the Arts at Walt Disney World.  The month-long art festival runs from January 14 through February 21, 2022 and includes delicious culinary offerings, photo ops, chalk art, live entertainment, art seminars, Disney on Broadway performances, activities designed with families in mind, the new Spaceship Earth light show "Rainbow Connection" sung by The Muppets, Harmonious EPCOT Nighttime Spectacular firework show, and so much more.
Pop Eats (Near Port of Entry)
Figment Premium Popcorn Bucket with Rainbow Popcorn. (SOLD OUT)


El Artista Hambriento (Mexico)
Huarache Verde: Cilantro Huarache with Cochinita Pibil, Fresh Pineapple and Pickled Onion
Carne Asada: Seared Beef Tenderloin, Grilled Queso Fresco, Refried Beans Scallion and Ranchera Salsa
Gourmet Landscapes (Canada)
Blood Orange-Braised Beet Carpaccio with Mustard Vinaigrette, Pickled Clamshell Mushrooms, Golden Beets and Crostini (Color Stroll item, plant-based item)
Roasted Bone Marrow with Onion Marmalade, Pickled Mushrooms, Mache Lettuce and Bone Marrow Snow
Pastoral Palate (Germany)
Wild Boar Cassoulet with Duck Confit, Ham Hock and Wild Boar Sausage
The Artist's Table (The American Adventure)
Pan-Seared Scallops with Vanilla-Butternut Squash Purée, Brown Butter Cauliflower Purée and Lime Foam (Color Stroll item)
The Deconstructed Dish (Near Port of Entry)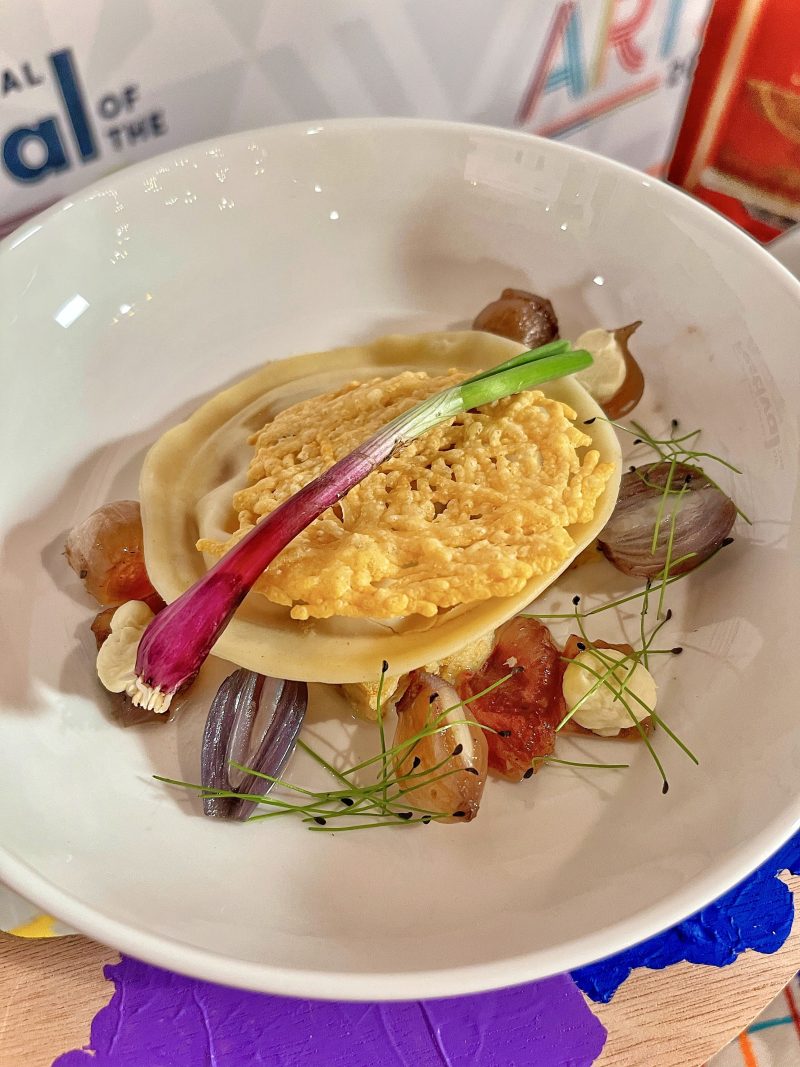 Deconstructed French Onion Soup: Beef Broth Ravioli, Gruyere Espuma, Onion Bread Pudding and Onion Textures
Vibrante & Vívido: Encanto Cocina (Between Morocco and France)
Passion Fruit Mousse with Dragon Fruit Jam (gluten/wheat-friendly)
Official 2022 Festival of the Arts merchandise.
Kerry Butler (Beauty and the Beast) and Telly Leung (Aladdin)

Different pairs of DISNEY ON BROADWAY stars will perform some of the songs they helped make famous, plus other sensational tunes at America Gardens Theatre.  The Disney on Broadway Concert Series Dining Package is available at participating Epcot restaurants and guarantees show seating.
Deco Delights (Near Port of Entry)
Orange Mousse with Lemon Cake and Raspberry Meringues
"Rainbow Connection"
Spaceship Earth light show featuring the song "Rainbow Connection" sung by The Muppets which debuted on the opening day of EPCOT International Festival of the Arts and will be painted nightly throughout the festival.
Harmonious EPCOT Nighttime Spectacular

Be sure to check out the festival before it ends on February 21, 2022, you will love it!
For more information, visit: https://disneyworld.disney.go.com/events-tours/epcot/epcot-international-festival-of-the-arts/