Frontier Airlines recently announced new nonstop flights to Puerto Rico from Orlando.  The low-cost airline begun flying nonstop from Orlando International Airport to Rafael Hernández International Airport (BQN) in Aguadilla, Puerto Rico starting on March 24, 2022.  With the addition of Aguadilla, Frontier will offer more than 80 nonstop destinations from Orlando.  The airline said fares for the new route will start at $59.
Brad Dean, CEO of the tourism organization Discover Puerto Rico, said: "We're thrilled about the addition of Frontier's new route connecting Orlando and Aguadilla to our already expansive list of nonstop routes to Puerto Rico. This new flight will benefit our diaspora immensely, and will allow Orlando residents, and those with connecting flights, to easily explore our island's west coast."
Puerto Rico Tourism Company executive director Carlos Mercado Santiago noted that "the government of Puerto Rico continues to work on expanding the air access options [at] all the airports on our island while remaining committed to increasing economic activity from the tourism industry within all regions of Puerto Rico… This new route positions our island as an even more attractive and accessible destination to visit, while contributing to the creation of new jobs in the western region."
I was generously hosted by Discover Puerto Rico, the Island's Destination Marketing Organization, to fly with other local bloggers on Frontier Airline's first ever flight service from Orlando (MCO) to Aguadilla (BQN), Puerto Rico on March 24, 2022. The flight itself was so much fun with free flags, sunglasses, cookies, and Puerto Rico trivia for flight voucher prizes.  No passport or visa is required to travel since Puerto Rico is considered U.S. territory and the main currency is the U.S. dollar. All major credit cards are accepted.
Once we landed at Aeropuerto Internacional Rafael Hernandez Marín in Aguadilla, Puerto Rico, we were welcomed with a fun reception followed by a press conference with Frontier's Domestic and International Sales Manager, Alfredo Gonzalez.  MCO has increasingly become a focal point of Frontier's network. The ULCC described Aguadilla as "a charming town on Puerto Rico's western coast known for its stunning beaches and engaging attractions." He added: "Our new service to Aguadilla further bolsters our growing commitment to Puerto Rico."
Afterwords, we checked into our own rooms at Parador Villa Parguera in Lajas, PR.
The stunning view from my hotel room.
Then we changed and headed out for dinner at 101 West Kitchen.
One of the trivia questions on the flight was: "what drink did Puerto Rico invent?" Answer: the Piña Colada!
Firecracker Shrimp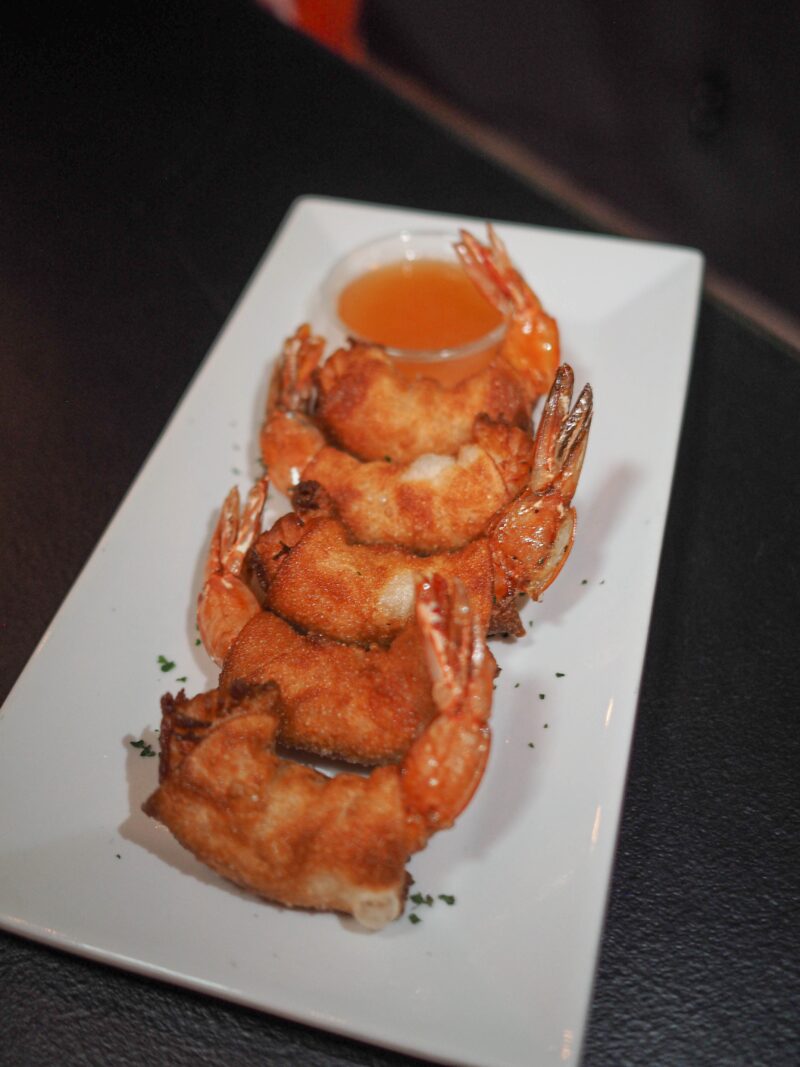 Seared Tuna Steak
Coconut Shrimp
Arancini Piccolo
Ribeye Steak with Carrots and Asparagus
Almond Crusted Salmon with Mashed Potatoes and Green Beans
The next morning we ate brunch at Aquamarina, the restaurant inside our hotel.
Over easy egg, sautéed potatoes, and toast.
Same as above but with bacon.
After brunch we went on a Historic Dowtown San German Tour at Plaza Fundadora de Pueblos.
Then we walked to Porta Coeli Church, one of the oldest church in PR.
And then visited a old building that used to be City Hall.
Walking by the Comedy Theatre.
We also met a doctor at Botica Museum who taught us so much about the history of their medicine.
Then explored artifacts at the San German History Museum.
Followed by some sightseeing.
Afterwords, we had lunch at Porticos Restaurant.
Yuca frita con Picadillo – Cassava strips served with tender ground beef, garlic sauce, cilantro and cheese.
Piña Colada.
Buñuelos de Bacalao – yam, yautía roots and cod fritter.
Se formó el Bembé – fried wings.
After we changed, we visited Valmar in Cabo Rojo, Puerto Rico where we got to meet the owner and enjoy a memorable dinner on the beach.
Ostras Rockefeller – Virginia oysters bathed in gratin spinach sauce.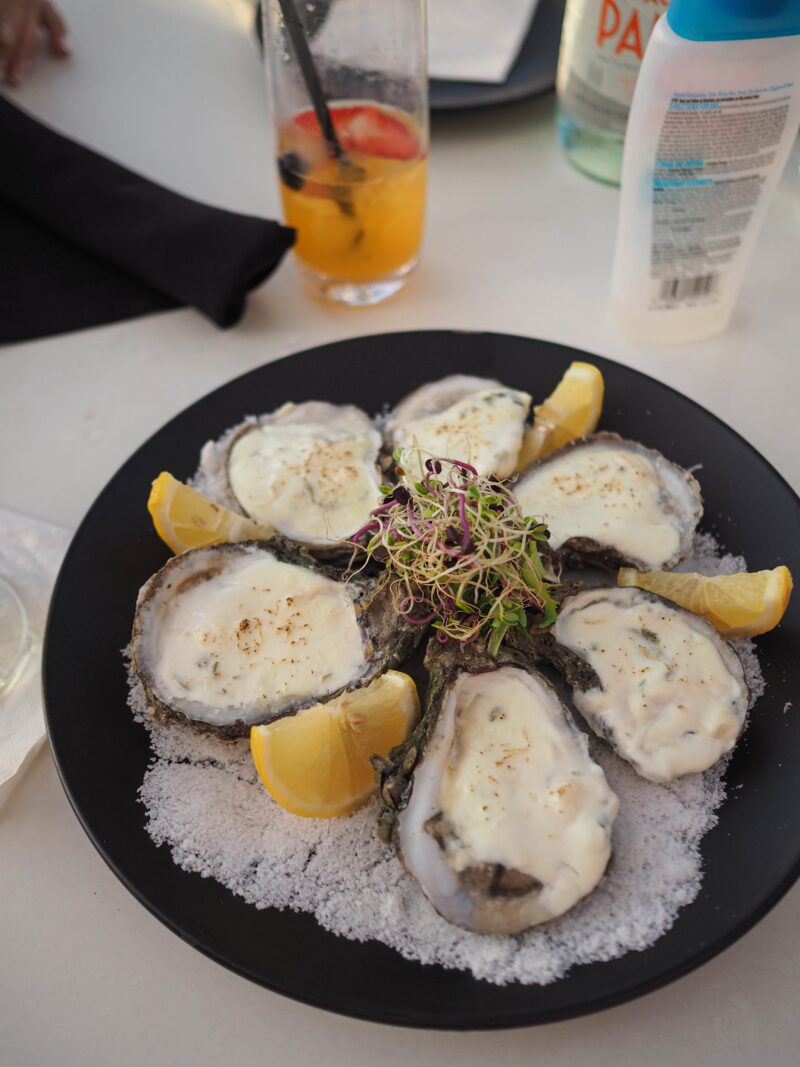 Camarones con Coco – Shrimp breaded in coconut, accompanied with sweet and sour pineapple sauce.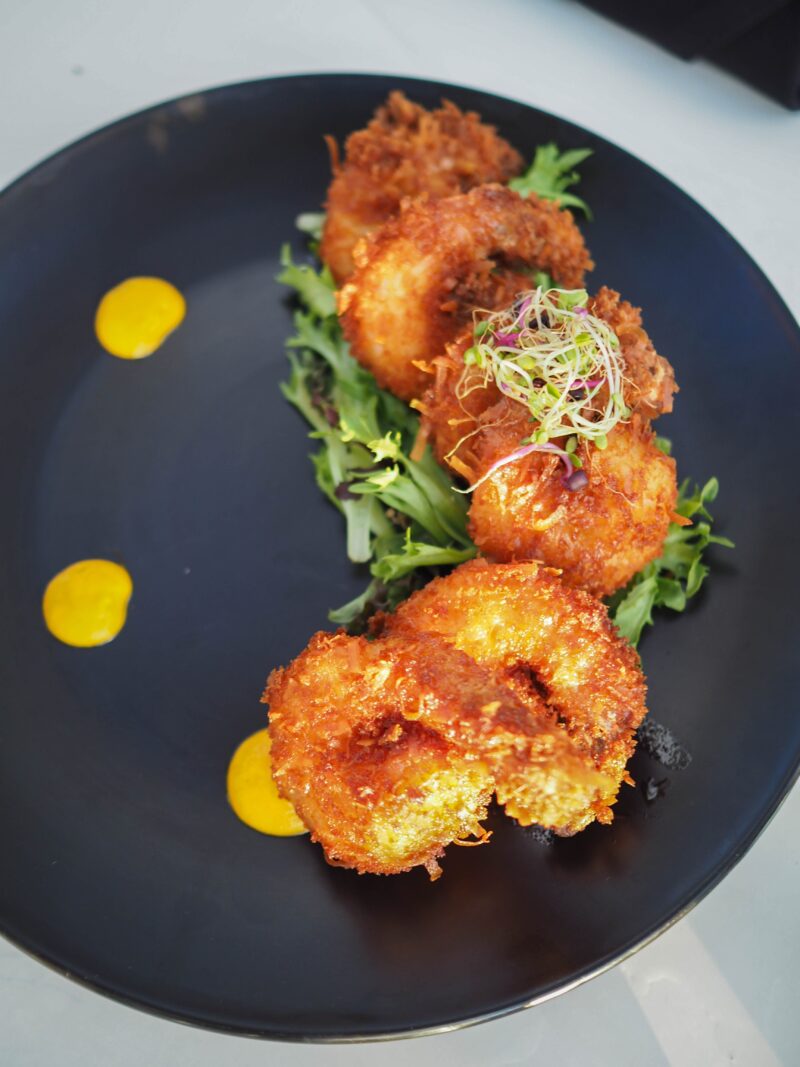 Pulpo Valmar – Steamed Spanish octopus tentacles in a sauce of butter, garlic, De La Vera paprika, fingerling potatoes and spices.
Dorado Ceviche – Halibut cubes marinated in salt, pepper, garlic, Peruvian chili, purple onion and lime, accompanied with tostones.
Tostones – Smashed fried plantain.
Langosta Termidor – Whole lobster in bechamel sauce fused with shallots and cognac finished with parmigiano reggiano au gratin.
Salmón – Pan Seared.
Mar y Tierra – Filet mignon, lobster, and black tiger shrimp in cognac sauce.
Lavender ice cream.
After dinner we went on the Bio Bay Tour Experience with with Captain Cachi of Paradise Scuba & Snorkeling Center.  La Parguera is a bioluminescent bay found in the southern town of Lajas.
The bay's glowing effect is made possible by micro-organisms called dinoflagellates, which emit a short burst of light when the water is agitated.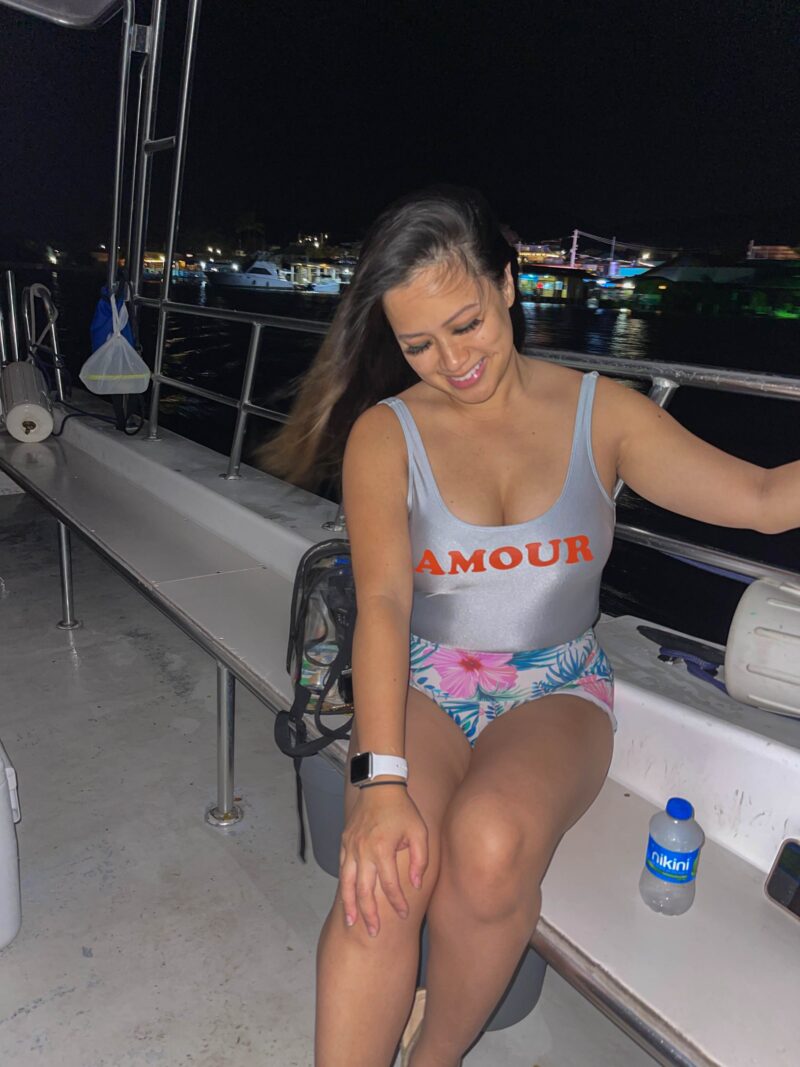 The next morning we had brunch at Mimosa Brunch Farm To Table before heading back to the airport to fly back home to Orlando, FL.  We loved their fresh juices – especially the passion fruit and pomarrosa.
Ham Croquette – Smoked meat croquette with spicy papaya sauce.
Rabbit Empanadilla – Local rabbit confit with mozzarella cheese and herbs.
Orange Maple French Toast – Sweet potato bread soaked in tangerine batter, served with dulce de coco, maple sweet potato pureé and tropical fruits.
Sweet Sunshine – Sweet concha mexicana stuffed with smoked salmon, cream creese, scallions, and pico de gallo. Sweet potato French toast with dulce de coco, Homemade Yogurt with honey and granola, Greens & fruit salad with passion fruit vinaigrette.
Thank you Discover Puerto Rico for having me!
For more information, visit: https://flights.flyfrontier.com/en/flights-to-puerto-rico