On a stormy Orlando night, the sunflowers were out at the Rosen Shingle Creek for the Feeding Ukraine event to benefit Jose Andres' World Central Kitchen.  The event was put on by the Adam Michael Rosen Foundation and began with a cocktail hour outside the Sebastian Ballroom.  Appetizers and drinks were served as people socialized and looked at items featured in the silent auction.  Many local restaurants and resorts participated in the auction with something for everyone to bid on.
The action moved inside when the ballroom doors opened.  The spacious ballroom was filled with tables, each featuring a sunflower arrangement and allowing people to grab a seat after checking out the many food stands.  While getting settled, a few magicians roamed the room to entertain one on one, stilt walking chefs were spotted, and the band jammed.
There was truly something for every appetite with Indian from Tabla, Pan-Asian from Yak and Yeti, and Jamaican from Jam Eng.  The Rosen Hotels had a strong presence with everything from tomahawk steaks to duck gnocchi to tiny desserts.  Orlando classic 4Rivers Smokehouse featured Ukrainian inspired polenta and pork belly, while borscht was on the menu from the Disney team.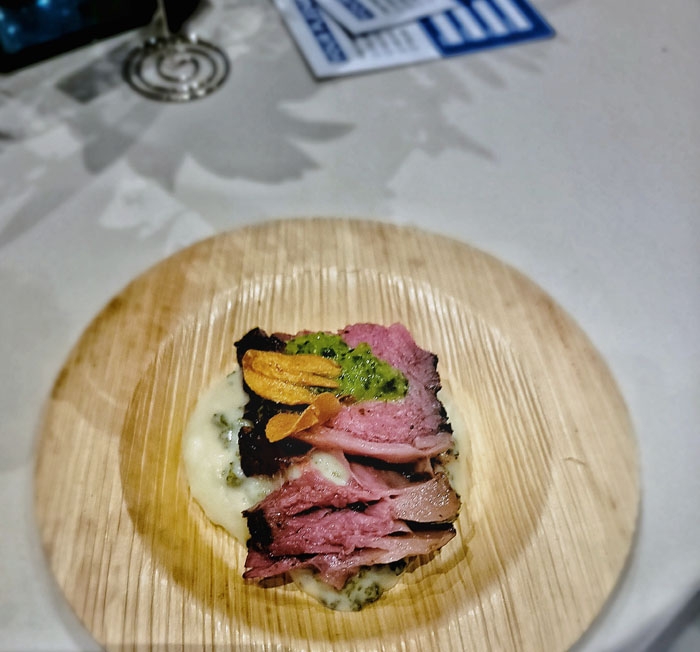 Nestle's Italian sausage pasta was a big hit and the mini lobster roll from the Nauti Lobstah was not to be missed.  The Florida Dairy team's Churro Milkshake is something that won't soon be forgotten with the intense cinnamon flavor and incredible creaminess.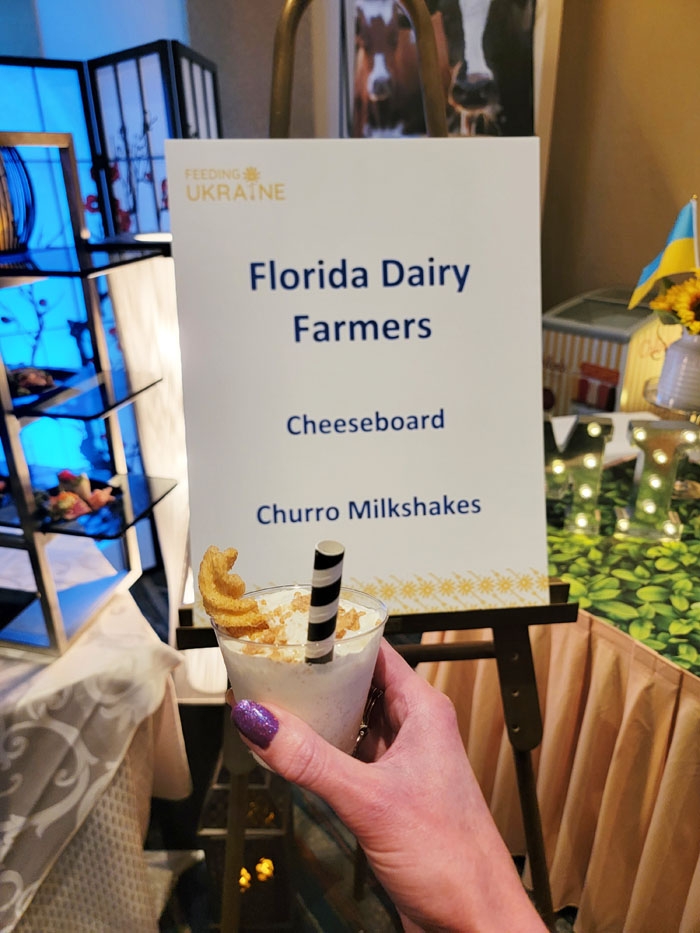 With so many amazing food stands and plenty of open bars spaced throughout the room, lines were practically nonexistent, allowing everyone to mix, mingle, and try a wonderful variety of food and drink.
Speaking of the drinks, Tres Generaciones tequila was featured, serving both a margarita and ranch water and personalizing bottles of resposado with the cost going directly to charity.  This was a nice touch and a great keepsake of a memorable evening.
When the totals were all tallied, thanks to this event, World Central Kitchen received $203,000.  While hopefully the need for this event is short lived, it was exceptional, and perhaps could go on in the future as a way to support the recovery of Ukraine.
If you are interested in learning more about the Adam Michael Rosen Foundation, you can visit their website here.  Also, if you want to learn more about the efforts of World Central Kitchen, you can visit their website here.
The Rosen Shingle Creek is located at 9939 Universal Boulevard, Orlando, Florida, 32819, and all their offerings are listed on their website.