On Thursday, August 18, Four Flamingos: A Richard Blais Florida Kitchen will host a whiskey pairing dinner, featuring a carefully curated four-course menu by Chef Shelby Farrell paired with whiskey from Redwood Empire Whiskey.
We spoke briefly with Chef Shelby Farrell about their upcoming dinner as well as the recent Michelin Guide Recommendation for Four Flamingos after being open less than a year.
Interview with Chef Shelby Farrell, Four Flamingos:
Ricky Ly of TastyChomps: What are your reactions after hearing about Four Flamingos being recognized as a MICHELIN Guide recommended restaurant? 
Chef Shelby Farrell: Being recognized by Michelin was an extremely exciting honor. Considering that we were only open six months when we were recognized, it was quite the achievement for our team. It has only motivated us further, as we're striving to achieve a Michelin Guide star for next year!
Ultimately though, our primary motivation is to give the best experience to our guests.  That inspires us to continually grow and improve our menu. If we keep working to make our guests happy, then any accolades that come along with that are a welcomed acknowledgment.  
Tell us about working with Redwood Empire Whiskey and the inspiration behind this upcoming dinner?
Pairing up with Redwood has been a blast. Getting to taste their entire line of whiskey and building a menu directly off those tasting notes was a great experience.  I think the guests who join us for the dinner will be amazed by the whiskey itself, and how each dish is designed to pair with it to highlight both the whiskey and the dish.  Whiskey lovers will not want to miss it. 
What are some upcoming plans for Four Flamingos this fall?
As always, we plan to continue to grow and evolve our menu as the seasons change so expect to see some new fun additions to the food and beverage menu in the near future. We expect the Redwood Empire Whiskey dinner will be just the first of many paired dinners to come!
Redwood Empire, world-class Whiskeys are each named for an iconic Redwood tree and features unique and disruptive woodcut art depicting different caricatures of John Muir.  They source best Midwestern Rye, Corn, Barley and Wheat, as well as California grown grains. Rye is marked by its spicy intensity, with notes of pepper, clove, nutmeg, and cinnamon. Corn is bourbon's signature ingredient. Over years of aging, corn becomes neutral, and allows the barrel selection to ignite the flavor profile. Malted Barley is renown for its chocolate notes.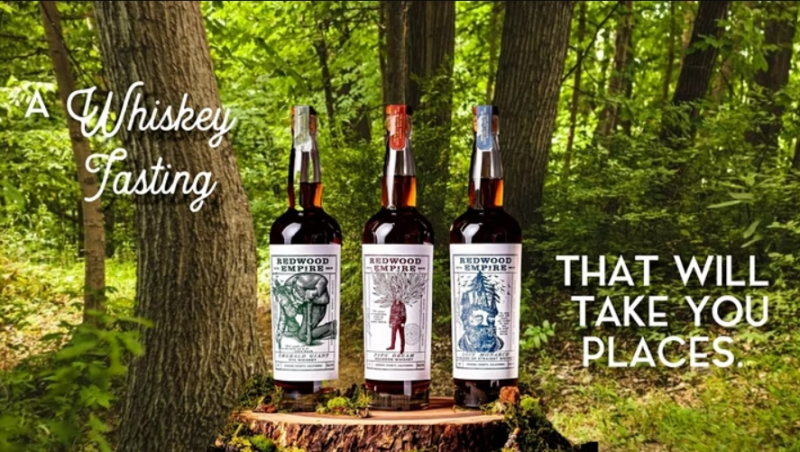 Four Flamingos' Whiskey Pairing Dinner Details are below:
Four Flamingos Whiskey Pairing Dinner
with Redwood Empire Whiskey
WHEN:
Thursday, August 18 | 6-9 p.m. (prompt start)
WHERE:
Four Flamingos: A Richard Blais Florida Kitchen at Hyatt Regency Grand Cypress –  1 Grand Cypress Boulevard Orlando, FL 32836
MENU:
The evening's carefully curated menu from Chef Shelby Farrell features:
1st course: 
Lost Monarch Whiskey Blend & Mushroom Toast: Orange Scented House made Labneh, Mushroom conserva, Honey
2nd course: 
Pipe Dream Bourbon Whiskey & Buttermilk Oysters, Roasted Bone Marrow, Pecan Gremolata, Crostini, buttermilk pearls
3rd course: 
Emerald Giant Rye Whiskey & Cast iron seared 20 day dry aged NY Strip, coconut parsnip spinach, triple peppercorn au poivre pour over
Dessert:

Coconut Panna Cotta: Cocoa nib crumble, Candied Kumquat
Dulce Royale: Toasted coconut-infused Lost Monarch blended whiskey, Carpano Antica  vermouth, Tempos Fugit crème de cacao, Vanilla bitters
TICKETS:
$150 per person or $500 for a group of four (plus taxes and fees)
DETAILS:              https://www.eventbrite.com/e/whiskey-paired-dinner-with-redwood-empire-tickets-358953448427